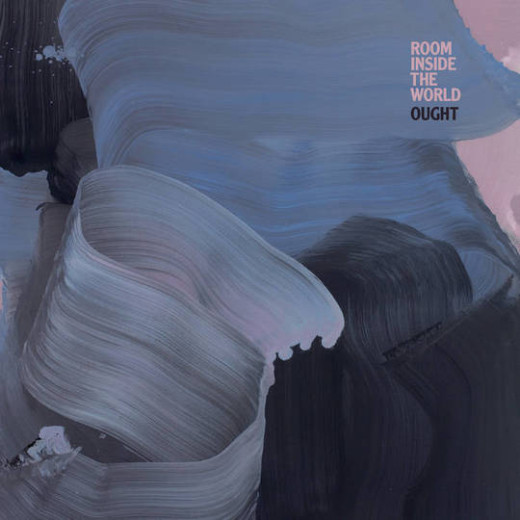 The word 'ought' touches on probability; the coulds, woulds and shoulds. It is a word often used with critical intent to highlight the shortcomings of a project. Room Inside The World, the third album from Canadian post-punk quartet Ought brings forth an unfortunate case of nominative determinism. What should have been a triumphant return instead presents a band struggling to find their identity and a cohesive sound in the light of a changed dynamic. On their latest record Ought scarcely resemble their formerly distinct selves, shifting instead towards a style that veils their individuality.
This is a record that should have expanded upon the interesting instrumental layering that the band were experimenting with on songs like 'Pleasant Heart' and 'On the Line'. When Ought released their debut More Than Any Other Day on Constellation Records (former label mates included Colin Stetson and Vic Chestnutt) in 2014 their sound provided an antithesis to other releases that year from the likes of Real Estate and Mac DeMarco. Their sound spawned from an anxious seed, sprouting jaunty chords, screaming vocals and thudding percussive patterns. The guitar riffs were agitated and tense, the band held notes for a minute more than would be comfortable on the ear, arrangements often spiralled into spontaneous and erratic tangents. It always worked though because it just felt like a breath of fresh air. In their infancy Ought were disorientating. Three years on, and after signing to the "bigger label" Merge Records, it just sounds as though they have settled on conformity.
Ought's initial lack of convention was bridled by a pronounced but unique likeness to Joy Division and Talking Heads as well as early 2000s bands like Tokyo Police Club and The Strokes. By wearing these influences openly, they managed to retain an accessibility to their industrious and fractious songs. The melodic familiarity encouraged audiences to persevere with the art-punk noise because their eccentricity was affirmed by the resounding admiration for their musical bedfellows. With Room Inside The World, comparisons veer to The National (quick drum rolls on 'Into the Sea'), Beach House (the intergalactic tone of the synth on the 'Take Everything' intro) and Darcy adopting an uncomfortable Robert Smith inspired vocal on 'Desite' and 'These 3 Things.' The latter possesses a strange blend of The Cure and Future Islands post-Singles era. All of these separate styles, blending also with disconcerting traces of Wild Beasts and even The Killers circa Sawdust.
The band sound shrouded in the confines of trying to achieve mass appeal. 'Into the Sea', the opening track, finds Darcy repeating the line, "I can't be here in my way again." Listening to the rest of the record one cannot help but return to that lyric in the moments where the band sound far away from their original style.
Room Inside The World arrives at an interesting time for Ought; three years after their sophomore release and almost twelve months after Tim Darcy shared his solo debut, Saturday Night. These songs were remarkably different to his work within the band, it veered toward pop-centric melodies which captured traces of Roy Orbison's fraught tenderness noted in single 'Still Waking Up.' The unsettled arrangements did feature, paying homage to his band, however it would appear that this was the beginning of the end of that sonic chapter. Those once sought after rogue notes have been cleaned up with polished and succinct play. Unfortunately, this album just feels full of songs that never made it on to that solo effort, hence the disjointtedness.
The band's return is surprising and disappointing. There is a palpable absence of hooks and textures throughout the instrumentation The main problem with Room Inside The World is that it lacks sincerity and imagination. The leap from indie industrial noise to alt-pop electronic is  less than graceful and executed in what sounds like a rushed and unconsidered manner. Trying to find redemption in the record only serves to capture the forced nature of this work.
Fans might settle on 'Brief Shield' as a song to return sporadically, but it is unlikely that this record will nestle itself in the recesses of its audience's collective memory for any more positive reasons. Perhaps then it's time to admit that maybe Darcy should dissolve the band and continue with his solo project to expand that side of his paltry musical persuasion.  Zara Hedderman