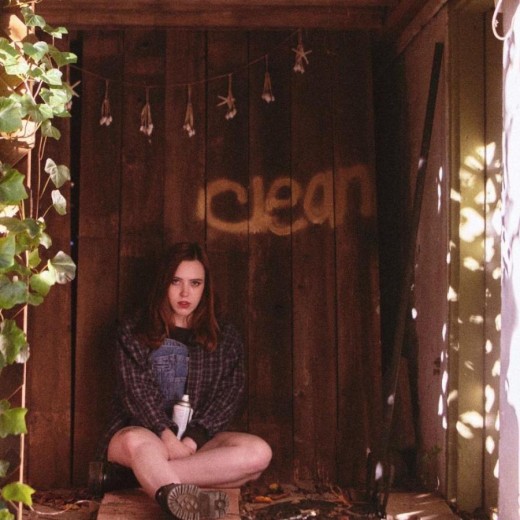 Any child on a football pitch who takes the time to look down the touchline will be sure to see an eclectic bunch of fans: Passing dog walkers, aggressive and overly-stimulated dads who kick every ball and question every decision, mates and their crossed fingers for public embarrassment, and the unsung heroes, their mothers, sacrificing valuable weekend hours week in and week out watching a sport they may not have the faintest interest in, just to be there for that moment when their kid finally gets that goal.
Somewhere down the line, Sophie Allison, AKA Soccer Mommy took at least some inspiration from such figures. Central to both a typical soccer mom and Sophie Allison are warmth, humility and persistence, which has seen the Nashville native propelled to a hotly-tipped status and landed her a record deal with Fat Possum Records (The Districts, Sunflower Bean, Hoops) following the release of a series bedroom recordings including 2017's exceptional Collection. Now, Clean finds her leaving the comfort of her bedroom studio behind, moving into pastures new with a breadth of determination
What's immediately striking about Clean is the progression in Allison's songwriting. It's mature, confident, and conveys a range of musical influences that artists can spend a lifetime only dreaming of ingesting. The album builds upon Collection's forays into alt-country territory, but has a perceptible edge and steely grit to it, as well as a fuller and richer sound thanks in part to the helping hand of a professional recording studio. Allison's delivery convolutes throughout the record; 'Cool' is breezy and flat in comparison to 'Last Girl', which emanates tonal similarities to Alvvays' Molly Rankin. 'Skin' teeters towards Hole territory, skitting between muted grungy harmonies and melancholic pop choruses. At it's centre, however, floats its masterpiece; 'Blossom (Wasting All My Time)', a desolate and spacious track filled with downstrokes of acoustic guitar, sparing string synths and the occasional rustic sound of Allison's fingers navigating the fretboard. The minimalist composition shines a spotlight on Allison's lyrics which turn at the midpoint to an uplifting and poignant moment: "cause I can't see you blossom in the future that I'm dreamin'/I'll be spending all my time/with someone who really wants me."
Whilst Clean is effervescent musically, the same cannot be said about the lyrical content, which can often fall flat. Certainly there are notable moments, such as those in 'Wildflower' when Allisson opens up about the challenges of city living: "Wildflowers don't grow in the city/my heart turns grey and shrivelled now/I want to be who I wasn't". All too often though Allison's words becomes tangled in overuse of juvenile imagery ("kiss you in the park/we'll meet up after dark") and shoe-horned references ("oh she's bubbly and sweet like a Coca-Cola"). Clean elicits empathy to begin with, but demonstrates a lack of variation thematically which might end up leaving the listener feeling jaded by the time it's over.
Clean, ironically, is not quite a clean sweep. It's painstakingly close to being a fantastic debut, but is lacking in any sort of lyrical curveball to maintain the listeners attention. Nevertheless, the album does plenty to ensure that the spotlight will be this blossoming career for years to come. Dominic Edge