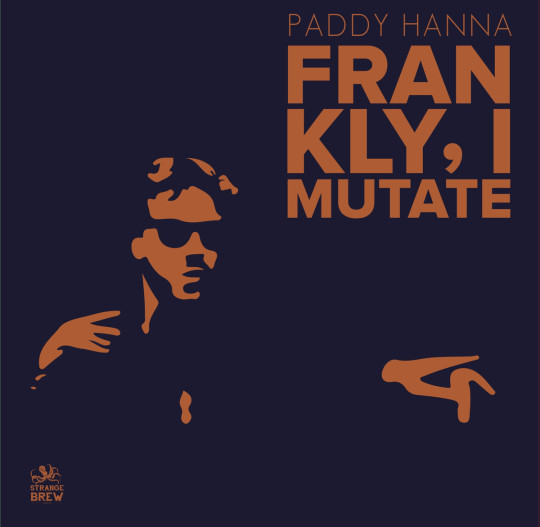 Four years have passed since Paddy Hanna's triumphant solo debut Leafy Stilleto was released by the ever reliable Popical Island collective. Not that he hasn't kept busy in that time, bridging the gap with a couple of standalone singles and fronting the mighty Autre Monde, all adding to an ever-growing CV that includes stints in the likes of Grand Pocket Orchestra, No Monster Club, Ginnels and Skelocrats.
His long-awaited sophomore effort Frankly, I Mutate, released on increasingly impressive Galway label Strange Brew, features a star studded lineup of guests such as Saint Sister and Tandem Felix. Meanwhile members of Girl Band such as producer and bassist Daniel Fox show off their versatility on an album that stands in stark contrast to the deafening terror of their day job.
Kicking off sedately with the quiet instrumental 'I Saw the Man, Part 2' (Part 1 is nowhere to be seen, having been dropped from the album), Franky, I Mutate proves to be an organic but not insubstantial progression from his debut, that album's often minimalist instrumentation here padded out with lush strings and horns as Hanna delves further into 60s Scott Walker territory.
Resisting the urge to drag over album-less singles like 'Austria' a whole two years down the line, the new album nonetheless follows a blueprint those tracks established, both in arrangement and in lyrical content. The portrayal of crippling depression illustrated back on 'Camaraderie' was at the time his most striking work to date, but there's a similar spectre of mental struggle hanging over Frankly, I Mutate.
While the tortured artist trope is well worn, many artists professing to be spurred on creatively by their own inner battles, Hanna, like most people, finds depression to be nothing but a drain on his work, leading to wasted weeks lost in motivational droughts. As such Hanna is an artist that doesn't romanticise depression but merely speaks of it frankly and honestly. 'Sunday Milkshake' is the most affecting track here in this respect, as he regrets spurning ex-girlfriends and lifelong friends with the striking refrain: "Darkness keeps me awake".
Despite this theme, it would be misleading to define this as a "depression album". Hanna writes with sparkle and wit, and musically the album is as breezy as a spring day and is, above all, fun. 'Mario Lanza' is perhaps the most indicative of this contrast – a song grown out of dealing with a stressful family illness, Hanna wishes he was somewhere else in happier times, but his yearning to be "on my own with Mario Lanza on Christmas Day" is utterly unique, and the breezy 60s pop of the music all but conceals the darkness behind his plea.
The similarly catchy 'Tolouse the Kisser' meanwhile sees him lament his future to an equally upbeat melody, while 'Ida' is a touching tribute to the memory of his late grandmother. The stuttering rhythm of 'Local Strangers' though is perhaps the album's most infectious moment, as Hanna expounds the benefits of remaining locally anonymous.
A self-confessed sufferer of social anxiety in person, Paddy Hanna the artist by contrast cuts a supremely confident figure, one who after years of trying his hand at different musical projects has finally found his niche as a solo artist in recent years, possessed with his powerful croon.
While unrecognisable from some of his earlier bands, since we last heard from him Hanna hasn't so much mutated as simply matured. There's a sense though that there's still some room for further development in his songwriting and that his finest work may well be yet to come. With time it's very easy to imagine Hanna growing to become a national treasure. Cathal McBride