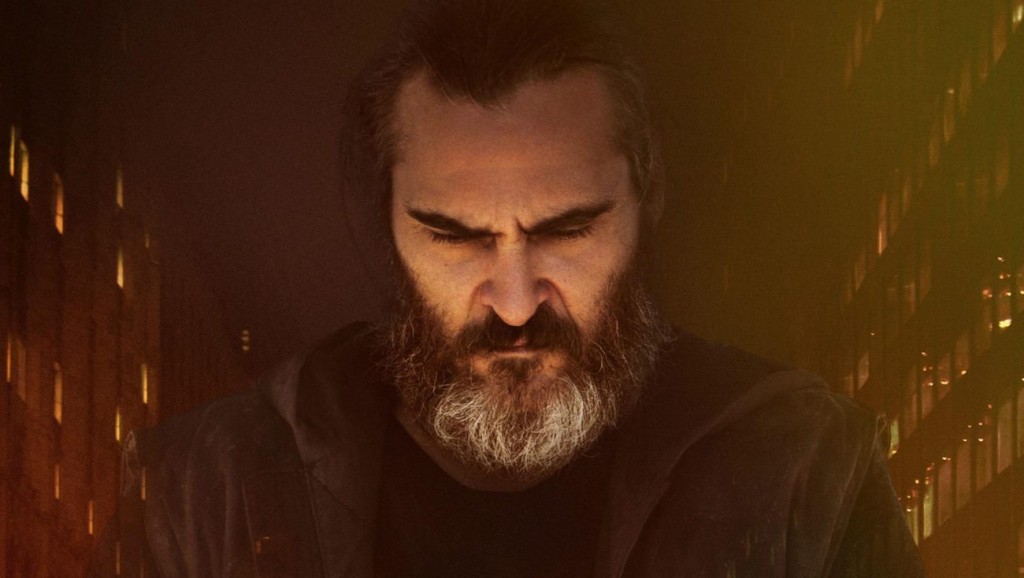 If ever there was a filmmaker that could be referred to as uncompromising and exuding integrity, then Lynne Ramsey (We Need To Talk About Kevin) is certainly up there with the best of them. After The Lovely Bones was snatched away by Peter Jackson in 2009 and Jane Got A Gun resulted in her walking off the set due to producer interference, Ramsey's steadfastness has paid off with this stunning trip of a film, that has the great Joaquin Phoenix in an awesomely committed role. One that may be his greatest yet.
Joe (Phoenix) is a mentally scarred US military veteran, who still lives with his mum in New York but makes his living as an enforcer, tracking down missing girls, while dealing with the people responsible in a particularly brutal manner – a hammer is usually involved. When a considerably lucrative job comes his way, Joe's chaotic lifestyle and mental stability begin to career out of control, as a conspiracy concerning this missing girl envelops his own world, putting everyone and everything he cares about in perilous danger.
For such a short film (1 hour 30 minutes), there is a huge amount of depth to You Were Never Really Here. Phoenix's character is a highly complex individual who seems to be suffering from severe PTSD and possible schizophrenia or psychosis, apparently caused by a combination of abuse as a child and his time in the military. These personality traits are represented through quickfire flashbacks of him as a child, seemingly being abused by his father – scenes relating to this involving asphyxiation pop up numerous times – and similar, fleeting glimpses into violent incidents in some sort of Iraq-type war zone come at similar intervals.
He is undoubtedly sociopathic but he seems to keep his tendency for violence directed towards criminals and his targets. The scenes at home involving his mother played exceptionally by Judith Roberts (Eraserhead), are surreal, nearly uncomfortable, yet have a certain sweetness to them, laced with subtle, black humour. Joe's general demeanour is secretive, brooding, intimidating and on the cusp of violence at all times, unless when drifting off into some sort of dream world, figuring out how to make his next move. Even though he is quite out of shape, with a gut and man-boobs on full display, he still has a powerful profile of a silverback gorilla. The heavy scarring of his torso from past injuries only adds to this image. And if ever there was an actor that was tailor-made for this role, it's Phoenix. Apparently, Ramsey had him in mind from the early conception of the film.
The rest of the cast all have very small roles but notable performances come from Ekaterina Samsonov (The Ticket) as Nina, the missing girl, who is instrumental in how this movie reaches its deranged, yet wholly satisfying conclusion, along with John Doman (The Wire) as Joe's wise guy-esque employer. The rest tend to have fleeting parts that involve them getting attacked or killed by Joe or someone else.
Ramsey's use of flashbacks throughout give a hallucinogenic quality to the visuals when combined with the present-day camerawork that acts in a fly-on-the-wall and third-person manner, while also lingering in ultra-stylish shots of drinking fountains, hammers and other seemingly mundane objects, compelling the viewer to study every frame with deep intensity. There's an amazing scene when Joe makes his move on a target but the action is captured by the in-house CCTV cameras in night vision. It's of such high quality that you could be forgiven for thinking that you're watching an uncensored real-life crime show.
While the film is brutal and realistic in its depiction of violence and injury, it never feels gratuitous or glamorous and sticks to the rule of 'show, don't tell'. In quite a few of the scenes involving Joe attacking people, it snaps quickly from his approach, to them sprawled out on the ground and little else. But when Ramsey decides to show Joe at work and the consequences of his actions, well, it's not for the squeamish. In contrast, a burial scene in the later stages is one of the most beautiful, sublimely crafted pieces of cinema that I've had the pleasure of watching in some time.
Radiohead's Jonny Greenwood is back working with Ramsey, once again, after his fantastic work on We Need To Talk About Kevin and has, quite possibly, made the finest score I've heard to date. It crosses between electronic and orchestral styles, sometimes within the same track but also just straight up dancefloor style electronica, akin to Cliff Martinez, though far more interesting. Greenwood captures the chaos, madness and urgency of this movie. It's perfect.
You Were Never Really Here is basically an action movie, but made with such class, character-driven intelligence, style and integrity, while layered with surreal imagery and symbolism throughout, that I will need to have multiple viewings in close succession to satisfy my admiration. It's phenomenal film-making. Prepare to be stunned.
You Were Never Really Here is showing at Queen's Film Theatre, Belfast and Cineworld, the Light House Cinema and Irish Film Institute, Dublin.