Having played a massive show at Malahide castle last year, Arcade Fire return with the Infinite Content tour, sardonically named to jibe at the social media age, just one of the many tactics deployed throughout the promotion around their current album, Everything Now. Tonight, in keeping with that off kilter theme they've created a show 'in the round' – complete with a boxing ring and Michael Buffer style announcements of their accolades as they appear from the far corner of the 3Arena, air-punching alongside flashing ironic graphics of infomercials and 'tale of the tape' biographies appear on the 360 degree screens above the stage.
They open the night with 'Everything Now', their David Byrne-adulating disco anthem by way of a Frances Bebey borrowed sample, in matching EN-branded gear like a group of post-apocalyptic playschool teachers. Win Butler adjusts the brim of his hat and harks that they'll give us everything they have through crowd-pleasers such as 'Rebellion (Lies)' and 'No Cars Go'. He knowingly set the tone of what feels like a greatest hits show as a selection of songs from the current record are carefully tucked away throughout the set.
The addition of their rarely-played early output like 'Headlights look like Diamonds' and 'Neighborhood #4 (7 Kettles)' – the latter played live for the first time in almost 7 years – prompts genuine bouts of nostalgia to the early oughts, when the phrase "I heard Arcade Fire before you' was uttered complacently and tours of this magnitude were yet to appear on the horizon. The band race through choreographed swaps on-stage and leap towards the ropes, occasionally sojourning gleefully into the crowd and requesting 'lights' from torches on phones – all to the delight of fans.
The antics calm down during the meandering 'Rococo' and 'My Body is a Cage' where the external lighting rig emulates the lines of rope surrounding them creating a cage. #Meta.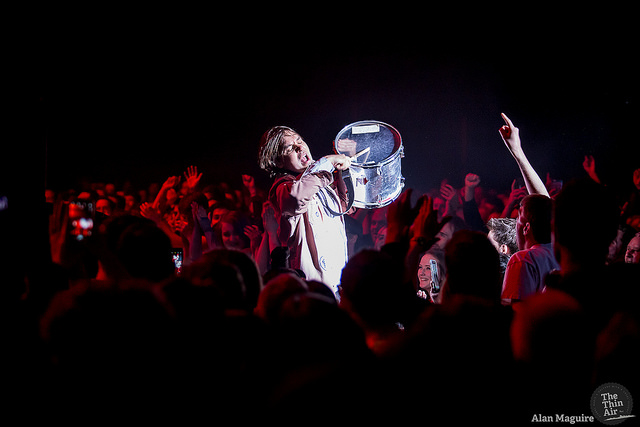 These songs seem to coast along without comparison to the accelerated momentum of 'Neighborhood #1 (Tunnels)', which layers serenely before expeditiously climaxing all instruments towards infinity. It's the most audacious song in the Arcade Fire cannon, their magnum opus.
Once the disco ball drops it's time to get down with 'Sprawl II (Mountains Beyond Mountains)' placing the focus firmly on Regine Chassagne. She is so joyful and endearing as she comes alive from out behind the keyboards, shaking paper streamers and beaming a smile stronger than the disco beams shining above her. 'Reflektor', with it's late 70s Wings-tinged riff continues to lead the charge towards the cataclysmic 'Neighborhood #4 (Power Out)', replete with startling red warning lights and so much dry ice that, despite being possibly unintentional, adds to the malfunctioning contretemps of a real power outage, ending this section of the night and leaving everyone catching their bearings by swatting away fog and poking at ringing ears.
The band re-emerge through the plumes for an encore of 'We don't Deserve Love' which segues beautifully into a touching rendition of 'Linger' by the Cranberries in what we all believe is a fond salute to the late Dolores O'Riordan. Support act Preservation Hall Jazz Band appear from the sidelines with their full brass section to bolster up yet another one of the various 'Everything Now' refrains (I've lost count) uniting the entire ensemble and crowd into the predictable dirge of the Arcade Fire's national anthem. 'Wake Up' plods eternally to the point where should disaster strike us, the barren earth akin to the Everything Now cover art would remain with scattered insects and forlornly middle-aged men wandering, foraging for lager remnants in decimated plastic cups while communicating entirely in lofty akimbo arms, chanting WOAH OHs to the sky. Neighborhood #0 (The Lads)
While their latest record remains a divisive attempt at social commentary and the onslaught of fake news, resulting in a kind of insincerity that thankfully hasn't reduced their ability to create an interesting and genuinely exciting show, it remains certain that Arcade Fire are easily one of the best bands to catch live now. This means everything right now. This is the dream of Win and Regine. Loreana Rushe
Photos by Alan Maguire