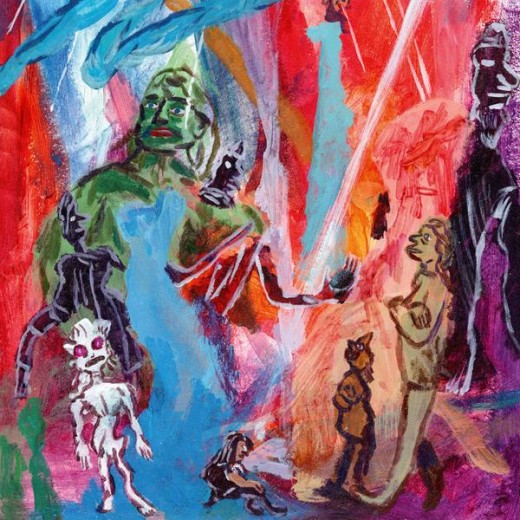 Named in reference to Goat Boy, Bill Hicks' salacious stage persona, London four-piece Goat Girl give some clue to the contents of their debut album through their own half-abandoned alter egos. Vocalist Clottie Cream (Lottie), drummer Rosy Bones, guitarist L.E.D. (Ellie) and bassist Naima Jelly seem to both crave and dismiss the kind of anonymity that will allow the music to stand entirely on its own merits. Alongside this is a darkly humoured veneer that hangs over the songs, which often masks an incisive sting.
Much has been made of the band's South London origins, and their sonic and geographic affinity with the likes of Fat White Family and Shame, but the observation feels superfluous. Certainly, as the Tories and the D.U.P. come under fire on 'Burn The Stake' ("Shoot them in the face and castrate/ They're all filthy fakes"), we're set in a certain space at a volatile time in Britain's political history. Listening to this self-titled sidewinder glide fluidly across genres, though, is to hear a band with subtly varied and far-reaching influences that transgress any such margins.
Over Goat Girl's 19 tracks, there are shades of new wave, surfy garage, lo-fi, punk, psychobilly…and then there are the more acute influences. There's Country Teasers, the provocative Edinburgh band whose singer Ben Waller distilled Hicks' worldview (and then some) into his sound. Then there's their collective admiration of Silver Jews – the inexorable infiltration of country music into their sound and their embracing of wry, fearless, and confrontational lyricism.  
Images of violence and squalor, of hedonism and exhaustion, of lust and distrust infiltrate the songs from the initial static hiss of 'Salty Sounds', whose prophetic rhythm is not a million miles from the spectral, post-apocalyptic intro of The Specials' 'Ghost Town'. Thematically, what follows over the ensuing 40 minutes is every bit as ominous as the socio-political strife documented through The Special's Thatcher-era classic.  
Clottie channels Siouxsie on 'Creep', while an acerbic 'The Man' employs the sardonic style of The Vaselines via The Beta Band. Sorry drummer Lincoln Barrett adds trippy, spoken word over the discordant instrumentation of 'A Swamp Dog's Tale', distorting and disconcerting as it goes, much like the meanderings of 'I Don't Care Pt. 2'. The latter song wears a more traditional riff, albeit a bastardized one, starting down a standard country path before twisting and convulsing all around it.
On a record that's frequently as pastoral sounding as it is punk, 'Country Sleaze' – a corrupted, spiritual relative of Pixies' 'Nimrod's Son' – tips a nod to the aforementioned Ben Waller ("That man over there /He don't really care /He looks at me with that country stare/ Touch my body/ Touch my soul/ Touch that deep and disused hole"). It's one final, droll and carnal slice of psychotic lo-fi before everything dissipates in the muted traffic noise and bird song of 'Tomorrow'; some morning light to offset the darkness. Bill Hicks once deadpanned, "I don't mean to sound bitter, cold, or cruel, but I am, so that's how it comes out". Goat Boy tempered that vitriol with comedy. Goat Girl do similar, darkly, and with added melody. Justin McDaid