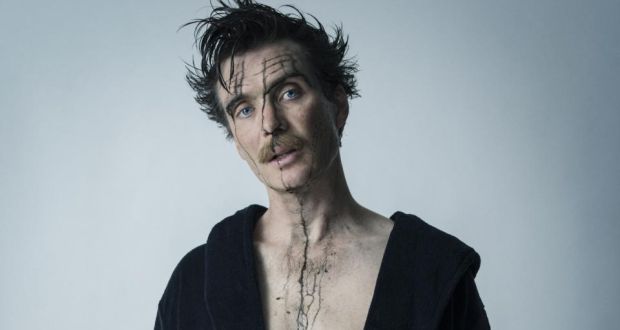 Grief is the thing with feathers, and Cillian Murphy is the thing with talent. Based on the poetry/prose book of the same name by Max Porter, Grief Is The Thing With Feathers breathes life into death, centring around Dad (Cillian Murphy), The Boys (Taighen O'Callaghan, Felix Warren) and Mum (Hattie Morahan).
Murphy began his acting career in director Enda Walsh's Disco Pigs and is back collaborating with him once again in Grief. The playwright and director, also known for Ballyturk and Mistermen, has adapted the work into an enthralling and heart-wrenching experience for the audience.
The set consists of a simple apartment filled with the boys' bunkbeds and Dad's typewriter, a nod to the time in which the play is set – the 80s. This clever touch is thanks to set designer Jamie Vartan, who worked with Walsh on Ballyturk and The Second Violinist. The simplicity of the set makes you feel like it could be your own home, your own plain kitchen and your own colourful childhood bed sheets.
Cillian as Dad is broken and bruised after the sudden loss of his beloved wife. He is faced with the daunting challenge of raising the Boys and picking himself up after this life shattering shock. The Ted Hughes scholar tries to write but all he can think of is how physical his missing of his wife is.
Grief consumes the family and suddenly their life is empty of love and full of loss. Then, one day, their life is full of surprise. A surprise in the form of a crow.
Crow symbolises the grief this family is experiencing – taunting them, reminding them of how their Mother/Wife is no longer here, all the while caring for them too. The crow will not leave until he is no longer needed. He has taken them under his wing, and he won't leave this new nest until he wants to. The fascinating thing is that Cillian himself plays the crow. The juxtaposition of Cillian as Dad then Crow is a true testament to his diverse and broad ranging talent. He jumps from being a crass, malevolent creature to a heartbroken widower overwhelmed with sadness. And no, he does not grow or wear feathers. He doesn't need them, as he changes his accent and physicality to truly differentiate the two characters and make the audience believe he is Crow. He leaps from the bunkbeds to the stairs and jumps at the walls – the embodiment of a chaotic crow.
The sons play lost boys with realistic naivety. Their mother is gone for ever and Dad has not been the same since she left. Crow feasts on their vulnerability but also empathises with them. The way in which they react to Crow with fear at points, and fierceness in other points displays the high and low tensions that go hand in hand when coping with loss. The fact that the boys are very young gives us the two spectrums of grief – the young and the old, those who can understand it properly and those who can't.
Mum is not a physical presence, but a voice. Just through her dialogue you feel the love she had for her boys, and the camaraderie she shared with her romantic husband, as she so describes him on an old voice tape.
The lighting and sound equal each other with their claustrophobic intensity. The lighting, mastered by Adam Silverman, carefully produces haunting shadows behind Crow to impose his presence and perseverance upon us. The sound at pivotal points reaches a loud crescendo, magnifying the severity of grief and how it uproots daily life. Helen Atkinson, responsible for the sound design, ensures you don't just see the effects of grief, but you hear them.
This play is suitable for almost all ages, the only exception is an erotic incident with a desk and some foul-mouthed crow talking, which won't suit the younger generation. Because the play deals with heavy emotions, there are certain elements of comic relief. Mainly presented by Crow, but also presented by Dad and the Boys when reminiscing about his failings as an incompetent father.
The cast and crew of Grief Is The Thing With Feathers have brought Porter's lyrical and mesmerisingly unique book to life in a fantastic way. Everyone experiences grief and tries to cope with it, we just don't articulate it as beautifully as Max Porter.
Seeing grief physically brought to life before your eyes is a new affair. This play stays with you for days and weeks after, it makes you think, and most of all, it makes you grateful for who you still have in your life. Sarah Hynes
Grief is the Thing with Feathers is produced by Complicité and Wayward Productions in association with Landmark Productions and Galway International Arts Festival.
It runs in the O'Reilly Theatre, Dublin, from March 28th-April 7th.