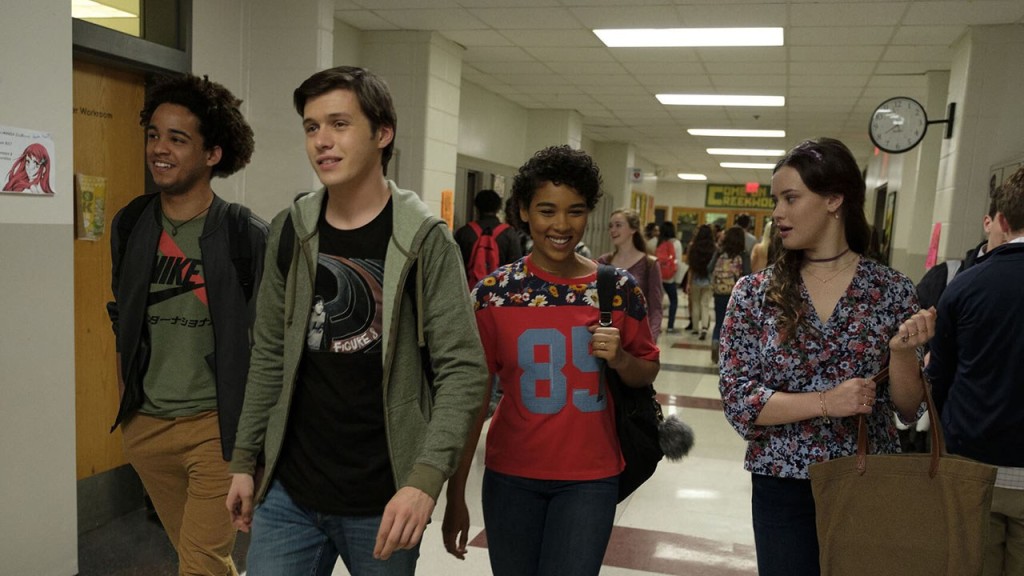 Love, Simon is a queer teen drama that wants you to know up front it's sorry for being so, well, straight.
Loosely adapted from Becky Albertalli's 2015 novel Simon vs. the Homo Sapiens Agenda, the film opens with a voiceover from Simon Spier (Nick Robinson), providing a mea culpa for his boring, stable life, the kind of intensely comfortable existence accepted as default by studio teenage flicks. Simon lives in a gorgeous house with his younger sister and hot parents (Jennifer Garner and Transformers' Josh Duhamel). He gives his happy, handsome friends rides to school in the morning, picking up iced lattes on the way and bouncing to The 1975 tracks like a commercial from an ad company's Millennials Division. But there's a rub: Simon hasn't told anyone he's gay, and his discretion sets in motion surprising emotional conflict, one that communicates something true about the minor trauma of coming out, and of age.
Love, Simon's central, actually quite challenging, idea is that you can be a young gay person in 2018 surrounded by love and tolerance, and still feel weird about coming out, and even, additionally, guilty about feeling weird. Simon's online penpal is an unknown closeted kid at his school, nicknamed 'Blue', and across Gmail they connect and lay out their conflicted reluctance to tell people the truth about themselves. Simon offers the usual reasons — why should he have to do anything, when his friends don't have to 'come out' as straight — but there's something more irrational driving the barrier, a fear that breeds the loneliness that comes with having a secret.
Simon, who signs his emails 'Jacques', pours his heart out to the anonymous Blue, in sweet if idealistically articulate exchanges. But when another classmate stumbles on their correspondence, a blackmailed Simon is forced into games of diversion and mild emotional sabotage to avoid being outed. It's nothing too dramatic (with the caveat that at their age everything feels dramatic), but Elizabeth Berger and Isaac Aptaker's screenplay does a good job of steadily stacking Simon's moral slips, and not letting him off the hook when truths start making themselves known, even flagging up how self-involved the coming out process can make a person.
It's here, in the emotional payoffs, where the film proves itself. Simon's hand is forced, and the fallout with his friends, classmates and family feels honest and genuinely moving. The coming out scene with his parents is well-done and awkward, Robinson's reluctant beats feeding the tension of the moment. Garner will make you cry. Josh Duhamel will make you cry. By giving the tricky emotions time to stew and not rushing to their (let's be real, inevitable) resolution, Love, Simon is able to tap into broad, intractable feelings of being young, alienated, guilty and alone. What it gets, in its own non-threatening way, is that 'becoming yourself' involves a kind of loss.
Elsewhere, the film is open-hearted and a little funny, writing high school authority figures (Tony Hale's vice principal, Natasha Rothwell's drama teacher) with a conversational hyper-sass typical of the genre. Simon's friends (Alexandra Ship, Jorge Lendeborg Jr. and 13 Reasons Why's Katherine Longford) are earnest, essentially nice people with their own stuff going on. With its mix of sweet and sour, Love, Simon is reminiscent of 2016's The Edge of Seventeen, another studio teen picture that smuggled nuggets of realness under slick surfaces, asking audiences for, and deserving, the benefit of the doubt. Conor Smyth
Love, Simon is on wide release from April 6th.