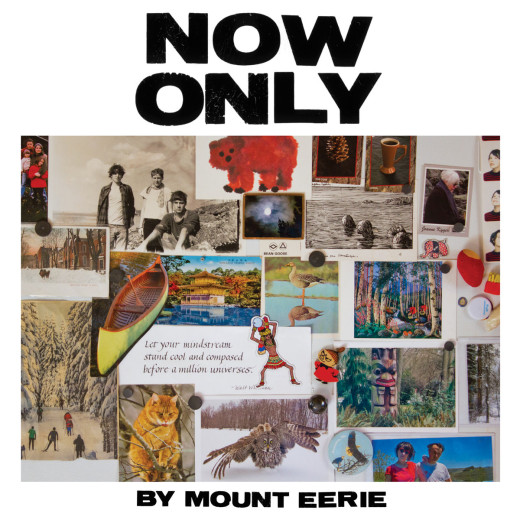 You did not walk with me
Of late to the hill-top tree
By the gated ways,
As in earlier days;
You were weak and lame,
So you never came,
And I went alone, and I did not mind,
Not thinking of you as left behind.

I walked up there to-day
Just in the former way;
Surveyed around
The familiar ground
By myself again:
What difference, then?
Only that underlying sense
Of the look of a room on returning thence.
 – Thomas Hardy
In July of 2016, musician Geneviève Castrée died. She was survived by husband Phil Elverum and her infant daughter. She was 35 years old.
The immediate aftermath and impact of her death was chronicled by Elverum's band Mount Eerie on 2017's A Crow Looked At Me, a record we discussed here. In that discussion, we used the above poem to evoke the kinds of quiet devastation that Elverum was attempting to capture. Here, we use it to distill what the man wishes to explore with his latest LP, which is that death and the absence it brings hangs over the most minute details in your life forever. Once tragedy occurs, it never fully passes. Normalcy as you once knew it is gone, and the new you must make sense of a world what that will always be the case. Now Only is the right follow up to A Crow Looked At Me. Where the predecessor dealt with first few weeks and months within the shadow of death and explored how one might consider trying to stitch their life back together, Now Only tries to deal with the reality of living within this reassembled existence as the spectre of death hangs over everything you do. How even though one may wish to move on, the toll of what that really means can be too much to bear. Elverum has always had an exceptional knack for capturing minutiae and this ability combined with the frank and emotionally raw manner in which he's chronicled the most unimaginably painful period of his life is spectacular. This is a hand to hold for anyone that has ever lost someone truly special and needs to know what it means to move on.
The album begins as it's forebear did with Elverum's vocals coming in slightly before the music delivering a lyric which encapsulates the album: "I sing to you/I sing to you, Geneviève". Before he faced the reality of death, now he's attempting to reach out to the void and touch a ghost. The real significance in that line is the final word. Whereas it took him an entire album to say her name before, this time it's right there in the first line. She's is no longer simply a second person address, she has a name and with that name, she has a life for him to go back to. In the opener, 'Tintin In Tibet', he tells a story of standing in their home and reminiscing about their early relationship. It's quite a touching little story which concludes with the most devastating of final stanzas: "But I'd rather you were in the house watching the unfolding everyday life of this good daughter we made/Instead of being scattered by the wind for no reason/So I sing to you".
The inherent futility in the idea of moving on and the nothingness which grasps us all is in full effect here, but those final five words dig the knife in as we return to exactly where we were when we began. Grief goes in cycles and if you go straight long enough you'll end up where you were.
Phil is haunted by the idea of progressing with his life when everything that surrounds him reminds of what is no longer there. Whereas in the past the songs were more snapshots, barely encroaching three minutes each, Now Only is marked by a much more free-flowing sensibility. The shortest, and most focused, of these pieces, is the opener, the rest are comfortably over five minutes and have much more of rambling freeform mentality. 'Two Paintings by Nikolai Astrup' is just Elverum describing two paintings in his home, what he sees in them and how they make him feel. 'Now Only' opens with this quite funny and macabre look at the unpredictability of death before moving onto this odd interlude about him discussing songwriting with Father John Misty. 'Distortion', the album's highlight, is a 10-minute epic which features long tangents about unplanned pregnancies, his grandfather's death and Jack Keraouc and how he took "cowardly refuge in his self-mythology". It has that same looseness of direction as Sun Kil Moon's Benji. Crucially though, all these detours and strange divergences manage to add to the thematic heft of the LP. No matter where he is, what he's doing, who he's with, the long tentacles of grief will reach across the universe and ensnare him. It's a fairly bleak idea that's reflected in the music.
There are all the hallmarks of Mount Eerie's sound here in the form of the delicate acoustic instrumentation, sparse arrangements and the space given in the mix to silence. But there's also some noise here; some deep, guttural, ugly noise. The best example of this is on 'Distortion' which builds its impossibly fragile performance around this wall of down-tuned, distorted dirge. The influence of black metal was mentioned in the run-up to the release and it's terribly odd to hear the likes of Sleep or Wolves in the Throne Room being used as cornerstones for such a frail record. While it may be odd, it does work because it pulls you into the mindset that metal thrives in. There's a genuinely deep darkness on display here and the music adds another layer of that.
There are no easy answers offered here. He does offer some quiet, meaningful moments of relief as on 'Crow, Pt.2', in which he finds some temporary peace. Sadly, in the end, la tristesse durera toujours. There's no escape. What's the point of this album then? Why listen to a sad man sing about how terrible life is, again? Because we need this. There are a million albums that paddle in the ideas of real despair, but few that dive in headfirst. Of those, you'd be hard-pressed to find any as cohesive, or as beautiful as this album. Yes, it lacks the visceral, gut-punching impact of its predecessor, but that album was dealing with more a more obviously emotionally fertile topic. The slow uncomfortable journey from complete despair to moderate functionality isn't as easy to explore. But it's as necessary as the other, if not more so. Will Murphy