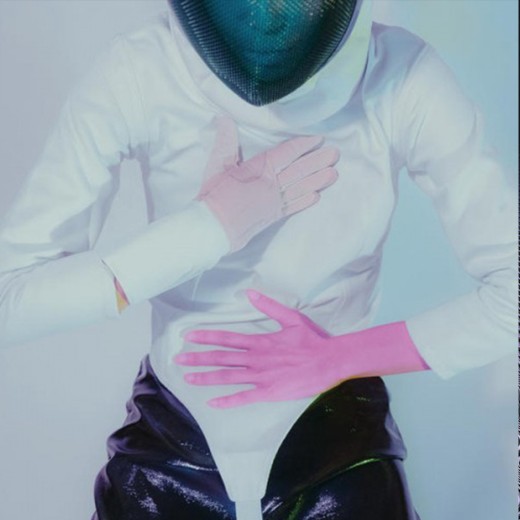 Filled to brim with squelching alien textures and off kilter grooves, Unknown Mortal Orchestra's Sex & Food is an intriguing and at times disquieting listen. Largely preoccupied with themes of isolation and disconnection, it seems fitting that the majority of the album was conceived and recorded far from the outfit's New Zealand home in a dizzying array of far flung locales ranging from typhoon drenched Hanoi to an earthquake devastated Mexico City.  The disorientating effect of this strange release evokes the free floating ennui of having been on the road too long, feeling washed out and jet lagged in a suddenly unfamiliar world.
Songwriter Ruban Nielson's many paranoid concerns relating to drugs, political smoke and mirrors and the ceaseless rise of the machines loom large on Sex & Food and the record is undoubtedly a more challenging and introverted prospect than the ebullient psych-pop of their previous album Multi-love. That being said, Unknown Mortal Orchestra's latest is by no means a leaden or joyless affair.
For one thing, the album's sticky production style is as vibrant and overripe as the "turning mango flesh"  Nielson wheezingly references on the sun bleached track 'Chronos Feasts On His Children'. Viscous, syrupy residue seems to cling to every sound as jazzy chords and some of the band's must beautifully crooked melodies float up from the depths of the record's primordial ooze.  
What's more, even when lyrical themes turn to such decidedly uncheery topics as ,"Fake democracies" and "the age of paranoia" Nielson's superior pop songwriting shines through unabated.  The reverb drenched and woozily danceable 'Everyone Acts Crazy Nowadays' for instance recalls Tame Impala's gorgeous brand of psychedelic disco and showcases one of Nielson's most vivacious and sunny vocal melodies, even as he delivers some of the records most sinister lyrics, "We're growing in a vicious garden, we don't complain".
Similarly, on 'Hunnybee' the "Days are getting darker." according to Nielson yet musically the song is easily the most purely pop moment to be found on Sex & Food. A dazzling, lightly funky track combining shivering strings and Nielson's fluid, silvery guitar lines which drip seductively over Jacob Portrait's taut elasticated bass line, building to a face-melting burst of Santana-esque guitar noodling,
Sex & Food is shot through with quicksilver shifts in tone, tempo and genre making this the band's most stylistically varied release to date, running the gauntlet from spectral fingerpicked folk to warped R&B and searing psychedelic rock. 'Major League Chemicals' and 'American Guilt' give the band a chance to flex their muscles a little and represent some of the heaviest music Unknown Mortal Orchestra have ever committed to record. The former track bursts out of the box with a bluesy squall of guitar and organ straight out of Big Brother & The Holding Company's playbook  while 'American Guilt' well and truly takes matters off road and over the edge of the ravine. Unleashing a savage gyroscopic guitar riff, the track barges blithely through the American cultural landscape as Nielson hoarsely decries the sorry state of the modern world with the immortal line,"Even the Nazis are crying".
Despite all of the scattershot genre splicing and sound experimentation at play on Sex & Food, Unknown Mortal Orchestra skilfully manage to avoid any outright disasters on the record. The case could however be made that 'The God of Hubris', the strangely arhythmic album opener which lasts a mere 41 seconds adds very little to proceedings. Other songs such as 'This Doomsday' are pleasant enough but seem to get lost in their own spacey dirge, dissipating into the ether without leaving much of an impression. Thankfully the album keeps a fairly swift pace and stand out tracks are evenly distributed throughout its slender 40 minute running time.
The album's wonderfully titled penultimate track, 'Not In Love We're Just High' is a particular highlight. The track finds Nielson navigating the often complicated relationship between perception and reality over a dazed and watery rhodes keyboard vamp that sounds like its been shot full of horse tranquiliser. The song slowly comes into focus before exploding into a pleading bombastic outro. The overall effect sounds like a long lost Prince record listened to from the bottom of a murky swimming pool.
It seems that the Unknown Mortal Orchestra of 2018 are quite a different animal from the band who released 'Multi-love', the fizzily unabashed paean to the joys of a threesome a few years back. The unstoppable rise of the alt-right, the proliferation of fake news and the damaging effects of drugs and technology in our personal lives have acted as Nielson's personal Altamont, bringing his 'Summer of Love' to a swift end and sending his thoughts inward to darker anxious territories.
With few steadfast conclusions drawn from these searching and open ended songs, it seems the come down may have only just begun. On the upside though, Unknown Mortal Orchestra's music has rarely sounded so vital. James Cox