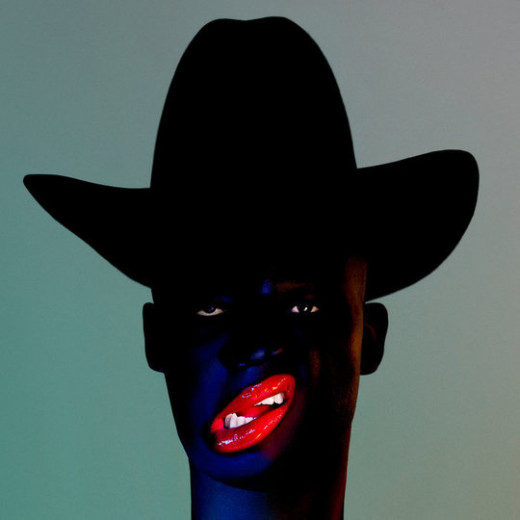 Words are hard. Try as we might as we attempt to translate thoughts into words, we inevitably truncate the infinite. We've spent millennia desperately trying to communicate with one another the depth and breadth of the things we feel and how external stimuli affect us. Think of all the experiences you've had and everything you've ever felt and then wonder if you've ever been able to truly express yourself to another without losing some level of definition. That's the reason behind the elation of discovering a new metaphor. Occasionally though, you're faced with an experience or piece of art whose definition comes easily. It's as though some greater force is guiding your hands to a perfect combination of keystrokes.
Cocoa Sugar, the latest LP by Young Fathers, is one of those of pieces. Simply put, Cocoa Sugar is a spectacular album. It retains the manic energy and idiosyncratic blend of hip-hop, R&B, and rock that made the predecessor, 2015's White Men Are Black Men Too, so captivating. But crucially, it doesn't reiterate that album's points. It expands on them, introducing a greater gospel influence and diving deeper into the extremes of light and darkness. The highs are higher and the lows are deeper, but the effect is just as mesmeric.
Central to the hypnotic qualities of the music is the fact that the trio's direction is almost impossible to predict. The Edinburgh outfit have been honing their craft for the last 10 years and it shows. Their ability to fuse the disparate elements of their influences into a single cohesive unit and have it sound not only seamless but also as though each was a missing piece in the other's puzzle is incredible.
Take 'Wow', for example, which is driven by this pounding dance beat and ominous synth line yet manages to marry those elements perfectly with guttural, vicious wails and '50s doo-wop backing vocals effortlessly. Every song is so bright and shiny and has such a distinct persona but always works within the context of its peers. Cuts like 'Wire', which wouldn't be out of place on Warp Records compilation, sit comfortably alongside the pop majesty of songs like 'In My View' or 'Toy'. Part of this unity is the thematic threads running throughout. Some of these of lyrical, but many are mood based.
The album knows what mood it is trying to capture. Cocoa Sugar manages to capture that sense of walking home through a city at 5 am on a Summer's Saturday morning. Hear me out. It's late, you're spent but still have enough energy to keep moving. All around you are the sounds of beats leaking from a variety of venues all combining into this harmonious, cacophonous racket as tracks like 'Fee Fi', 'Toy' and 'See How' conjure this beautiful mess of influences. The memories of the night swirl around and fill you with this wonderful elation ('Border Girl', 'Tremolo'). Things aren't entirely safe tough and you know that; a turn down the wrong lane could turn violent. Darkness, aggression, and decay surround you ('Holy Ghost'). You proceed cautiously until it hits. The transcendent moment. The first crack of dawn. There's a sense of elation, relief and wonder as the warmth and glow cover you.
If there's one thing that the LP delivers on it is that; a true sense of euphoria. A piece like 'Picking You' is testament to that, its scope is almost as large as its beauty. The performances are stellar and close off the album faultlessly. 'Lord', then, stands as one of the best songs the trio have ever written. A gospel song at heart that builds and builds to a crescendo that could shatter glass. The emotion, the performance, the climax; everything works impossibly well, the kind of song that inspires goosebumps and catharsis.
Cocoa Sugar does it does like nothing else. It's musically diverse and unique. Its thematic and tonal qualities are as consistent as they are powerful. This is a record to obsess over and romanticise. Give yourself over to it and set your spirit aloft. Will Murphy