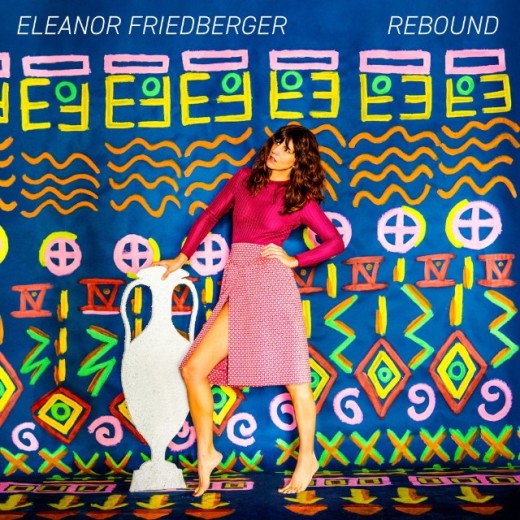 In the aftermath of the US elections, Eleanor Friedberger spent some time in Athens with the intention of writing an album. Somewhat side-tracked by the city's allure, she ended up forming a Greek band,  leaving the demos for what would become her fourth solo record until her return home. The remnants of her transitory escape from the reality of a Trump regime are found in the title of the album, Rebound, named after a Goth club in the Greek capital whose music and character informs these ten tracks.
Friedberger's previous band project with her brother Matthew yielded some wildly imaginative results over a nine-album run – indeed, Friedberger has claimed that Rebound sounds more like The Fiery Furnaces than any of her previous solo endeavours. It almost didn't turn out that way. Having previously discussed with Bradford Cox (Deerhunter/Atlas Sound) the idea of him producing her work, she decamped to Atlanta with the Rebound demos. Cox, though, was less enthusiastic about the recordings than Friedberger would have liked and the collaboration with her mercurial friend was ultimately aborted. She instead called once more upon her collaborator on 2016s New View album, Clemens Knieper, to produce and help evoke the electro gloom of the titular Goth club.
Rebound begins with an intake of breath – Friedberger's voice straight in, the first thing we hear as 'My Jesus Phase' moves from slow, kick drum-driven disco to mid-tempo electro-pop with the upward trajectory of a wonderful, woozy guitar line leading the charge. Programmed drums and synths dominate the record, but to suggest darkness pervades would be far off the mark. 'It's Hard', a playfully evocative song about the aforementioned club – a place "where time stands still/It's like '83 or '82/Or '85, it's hard to tell" – has the feel even of The Magnetic Fields' synthier sojourns.
Nestled unobtrusively towards the end of the album lies one Friedberger's most interesting ideas, based entirely on text messages between her and three of her exes. Variously biographical, nostalgic and absurd ("Outside a gas station a dog winked at me/He's not even barking in the right language"), 'Are We Good?' takes the Dadaist cut-up technique into the electronic age in as playful a way as you'd expect from a Fiery Furnace. Even if in this case, the concept is more interesting than the execution.
The mid-album pairing of 'Make Me A Song' and 'Nice To Be Nowhere' with you are tonally disparate yet thematically matched bedfellows. The former is the album's catchiest and longest track, the latter more measured; a stroll through the park with a kindred spirit. The simplicity of the lyrics ("Nice to be nowhere/Over and over with you") and the open hearted sincerity of Friedberger's delivery echo the uncluttered arrangement. Friedberger's lyrical style is concise – clipped even – and most effective when coupled with these simper arrangements, a more direct hit even if the message itself is indirect. 'Make Me A Song', for instance, drops the veil on something a lot deeper than the craft of just making music -"It's not about three songs fast/Or two medium ones/It's about the sun's atmosphere/It's about sonic boom."
Exploring largely uncharted territories of synths and drum machines through the filter of the experience of life in a different city, Rebound is a departure for Friedberger, and it's an admittedly uneven album as a result. Each high point makes the weaknesses more apparent, but they are mercifully few and far between. This Athenian '80s experiment is a building block, a transitional advancement towards greater things. Justin McDaid