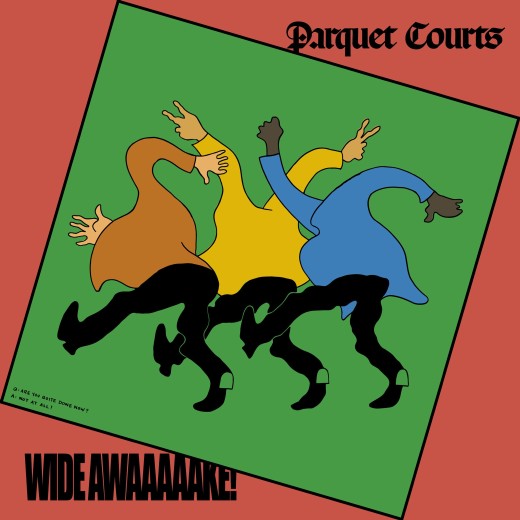 Parquet Courts' latest is a petrochemical explosion of fiery politics and sprawling creativity. Building upon their established art-punk sound, the Texan outfit's experimentation with technicolour keyboard textures, funk grooves and Latin rhythms makes for their most immediate and stylistically diverse release to date.
Aptly titled Wide Awake!,  the album is an unapologetically political outing, showcasing A. Savage's lyrics which seethe with rage and indignation, his thoughts seemingly drawn into sharper focus by the U.S.A's ongoing political calamity.
Crunchy garage rock opener 'Total Football' indulges the bands more mercurial instincts with elastic time signatures and a jerkily danceable bassline, providing the perfect vehicle for Savage's impassioned call to arms. An established football tactic, 'Total Football' refers to the idea that any given player can be adaptable enough to take over any other position on the team and here provides a handy metaphor for Savage's searing collectivist manifesto, an antidote to a sickly, individualist culture. Lyrically the track ricochets  between ranting political diatribe and the kind of catchy sound bites one might hear chanted at an Occupy demo, "Workers, authors, poets, stoppers, power resembled if we are assembled!'. Savage's vocals grow increasingly feral amidst the song's closing bombast before signing off his credo with a scathing mic drop moment, "Those who find discomfort in your goals of liberation will be issued no apology! And fuck Tom Brady!"
The record's piquant political mode intensifies further on 'Violence', a track which considers America's history of brutality in woozily funky terms, channelling the winding bass and lurid synthesisers of William Onyeabor's psychedelia to explore a culture of seemingly endless mass shootings and police bullets in the context of the Black Lives Matter era.  
Through rhythmic spoke sung lyrics Savage calls for humanity to face up to its historic cycle of violence with disturbingly poetic language and explores his (and by extension our own) complicity in the ongoing fiasco: "Allow me to ponder the role I play in this pornographic spectacle of black death". The chirpy vocal hook repeats the line "Violence is daily life, Violence is daily life" over the albums most danceable beat, a perverse radio jingle for the state of the world in 2018.
A vocal turn from guitarist Austin Brown, 'Mardi Gras Beads' ushers in a softer more contemplative side to the band's sound. Opening with a sumptuous mist of reverb drenched guitars the melodious track speaks of "A commitment to yourself, for better or worse" as Brown sings of his contented aimlessness over a jangling backdrop: "I'm living like a vagabond that just can't decide when to leave."
In keeping with the "Footloose fluidity" extolled on 'Total Football', this same freewheeling sentiment is echoed in the albums wildly segueing track listing. The gentle surf inspired melody and pillowy vocal harmonies of 'Mardi Gras Beads' give way  to the sandblasting guitar and bellicose staccato roar of 'Almost had to start a fight/In and Out of Patience', the swaying rhythm and Argentine accordion flourishes of 'Back to Earth''s witty Jonathan Richman inspired melody  and the taut Magazine like squall of songs like 'Normalisation' and  'NYC Observation'.
By far the most disarming stylistic shift though arrives with the punchy pandemonium of the album's title track, a joyous mess of samba drumming, football whistles and interlocking Afrobeat guitars that recalls Talking Heads' late '70s melting pot of tangled punk and funk. The song conveys a sense of uncontainable energy on a par with an improperly weighted washing machine, shaking the foundations and threatening to topple at any moment easily providing one of the albums most straight forward pleasures.
The record's disorienting, kaleidoscopic journey through the band's multitude of neuroses and far flung musical interests comes to a close with 'Tenderness' an apparent homage to Warren Zevon's jauntily caustic piano rock in which Savage turns his critical gaze to the dangers of nihilism and the importance of increased participation: "Open up your mouth, pollinate your peers."
In less skilled hands this chameleonic record full of angst and political grandstanding could easily come across as mawkish or cumbersome but with Wide Awake! Parquet Courts have succeeded in creating a pointedly observed and joyfully raucous album, a scattershot document of our chaotic times lavished with deadpan wit and lacerating poeticism.
Savage's dream of a collectivist Utopia may be a distant one, but with songs as frenetic and vital as these, at least we can dance while the world implodes. James Cox