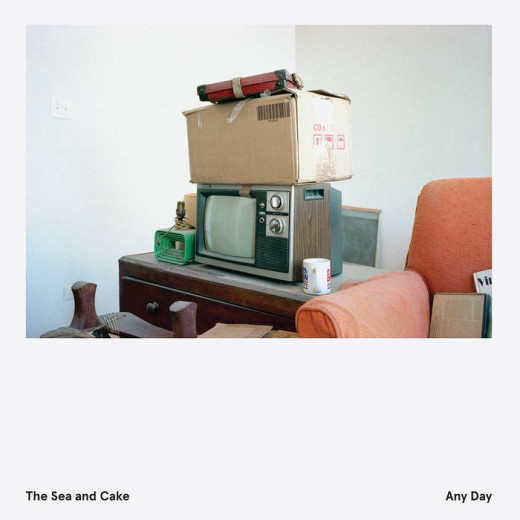 Chicagoan supergroup, The Sea and Cake sprang from the mid-western city's post-rock hotbed during the early '90s, bringing together members of bands such as Shrimp Boat and Tortoise to create a singularly sophisticated sound.
Over the course of 11 albums The Sea and Cake have plied an increasingly finessed trade, melding a love of jazz, bossa nova and '70s Krautrock with their own breezy indie rock instincts, tearing an unlikely wormhole between the parallel universes of Astrud Gilberto, Neu! and Guided by Voices. 
The band's latest effort Any day, which arrives after a lengthy six year break, flashes to life with a gust of Sam Prekop's breathy tenor and an uncharacteristically surging guitar line on opening number 'Cover the Mountain'.  The song contains a driving, ear worming melody, recalling Teenage Fanclub's buoyant guitar pop and clocking in at just shy of 3 minutes, the track makes for as snappy an opening gambit as you'll find in the band's catalogue.
The crunchy chords and impellent pop groove of 'I Should Care' bring further bouncing momentum to proceedings as Prekop's inimitable keening vocals are whisked along with John McEntire's cantering drums. Before coming to an end with a mournful swoop of slide guitar the track gets about as close to pure pop as the band have dared venture, at least since covering David Bowie's 'Sound and Vision' in 2003.
The album's atypically propulsive new direction ends with this sprightly opening couplet however and the album's title track finds The Sea and Cake firmly grounded in the smooth, autumnal sound with which they have perhaps become overly associated. Arriving in a familiar flurry of jazzy hi-hats and warm acoustic guitars, 'Any Day', like all of the band's music, is beautiful and cleverly arranged, but the lack of jeopardy exhibited in the band's musical choices can occasionally prove fatiguing. While widely and correctly renowned for their ultra-proficient musicianship and the consistency of their recorded output, The Sea and Cake are not a band synonymous with restless stylistic reinvention. At times on the record, tracks billow by without leaving much of a footprint, veering dangerously close to the kind of pleasantly uneventful music you might be treated to when placed on hold for disputing your phone bill too vigorously.
All this being said though, there is still much to love about Any Day. The tumbling drums and plaintive vocal melody of 'Occurs' is perhaps the saddest and most urgent moment on the record while the gorgeous instrumental 'Paper Window' channels Fleetwood Mac's 'Albatross' before unfurling into a psychedelic fantasia of splashy cymbals, and gauzy woodwind arrangements courtesy of Brian Wilson collaborator Paul Von Mertens.
The album's true highlight though is the blissful 'These Falling Arms' which sways in the tide of a swooning rhythm, the gently throbbing bassline illuminated by chimes of Archer Prewitt's clean tone guitar. The song takes an unexpected turn at around the halfway mark, with a steadily ascending guitar line lighting up like a staircase through the song and up  towards a rapturously romantic centrepiece quilted with guitar harmonics and shimmering keyboards as Prekop's ecstatic vocals deliver the album's most winsome melody.
The Sea and Cake's latest offering contains some wonderful moments and is a worthy addition to the band's catalogue even if it refines rather than revolutionises their patented formula. Still, at times on the record one can't help but feel like a reluctant child on a school trip to an art museum, surrounded by beauty but strangely unmoved.
Any Day is overflowing with such beauty but with all the good will in the world, the fireworks, candy and puppy dog store it ain't. James Cox