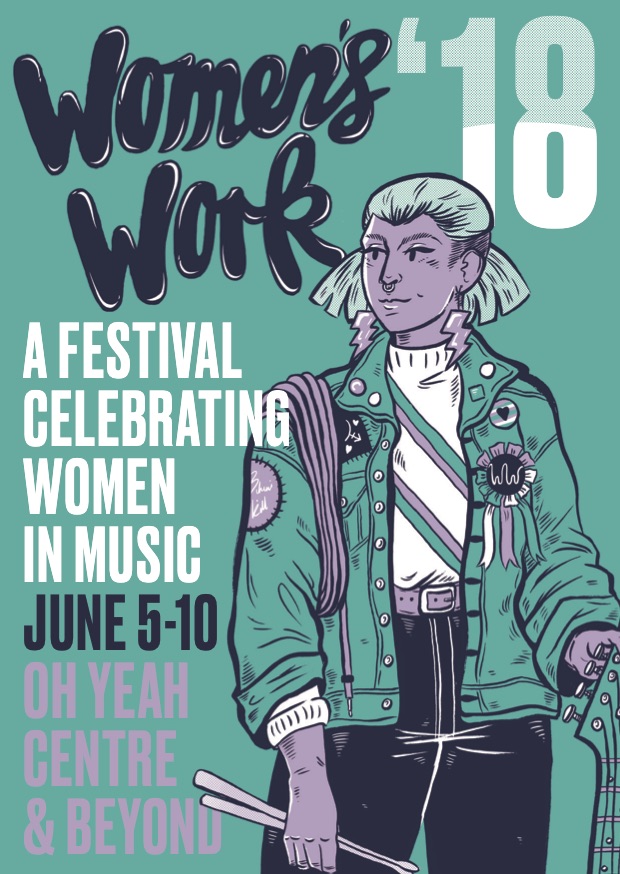 The programme for this year's Women's Work festival in Belfast has been announced.
Officially launched this afternoon at the Black Box, Women's Work is a unique event for Belfast that highlights the important contribution that women make to music. Inspired by a growing global movement across the music industry towards a more even playing field, the programme has become an annual celebration and promotion of not only new and existing female talent, but also for diversity and change.
Taking place across six days and nights, this year's festival will take in a range of activities and events that open to all genders. Comprising showcases, gigs, special events, panels, talks and exhibitions, the following are highlights from the programme, launched today:
What's The Score – Exclusive Composition and Arrangement workshop with highly sought after musician and collaborator Charlotte Hatherley (Ash, Bat For Lashes, KT Tunstall, Bryan Ferry)
Women's Work showcase in Association with Blue Moon Craft Beer – with Bad Bones, Hiva Oa, Pillow Queens, Strange New Places, Cherym, Gaze is Ghost, Sister Ghost and special guest DJ Charlotte Hatherley.
Exclusive rooftop performance from Irish singer songwriter and multi instrumentalist Brigid Mae Power.
Open House Presents Sóley at The Strand Arts Centre – A welcome return to Belfast for the Icelandic artist whose last appearance was in support of John Grant at the Mandela Hall in 2016.
Soundtrack of Our Lives – Five of Northern Ireland's prominent female politicians in conversation about music and more with BBC's Marie-Louise Muir. With Naomi Long, Claire Hanna, Carál Ní Chuilín, Clare Bailey and Paula Bradley.
Suffragette for Sound – Julie McLarnon (Analogue Catalogue) and guest Caro C lead a unique workshop that incorporates the genius of electronic music pioneer Delia Derbyshire (creator of original Dr Who theme) Evening will follow with DJ set from Belfast Club Queens and defenders of the dance floor GIRL.
Joni's Story – a celebration of Joni Mitchell, a musical icon and major influence on singer songwriters across the world. Festival closing event presented by Bird & Bramble with music fromDANI, Amy Montgomery, Lauren Bird, Amanda St John and more.
Panel discussions and workshops with Olga Fitzroy (producer Coldplay), Emma Edgar (Tour Manager, Placebo, Everything Everything, Wolf Alice), Claire Southwick (Primitive Management), Angela Dorgan (First Music Contact), Susan Breen (Film Producer, Requiem – BBC and Netflix).
Belfast premiere of Here To Be Heard: The Story of the Slits at QFT in association with Girls Rock School NI and Belfast Film Festival.
Music Is Dialogue with Luna Abu Nassar and Gani Tamir at Duncairn Arts centre.
Launch of Fem-anarchy in NI – addition of the female punk story to the NI Music Exhibition at Oh Yeah.
Charlotte Dryden of Oh Yeah said: "There is no doubt that the talent, determination and visibility of women across many sectors has been much more prevalent in recent years. This has been through a concerted movement of change across the world, and in terms of music and the wider creative and cultural landscape Women's Work has worked hard to be part of that change in Belfast."
"It's encouraging also that we can depend on supporters that share the vision, that's why it's with great pleasure we can welcome Help Musicians NI as our principal partner this year," she continued. "We're also delighted that our existing Live Music Partner,Blue Moon, with support from the Arts & Business Investment Programme has extended its commitment to supporting local music for our showcase event."
Full programme here. Go here for more info.