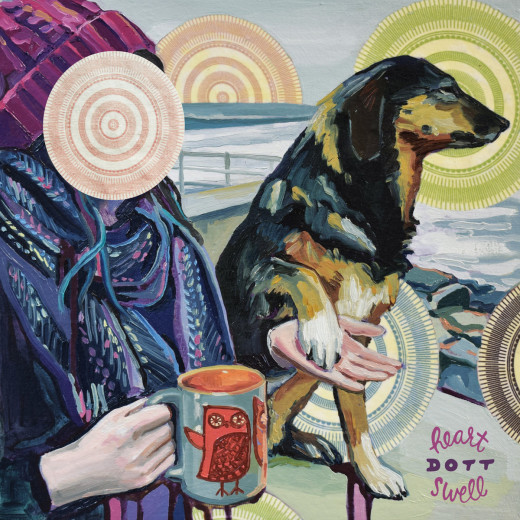 Mere happenstance it may be, but in the context of a certain momentous referendum victory and one of the longest stretches of good weather in Irish history, the timing of Dott's balmy and conspicuously political release feels oddly significant. Heart Swell  bulges at the seams with driving garage rock riffs and rumbling basslines while sundrenched melodies and buoyant harmonies sugar the album's impassioned politics without sacrificing an ounce of the band's defiant verve.
The surf pop inflected opener 'Bleached Blonde', announces itself with Laura Finnegan's throbbing bass and frontwoman Anna McCarthy's vocals echoing the ebb and flow of the tide, gradually building in volume from a whisper with a belted crescendo and back again with each rhythmically chanted verse. As McCarthy's bell clear voice approaches breaking point she belts out the track's gargantuan hook, treating us to a chorus every bit as brassy and luminous as the song's eponymous dye-job. The track is strewn with seaside imagery and its sing-song cadence and simple rhyme scheme recall the breezy Californian pop of Best Coast, "Your sunset skin, your Ice cream grins, I melt into the sea".
The track is a fitting introduction to Dott's effervescent style, and more than sets the scene for an album packed with infectious hooks and driving, danceable riffs.  But for all the honeyed energy on the record, there is no shortage of toothsome social commentary on issues ranging from consent to marriage equality. The edifying and celebratory 'Like a Girl' rails against the commodification and objectification of women, "Born into this world as a boy or as a thing…" as well as the idea that to be female is to be somehow lesser, subverting the old adage, to throw/ run/ drive like a girl and repurposing it as an empowering war cry.  The band enlists the help of Sadie Dupuis of Speedy Ortiz on the track and she further bolsters the song's shredding, full bodied choruses with her deliciously wonky guitar pyrotechnics.
'You Don't Have To' works to quash victim blaming culture and put to bed the warped notion that women are somehow complicit in sexual assault, "These double standards keep you guessing, analysis of how you're dressing… some people find blurred lines distressing".   Dott juxtapose the serious issue with one of Heart Swell's catchiest chord progressions while McCarthy delivers the song's scathing, ironic lyrics with cool impassivity.
For all of Dott's bite though, it is the album's humanity that really shines through and Heart Swell's progressive ideas  are shot through with warmth and sentiment, framing equality and liberation as a product of simple human empathy rather than some radical gesture.  
Kicking off with a simple drumbeat and childlike glockenspiel motif, the sweetly plaintive 'Self Help' explores the journey to self-acceptance and suggests that the route to living your best life can be found through helping others, "'I try to live my life without neglecting those I love… without second guessing where I'm from."
The aquaphile preoccupations of 'Bleached Blonde' reappear on the winsome 'Swim', a track which tones down the fuzz pedal a few notches and showcases McCarthy and Finnegan's vocal interplay on the spartan Liz Phair like  verse and the ebullient, love sick chorus ,"I'll swim to you, I'll swim to you!"
The flushed and swooning 'Wedding Song' though, is perhaps the album's crowning achievement. A paean to the universality of love expressed in plainly relatable and unpretentious language. The song plays out as a 'Chapel of Love' redux for 2018 and manages to make a more emotive and incontrovertible case for marriage equality than any dry or bloodless political debate, "Who could put a stop to something so pure… lets run down the aisle and tell them this is for life".  Musically the song is built on a naive and uncomplicated melody which quickens and intensifies like the heartbeat of two lovers walking down the aisle before reaching an ecstatic climax of harmonies and and pounding drums with the repeated refrain, "Love, love, love!"
With their sophomore full-length effort, Dott have refined and all but perfected the fizzing, retrofied pop of their debut (2013's Swoon), curating an absurdly melodic summer beach party in celebration of love, feminine strength and Ireland's latest hopeful step towards modernity.  James Cox