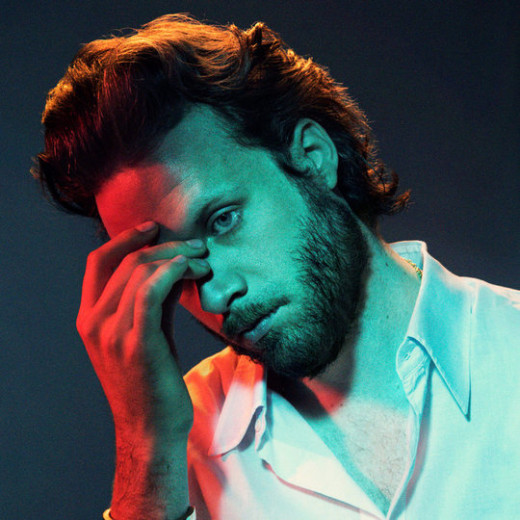 Nine years ago, Nardwuar The Human Serviette interviewed Robin Pecknold of Fleet Foxes and then drummer, Josh Tillman. The exuberant Canadian musician-turned-journalist acknowledged Pecknold's penchant for performing in a seated position and commented that he had revived this style. Tillman, dissatisfied with the lack of attention, interjected, "I kind of resent being overlooked in this category because I also [perform] on a chair." This casual exchange, small though it may seem, provided us with an early indication of someone unwilling to relinquish the spotlight.
Nine years later, Josh Tillman's ego abides. He's transformed from the fabled "horny, man-child, Mamma's boy" he sang about two albums ago into "a pervert on a crowded bus" as described on 'Disappointing Diamonds Are The Rarest of Them All.' God's Favorite Customer, the fourth album from Father John Misty, comes a mere 15 months after Pure Comedy, a 74 minute long record that brought forth sombre critiques on global social media dependency. In Comedy, Tillman assumed the role of flâneur witnessing people preferring technology to human contact and his new material is continuation of examining the effects modern society and culture has. This time however, Father John Misty looks at those ideas on an internal level, explicitly detailing a two month period that saw him take up residence in a Los Angeles hotel.
Tillman chose to check out of daily life and move into "The Palace", as an exercise in gaining some semblance of reality. The songs, 'Please Don't Die', 'The Palace' and 'Mr Tillman' address the singer's fragility before and during his stay. The latter, in particular, demonstrates his delusion during this time. He recounts being told that his passport is in the fridge, a paranoia of a movie being filmed outside his window and former Drive-By-Truckers member Jason Isbell being "worried about you". This is the general theme that runs throughout the album; songs born from fear and worry. Unfortunately though, the displays of vulnerability struggle to land. It is simply too difficult to feel compassion for Tillman when there is a constant lingering reminder that he is still just assuming some character, adhering to the exhausting conceptual, narrative arc that he's spent the past couple of years shoving in our faces. 
Furthermore, it seems like Father John Misty is desperately trying to project an image of himself akin to musicians and artists from the 1970s – Patti Smith, Bob Dylan – that lived in the iconic Chelsea Hotel. This album, in turn, suffers from feeling contrived. Lyrically, Tillman makes a feeble attempt to refrain from problematic and perverted lines on his latest offering. He tries to channel Death of a Ladies Man-era Leonard Cohen by stating that he is "no stranger to the female form / Oh, I've been here a few times before / Oh, but you could have me anytime". Lines like this that do nothing more than make the listener cringe.
In terms of the musicality of God's Favourite Customer, Father John Misty retains the sonic style that he explored on I Love You, Honeybear and Fear Fun. The arrangements are grandiose, 'Date Night' begins with a striking harpsichord flourish before the shake of a tambourine and a repetitive piano line accompanies a slightly distorted vocal. It's among the catchier, up-tempo tracks along with 'Disappointing Diamonds Are The Rarest of Them All' which exudes an attempt to recreate Sgt Pepper's tendency of layering several textures; faint organ, bombastic percussive beats, a fleeting saxophone towards the end.
In the pared back moments the listener could be forgiven for dipping out of the album. Take the title track for instance, which features appearance from Weyes Blood providing an angelic response to Tillman's plea "won't you speak to me? / Don't you remember me?".  His monotonous vocal and uninspired melody are lacklustre and very much feel like much needed padding to make this a long-player. Similarly, 'The Songwriter', is another unmemorable moment comprised of just Tillman and a piano, recreating something Elton John would have written straight after 'Candle in the Wind'. The subject matter makes for uncomfortable listening as it is a condescending look at how his wife would portray him is she wrote songs about their life: "What would it sound like if you were the songwriter? / Would you undress me repeatedly in public / To show how very noble and naked you can be?"
In an interview last year, Tillman stated, "I made a decision as a child that I would never let anyone tell me that I was invalid or inauthentic, or that my experiences were". However, when you strip away the theatrical instrumentation, obnoxious quotes from Pitchfork interviews and the character traits that define Father John Misty (arrogant, sleazy, misunderstood) you have to wonder what is left? Where does his appeal come from? It certainly isn't found in this record. Its contribution to contemporary culture is not essential and it's far from impactful. He is repeating sentiments that were executed in a far more entertaining and  manner on I Love You, Honeybear. That is the album that holds the relevance in the Father John Misty canon.
Nine years ago he stated that he hated being overlooked because he also sat in a chair whilst performing. Perhaps he should have sat this one out and taken a little more time and effort to deliver new material with a bit more sincerity and credibility. Zara Hedderman