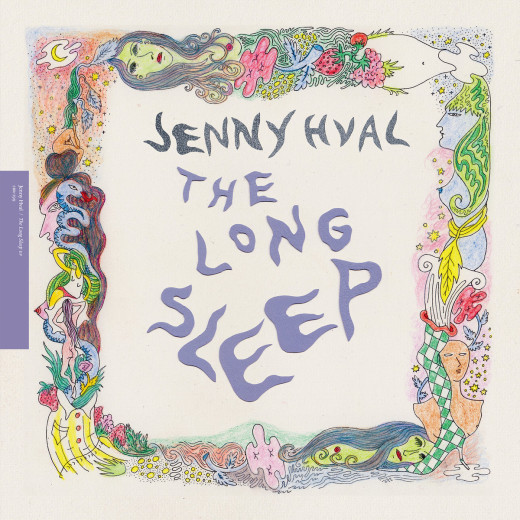 What can one expect from Jenny Hval? To date, her career is comparable to one big game of whack-a-mole. At any one moment, the Norwegian artist could pop up in collaborations, most recently with Håvard Volden for the Lost Girls EP, or perhaps as the author of a novel (Paradise Rot, arriving October). Her solo work can largely be categorised under avant-garde, but flits between a range of electronic, jazz, pop, ambient and folk influences, making Hval one of the most freely creative artists of this generation.
For someone so strikingly studious, it's hard to imagine where the inspiration comes from for the title of Hval's latest EP, The Long Sleep. Nevertheless, the release is full of dream-like textures, exploring an approach that at its very core feels subconscious and natural. Opener 'Spells' presents some of Hval's poppiest tones to date, with simmering saxophone hooks playfully interspersing with soulful keys and guitar.
"You might be in pieces/but let's call it something else" opens 'The Dreamer Is Everyone In Her Dream' over the top of soft and twinkling piano, before descending at the midway point into a wonky and frenetic nightmare complete with heavily distorted frantic PJ Harvey-esque incantations that "this is the long sleep'. The title track gradually morphs sparse, warbling ambience into African percussive rhythm and oozes with confidence and patience in it's delivery, leaving the listener feeling in an odd place between lethargy and an urge to dance. It's an effect that few other artists can boast. Hval subtly ties all tracks together with the same compositional motive, but allows them to morph and develop into entirely different shapes from their original concept, and in doing so adds a lucid and repetitive quality to the work.
'I Want To Tell You Something' is a foray into spoken-word, placing Hval's greatest asset – her lyrical ability – at centre stage. 'There should be something I could tell you, there should be something I could say directly without lyrics and melody' divulges a lost-sounding Hval. "I just want to say: thank you. I love you". It's a poignant ending for a short EP that's resplendent and generous in it's lyrical offerings, traversing a wide range of subjects in such a short space of time. Hval's delivery is convincing as she informs the listener in 'Spells' that "you'll not be awake for so long", as is her observation that "the broken heart is visible from the outside" within 'The Dreamer Is Everyone In Her Dream.' It maintains a level of directness throughout,, drawing the listener closer and tighter into her rich melodic soundscapes.
The Long Sleep is a diverse offering that continues to showcase Hval's eclectic techniques and broad range of influences. Hval's beguiling delivery and comforting lyrical content act like a warm blanket and bedding, and like any long sleep, remains something you soon want to visit again and again. Dominic Edge