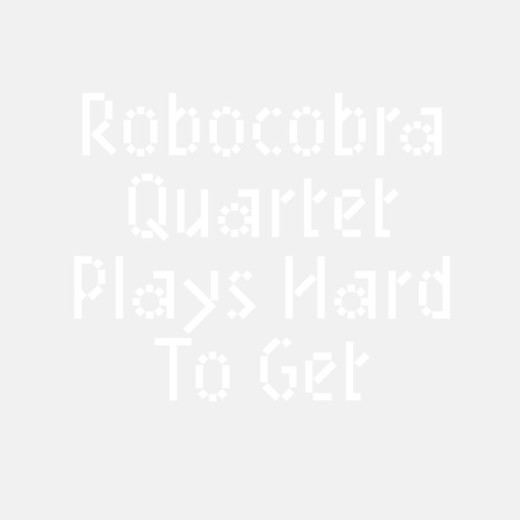 Hyperbolic as it is to say, Chris Ryan might well be the most important creative voice in the city of Belfast today. This bespectacled Robocobra Quartet bandleader has been quietly releasing some of the finest broadcasts that this landmass has heard for some years now. Cuts like '98-01′ from 2014's Bomber EP and 'Album of the Year' from 2016's groundbreaking Music For All Occasions should be used by the Council as a demonstration of how indispensable and experimental the city's art scene is. The outfit's truly idiosyncratic fusion of punk and jazz is the sort of stuff that music fans should be salivating over. It's almost as though John Zorn decided to collaborate with NoMeansNo on some spoken word art pieces. After two years of touring and working, Ryan has reemerged with a new LP, Plays Hard To Get, that manages to sidestep the sophomore slump entirely. It's a rich collection of avant-garde cuts that manages to retain the manic energy and unpredictability of his previous work, while also building upon their foundations. 
One of the great tricks that Robocobra have up their sleeves is the level of lawlessness with which they approach song structure. As with all great jazz, the song leads musicians, not the other way around. These songs bend and fold, twist and shout and move like a buttered-up snake. There's no point trying to figure out where things are going as your guess will almost certainly be profoundly incorrect. A great example of this is on 'Bar 37 Will Shock You!'. In the title, the song's ace-in-the-hole is right there on full display. There's a certain hubris required to taunt the audience so openly. But lord knows that when bar 37 hits and the moody, pulsating rhythms give way to an explosive wall of saxophone wails and noise, you'll be picking up chunks of your head from the back wall. Another example would be on the excellent 'I Shouldn't Have Watched The Film What Lies Beneath (When I Was Twelve)' which somehow manages to combine a dirty distorted 1980s hardcore punk bassline with almost tribal drums and vocal harmonies that could have come straight out of 'Subterraneans' from Bowie's Low.
But it's not just the excitement and chaos that gives this record so much heft. A great deal of the record's power comes from Ryan's sprechgesang vocals. They've got the same twitchy, uncertainty of someone like David Byrne, but with a much greater tension, as though he's mere seconds away from letting out a final guttural wail and keeling over. It's the perfect voice for this kind of music: just left of centre enough to be intriguing without being distracting. On 'You'll Wade', you can hear the pleading pain in the man's voice as he frankly talks about a dear friend's suicide attempt. There's a sense of restraint and anger permeating through every word like he's trudging through a sea of frustration because he can't find the correct configuration of words to save the one he loves. What it lacks in a purely technical skill, in more than makes up for it in emotional weight.
Adding to that emotionality though are the lyrics themselves which are simply divine. The LP is littered with tiny lines that hit with the force of Mike Tyson. Take the album closer and highlight, 'Ah', which opens with this simple looping refrain: "That's a person". The music swells as the voice distorts but the message remains the same: That's a person. It's an incredibly simple line but one that in context burrows directly into your subconscious mind where it will remain for a long time. That's actually the true magic of Plays Hard To Get. It's an impossibly delicate marriage of complexity and simplicity. There's no single element here that, in isolation, anyone couldn't do. But when all combined into this beautiful, disquieting collection, you quickly realise that this album is so so much more than the sum of its parts. Will Murphy