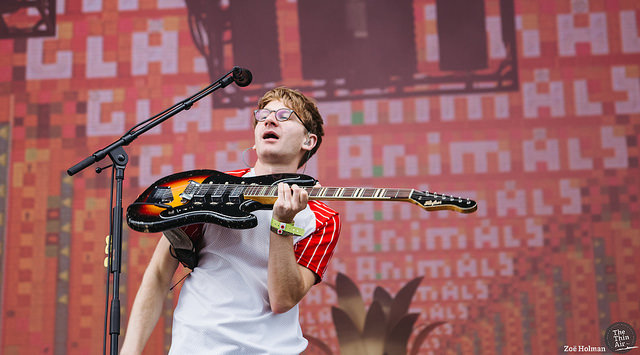 Now celebrating its 8th birthday, Forbidden Fruit has become a staple in the Irish music festival scene, and with it and last week's LIFE festival, the summer festival season has officially begun. A celebrator of Irish acts, with a focus on dance, R&B, and hip-hop, this year's line-up was especially anticipated, with headliners such as Glass Animals, Justice, Bonobo, and EDM favourites like Bicep, Dennis Sulta, and DJ Seinfeld all making appearances over the weekend.
It's never easy to be one of the first acts of the day at a festival, and especially on the first day but this didn't seem to phase the always incredible Loah during her afternoon set on Saturday. With the first of the pundits still strolling in, Loah had a small but dedicated crowd dancing during her set, which slowly grew as the festival got busier. She was a great choice of act for the tough role of waking up the crowd and setting the tone for the day. Maybe a tent would have provided a better atmosphere for her, but this was a fantastic opportunity for the rising talent to share songs like 'This Heart' and 'Cortege' with a wider audience than might have heard her before.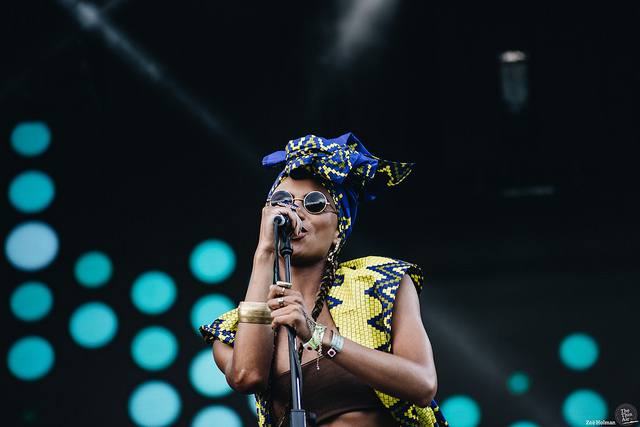 AE Mak were one of many Irish acts to grace the Bulmers' 100% Irish Stage over the weekend, which also featured acts like , R.Kitt and Fehdah over the weekend. A six-piece since last summer, Aoife McCann dominated the stage with her captivating voice and etheral dancing. The group behind 'Glow' and 'I Walk' effortlessly drew a crowd to the Bulmers' tent, and provided the perfect energy and warm up to Glass Animals, who arrived on the main stage just after their set.
Microphone and sound issues at the start didn't take anything from Glass Animals set. No strangers to playing Dublin, the English group exhibited boundless energy and enthusiasm on stage, with lead vocalist Dave Bayley bouncing around the stage during tracks like 'Life Itself', and 'The Other Side of Paradise' and throwing himself into the cheering crowd for 'Gooey'. And you've got to admire a band committed to an aesthetic – with a giant pineapple-disco ball on stage, a shaker in the shape of a pineapple in drummer Joe Seaward's hand, and Bayley appearing with an actual pineapple at one stage – they weren't lying when they said they had pineapples in their head.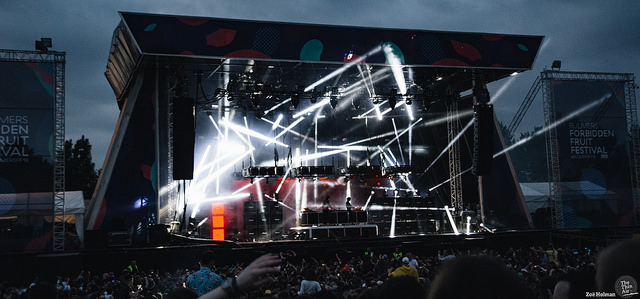 There was a lot of anticipation buzzing through the venue for the first night's main act, French dance duo Justice, who haven't played in Ireland in too long of a time. It becomes immediately obvious when an artist is an expert, and Justice's Saturday set was the perfect example of this; opening the set with 'Safe & Sound', seguing into the 2007 classic D.A.N.C.E, all on a backdrop of monitor-shaped lights flashing between blues and lights, you couldn't help but be captivated but also dance harder than you ever have in your life, with every beat and drop just right. A note-perfect setlist, with tracks like 'Civilisation', 'Love S.O.S' and crowd-pleaser 'We Are Your Friends' provided the perfect ending to the first day, and set the bar high for the whole weekend. Aoife O'Donoghue