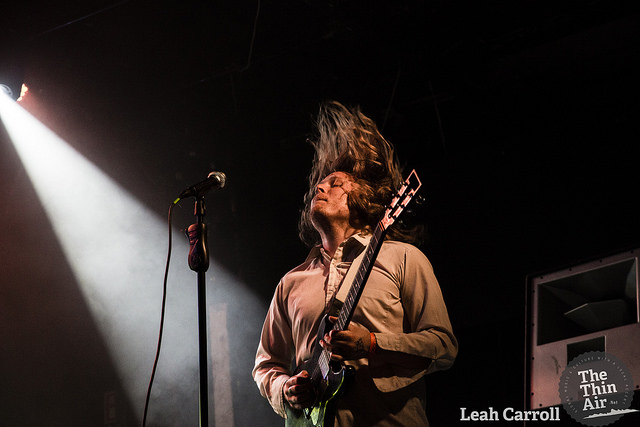 It is as if the drawn out, cloudless evenings knew that Ty Segall was coming to town. A gloriously heady concoction of 60's proto-punk, garage rock, glam, psychedelia and heavy metal,  Segall's music is something that may seem at odds with a wonderfully sun drenched weather front, but one that makes perfect sense when listening to his back catalogue.
Over the course of his ten solo LPs, numerous collaborative albums, and countless other releases, Segall has managed to prove he can effortlessly combine his love of melody with a raucous sound that can go off on a zig-zagged tangent at any time, while also being able to penetrate the eardrums within an inch of their lives.
Beforehand, however, Segall's former Sic Alps bandleader Mike Donovan meanders through tracks from his most recent record How to Get Your Record Played in Shops, while sat behind his rather tidy Nord keyboard. Imagine hints of Ken Stringfellow (ex-Posies) and E's singing style soaked in reverb and you should have a vivid picture of his vocal delivery. The songs project quite a lo-fi aesthetic throughout and veer more towards woozy soundscapes mixed with elements of the Jesus & Mary Chain, as opposed to his previous garage rock sounding efforts. This is something that is perhaps a little too experimental for most who witness it.
Segall and his band of merry Freedom Fighters – comprising Mikal Cronin (bass/sax), Emmet Kelly (guitar), Ben Boye (keyboards) and Charles Moothart (drums) – blast into 'Wave Goodbye' from Slaughterhouse (a Ty Segall Band cover!), with Ty shredding right from the get-go as if his life depends on it. New track 'Fanny Dog' feels as though a wave of drone-like psych has entered the fray with such gusto that the five-piece were making a clear statement of intent. Three tracks from Emotional Mugger – 'Squealer', 'Breakfast Eggs', and 'Candy Sam' – have the crowdsurfers up and running. Segall's vocals seem in fine form while around him his cohorts thrash out every feasible note.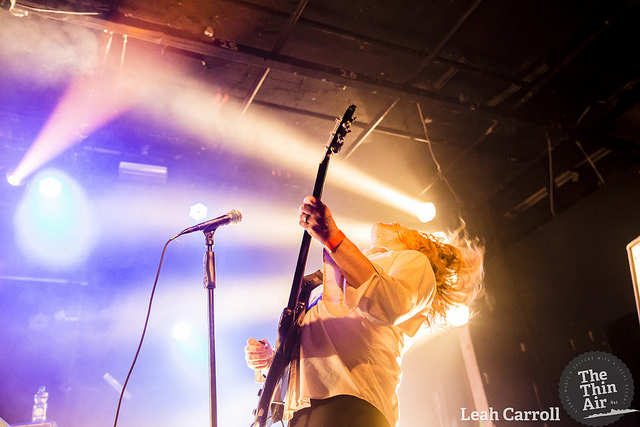 Hot Chocolate's 'Every1's a Winner' is given one hell of a Ty Rex overhaul, while the electro-tinged 'Despolier of Cadavar' is rather swiftly forgotten during the epic 15 minute plus 'Warm Hands (Freedom Returned)'. It's a tune that plays perfectly into the hands of those on stage, who tease the crowd with multiple time changes and styles throughout. It just builds and builds, and with Segall having to change a string three-quarter's through, his bandmates somehow morph into Tinawarin.
'My Lady's on Fire' highlight Segall's clear knack for melody and sees Cronin swap his bass for the sax, while 'Alta', 'Caesar' and 'The Crawler' kept the high octane levels right to the fore, with the latter proving a fine example of Segall's full-blown rock'n'roll capabilities. They finish with a wall of noise in the shape of 'Love Fuzz' and 'Sleeper', and following a brief saunter off stage, return for one final hurrah, bidding farewell in the only way they know how: a hurricane of chugging riffs, pummelling keys, pounding drums and wailing vocals.
Tonight, the adrenaline was palpable throughout a 80-minute plus set, with Segall and co. entrancing all to the bitter, ear-splitting end. Conor Callanan
Photos by Leah Carroll