In this installment of Track Record we spend time with Maija Sofia in her home for a look through some of her favourite records, from Nick Cave to CocoRosie. Photos by Zoe Holman
 Nick Cave & the Bad Seeds – Murder Ballads 
There are loads of Nick Cave albums I could have put on this list, anyone who knows me personally at all know's I'm pretty obsessed, so many of his albums are completely incredible, but I think Henry Lee and Where the Wild Roses Grow were the first two Nick Cave songs I ever heard and was like … wow, who is this unashamedly creepy, slightly camp, weirdly attractive gothic man? Hang on, is that Kylie Minogue singing an over the top murder ballad??!! Obsessed!
The Velvet Underground & Nico
This album was a turning point for me when I discovered it in my early teens, I love Nico's strange voice, somehow childlike and crone-like at the same time, she has this heartbreaking naiveté and world-weariness at once, she might be my favourite vocalist of all time. I love the disconcerting innocence of Sunday Morning and Femme Fatale and the mad chant-like All Tomorrow's Parties, and Venus in Furs and Heroin are just two of the best songs ever. Overall I love how raw and homemade it sounds, such a great antithesis to all of the incredibly sugary production that was happening around the same time, this album made me realise how evocative and affecting music that is slightly 'unfinished' sounding can be.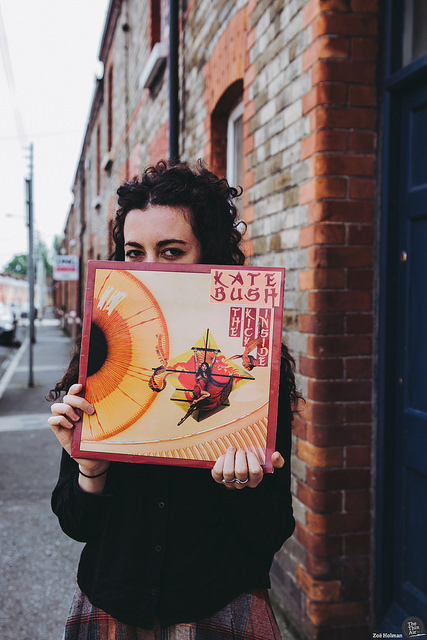 Kate Bush – The Kick Inside 
This is probably the album I've listened to most in my life, I love it so much, it's so theatrical and camp and over the top but also so tender and complex. I listen to it whenever I need to dance any sadness out of my system. Kate was only 17(!!) when it was released, and even though I love all of her work up to the mid-80s this is by far my favourite. I love the strange evocative eerieness of the ethereal whale sounds that open the album, and the unabashed romanticism of it, i rewatch the Wuthering Heights red-dress video more often than i care to admit.
Aldous Harding – Party
This is the most recent album on this list, I only discovered Aldous last year, but have spent the last 12 months listening to this album on probably a daily basis so it would be remiss to leave it out. Horizon was my favourite song of 2017, it's like a mad spiralling demonic exorcism rite.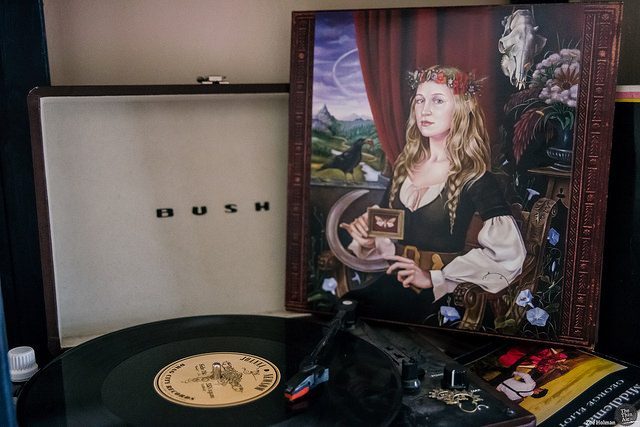 Joanna Newsom – Ys
Joanna Newsom! The best lyricist of all time (yes don't @ me) and the reason I started playing the harp when I was 17. I love all of her albums, each one embodies a different spirit but 'Ys' is just a complete, stunning masterpiece. 'Only Skin' is my favourite song in the world, it's like a magic spell, when I was living in London when I was 19, and didn't know anyone I used to spend cold winter days walking around hackney marshes just listening to this song on repeat, completely wrapped up in it. If I had to choose just one desert island album it might be this one.
Bonnie Prince Billy – I see a Darkness
I love Will Oldham so much, I think he's one of the most underrated songwriters, his lyrics are among my favourites of all lyrics, so gloriously bleak, this is such a good album to wallow in. I love how he marries utter heartbreaking sadness with his weird sense of humour. The whole album is flawless in my opinion, and I see a darkness, the song, is one of my favourite songs ever written.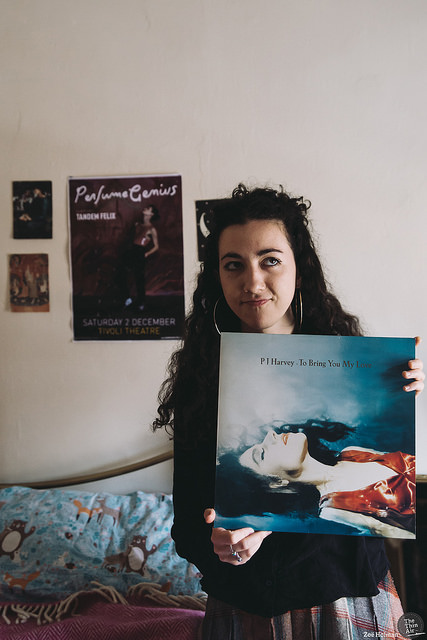 PJ Harvey – To Bring You my Love 
I don't even know where to begin with how great PJ Harvey is, she is so multi-faceted, I love how her voice is almost ugly at times, I love how she veers between being some terrifying biblical Lilith figure to broken hearted yearning lover from song to song. I love how frankly she writes about female desire. This album is the perfect midway point between the raw untethered anger and sexuality of her early work and the complex production and maturity of her later work. And this sounds like such a cringey thing to say but her performance style has been so empowering for me as a solo female artist working in male-dominated genre.
David Bowie – Hunky Dory
I love almost every Bowie album equally but I think this is the album that really got me into him. I love the mad occultism of Quicksand, the eerie timelessness of Life on Mars?, The deeply haunting Bewlay Brothers is one of my favourite Bowie songs. It's such a weirdly all-over-the-place album but somehow it's still coherent. I could probably dedicate a whole list just to Bowie records so I'm going to stop gushing now!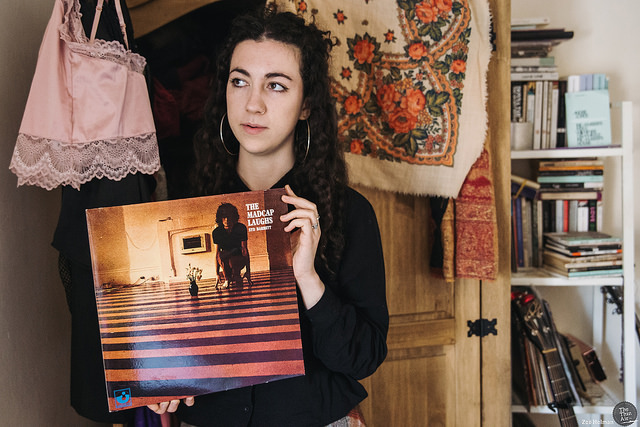 Syd Barrett – The Madcap Laughs
I remember the first time I listened to this album really clearly, I was living in this mad house full of bizarre 70s decor, my bedroom had psychedelic floral pink wallpaper and clashing swirling orange and brown carpet, so in hindsight it was an appropriate place to be initiated into the world of Syd Barrett. I became completely obsessed for a few years, Syd's songwriting is so great, I think he's a really underrated poet, he can flit between nostalgic Wind in the Willows references and fairytale romanticism to devastating depictions of his deteriorating mental health within a single verse, he's amazing.
CocoRosie – Noah's Ark
CocoRosie were my late-childhood introduction to 'alternative' music, I think I first came across their music when I was maybe 11 or 12 (introduced to me by my mum who is a woman of brilliant and eclectic taste) and I was intrigued. I spent many lonely teenage days learning the strange trippy harp riffs in their songs, they were my gateway to the alternative and 'freak-folk' scene of the early 2000s and led me on to Joanna Newsom, Diane Cluck, and Anthony Hegarty/Anohni and basically a whole world of music I fell in love with. Their gig in the Button Factory a few years ago is still one of my favourite gigs ever.