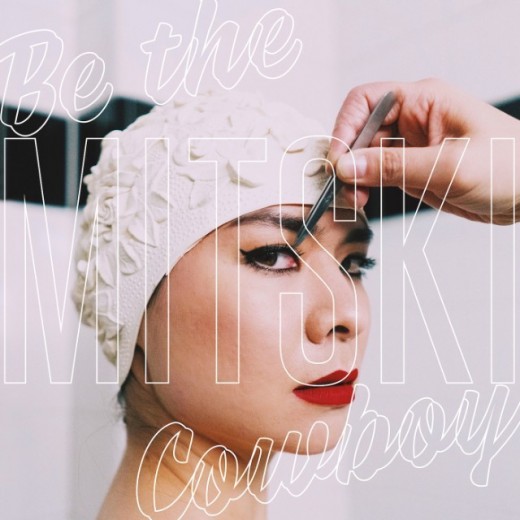 Given the critical success of 2016's Puberty 2, touring with Lorde and Run the Jewels, and facing into an almost fully sold out tour across the US and Europe, it's fair to say Mitski's upward trajectory in the past few years has been stratospheric. Be The Cowboy, her highly anticipated fifth album marks a more mature direction in the New York artist's – full name Mitski Miyawaki – sound, both musically and lyrically. Mitski seems to have taken a step away from the guitar and pop-punk sound her name is has become synonymous with. Patrick Hyland (who also worked as a producer on those albums) and Mitski have moved away from that trademark grunge sound here, welcoming in synths, a greater sense of a atmosphere and even moments with a more disco-influence. The result is the strongest outing from the artist to date, and one that thrives in honesty.
Be The Cowboy is an album about desire, examined from a distance and analysed in different ways. Mitski offers the listener a chance to step into the footsteps of a protagonist who is fumbling with loneliness and feelings and fears that are trapped within old memories and relationships. The songs here are deeply personal, diary-like without feeling voyeuristic, but also contain the universal charm and relatability that Mitski has honed over previous efforts.
As with previous efforts though, the emotions here are messy, raw and relatable. Songs like 'Pearl', 'Geyser', and 'Remember my Name' hark back to the grungy, angst-laden tracks of Puberty 2 before things evolve into softer, distinguished moments like 'Pink in the Night', or 'Two Slow Dancers'. Where 'Geyser' opens the album with a passionate determination to chase your needs and desires – "I will be the one you need / I just can't be without you", 'Two Slow Dancers' ends with isolated keys and quiet acceptance of a love now lost. It's a poignant reflection on things that can't continue or last as Mitski admits "It would be a hundred times easier / if we were young again".
The moments in Be The Cowboy that show Mitski's enduring lyrical prowess are at their most striking when they are at their most simple, whether it be the quiet and repeated refrain, "I could stare at your back all day" in 'Pink in The Night' which grows into the frustrated line of "I know I've kissed you before, but I didn't do it right", or the cutting honesty in 'Lonesome Love', "No body butters me up like you, and nobody fucks me like me".  
The sound here isn't a million miles from what we've come to expect from Mitski, but there is something more subdued and mature about the tracks here that makes them stand apart from Puberty 2, or Bury Me At Makeout Creek. With Be The Cowboy, Mitski has grown and adapted to a new sound, all the while retaining all the elements that make her music so inviting.
This is where the universality of Be The Cowboy emerges and shines – Mitski's careful expression of those universal feelings of love, fear, and sadness, and her precise use of language allows for any listener to develop a personal connection with the songs, to see themselves in the wistful lyrics of 'Pink in the Night', or in the regret of 'A Pearl'. Mitski's lyrics are specific to emotion, but adaptable in meaning. They allow for any listener to hear Be The Cowboy and make it their own. Aoife O'Donoghue