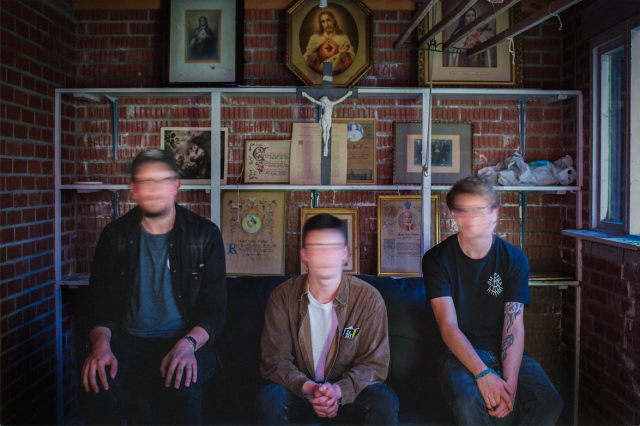 In the vein of past noise rock/post-hardcore outfit PigsAsPeople, and following the closure of Chris Leckey's emo-hued dark alt. country project Via:Barvikha, he returns to the idea of the power trio. Today, we introduce you to Mob Wife, a new project that carries the heft of the former without losing the subtlety of the latter.
The band's caliber isn't under question, with one of Belfast's busiest drummers in Gascan Ruckus' Mark McDaid and producer & Ghost Office/Pale Lanterns' Carl Small on bass. 'Warm Water' is characteristic Leckey – blackly comic in its nihilism, the song tackles the 9-5 office grind that Dolly loved so well – stale coffee & bright, vibrant, blinding computer screens – delivered via arguably Belfast's finest scream.
Cranking the dynamic tension between melody & discordance, they take the tinned, propellent guitar & rhythmic interplay of classic post-hardcore outfits like Unwound & Drive Like Jehu, instilled with a sensitivity brought to the genre by descendents like Pile.
It was a cathartic moment for Leckey, who explained, "Warm Water is the result of months of frustration and loss in trying to figure out what I wanted to do musically. Barvikha was a heavy project that just didn't really resonate with me anymore, and thankfully after writing Warm Water and bringing it to Carl and Mark, it became clear that this was gonna happen and that it was gonna be loud again."
Produced at Start Together Studios by Chris Ryan, with artwork from Billy Woods, stream 'Warm Water' here:
Mob Wife make their live debut at the Hand Models Summer Party on August 30 at Limelight 2, ahead of some TBA Irish dates.