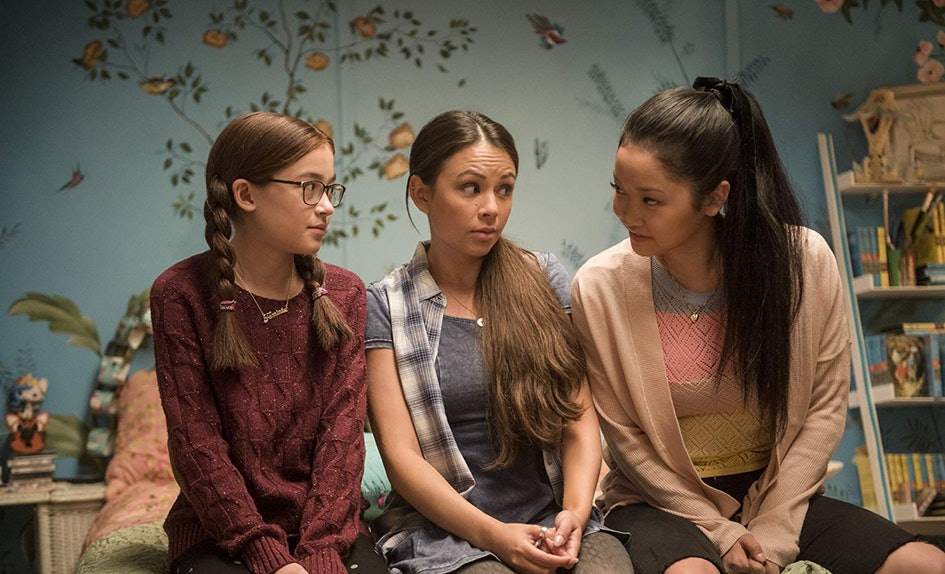 There's little in life as complicated and intense as first love. The near-universality of this experience makes it the perfect source material for film. To All The Boys I've Loved Before is the latest Netflix original film and it happens to be a cute, screwball coming of age story wrapped inside a rom-com for the digitally native teen.
Based on the successful YA novel by Jenny Han, five love letters (never intended to be seen by the objects of affection) find their way out of a hatbox and into the world. When Lara Jean (Lana Condor) realizes her crushes are no longer secret, this revelation turns her life upside down as she finds herself torn between friend Josh (Israel Broussard) and the popular Peter (Noah Centineo).
To All the Boys I've Loved Before is a film that stays within the rules of the teen rom-com: we could be in any other teen film from Sixteen Candles, 10 Things I Hate About You, to She's All That. The main character struggles with anxiety and dread as an outcast, invisible within the social fabric of high school until circumstances make everyone notice her presence. She reads romance novels, writes love letters by hand and watches Golden Girls on Saturday nights. Her best friend, Chris (Madeleine Arthur) is a wild child whose style owes a huge debt to Stevie Nicks. Add a quirky and close-knit family, a mean former best friend, a fake relationship and a lesson about the risks of social media and all the required boxes are ticked.
While the story arc is entirely predictable, the diverse cast offer strong and likeable performances that lift To All the Boys I've Loved Before above the average rom-com. In particular, Condor does great work as the lead from Lara Jean's panicked response to the unfolding drama and its unintended comic potential.
Grief is as powerful a force within this story as love because Lara Jean and her family are struggling to mourn the loss of their mother. Dad (John Corbett) attempts to cook Korean dishes to honour his late wife while practical older sister Margot (Janel Parrish) is leaving for an unnamed university in Scotland and youngest sister Kitty (Anna Cathcart) is wise beyond her 11 years. The film deftly handles Mom's loss through absence. There is a cavernous space where Mom would have been that isn't filled, and the pain of her death is woven through the family's interactions with one another.
After several terrible releases, To All the Boys I've Loved Before is a delightful offering from Netflix's roster of original films that has a Rotten Tomatoes score above 90% and a lot of audience love on social media. Following on from the earlier, Set It Up, it looks like the streaming giant's rom-com output may buck the poor quality of its work in other genres. Certainly, Netflix has a major role to play in re-invigorating the rom-com genre and updating it to reflect contemporary romantic obstacles. To All the Boys I've Loved Before is a step in the right direction with a film that is visual comfort food and likely to be one that is watched repeatedly by its fans.
It's unlikely that this is the end of Lara Jean's story as there are two further novels waiting to be adapted. To All the Boys I've Loved Before is a sweet and enjoyable teen rom-com mixed with a coming of age story. Expect the sequel to be announced before too long. Eimear Dodd
To All The Boys I Loved Before is available to stream on Netflix.