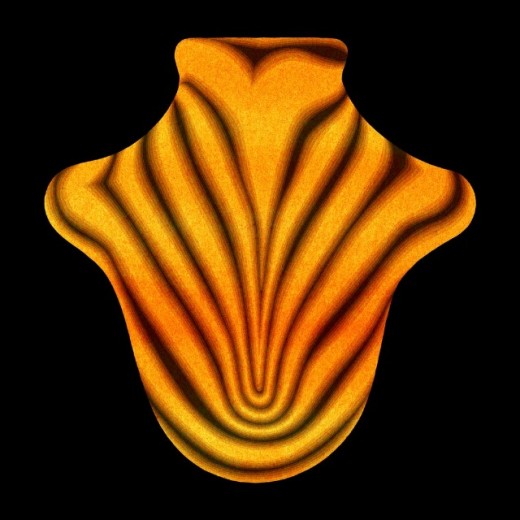 Cast your mind back to early 2009, and recall the exceptional Dark Was The Night charity album. In the middle of disc one, tucked neatly between Antony & Bryce Dessner's 'I Was Young When I Left Home' and The Decemberists' 'Sleepless' sat Justin Vernon and Aaron Dessner's 'Big Red Machine', an exquisite clash of strings and hammered piano keys that was perhaps clouded out by the diversity and richness of the album.
Fast forward nine years, and the collaboration has been revisited, or rather, finally finished. The result, Big Red Machine, has been in the works for the best part of ten years, fermenting and maturing in the corner whilst commitments with The National and Bon Iver have nurtured two of the finest alternative bands on the planet. Big Red Machine can be viewed as the flagship release of PEOPLE, an artist-led collective co-founded by Vernon and Aaron and Bryce Dessner in 2016. Emanating from Berlin, the movement aimed to create a digital space for artists to experiment in without the overarching control of capitalism, and the advertisements, low streaming margins, sponsorships deals and and, ultimately, the stifling of creativity that can subsequently ensue. Further, the ethos of this free-spirited community, which has attracted include Phoebe Bridgers, Lisa Hannigan and Arcade Fire's Richard Reed Parry to name a few, takes centre place in the album: "we took the music to a certain point, and then we reached out and sent it far and wide, inviting friends to contribute any and all ideas", Dessner said. "We've viewed the record and the process from a community standpoint."
The results of any collaboration between Vernon and Dessner, let alone the supercharge of a wealth of musicians, is likely to be novel and forward-thinking, and Big Red Machine surpasses expectations. Most strikingly, the album is an in-your-face deep dive into textures and shapes. From the first bars of 'Deep Green', Vernon and Dessner waste little time introducing their frenetic art-pop, alt-R&B love-child, with high tempo drum loops intertwining with a cascade of bleeps and distorted gurgles from Dessner's fretboard. It's clear that Dessner packed his jarring drum machines that The National's Sleep Well Beast couldn't accommodate to Vernon's April Base studio in Wisconsin where the album was written. 'Lyla' is a direct Tom Sitek esque spittle of broken beats and off kilter wonk, delivered in rasps from a feverish Vernon. The pace drops towards the second half of the album, drawing in gospel influences on 'People Lullaby', which endlessly loops an antiquated piano riff that would serve the very purpose of a lullaby, if not interjected with the piercing falsetto of Vernon and the backing vocalists. '
With so much creative freedom and energy between the pair, as well as the countless consultants consulted, the artistic directions are scattered, to put it mildly. 'I Won't Run From It' is inflected with country overtones from gently layered acoustics, whilst 'Air Stryp' is a glitchy, near Kraftwerkian melee of modular synths, each uncomfortably vying for airtime as a crescendo builds. Further, Vernon's distinguished vocals are also on a career-best spectrum, ranging from soft, delicate, soothing and sweet ('Hymnostic') to the over-produced and overpowering. The latter instances detract from some of the more intimate moments of the album, however, and deflect the lyrical substance of the work. Closer 'Melt' is a key example of this; after the lyric "well you are you are" is spat 35 times in a row (literally) you're left feeling bitter that you indeed are who you are, and not living someone else's life, listening to another song. 'Well, I know it's a struggle/It's some kind of debacle' Vernon later ironically acknowledges, however.
Too many cooks have not spoiled the Big Red Machine broth. In fact, many hands have made light work, delivering an album full of sustenance that continues to throw surprises and minutiae on the hundredth listen. Heady, intense and completely occupying its own niche, Vernon, Dessner and PEOPLE truly have demonstrated the creative power of an unrestricted community in an era that truly needs it.  Dominic Edge