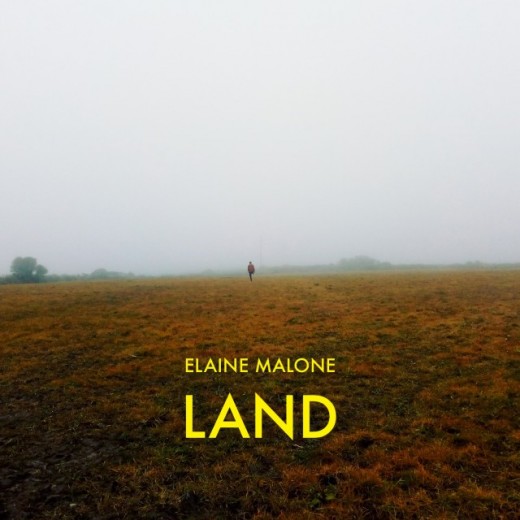 On first listen, Elaine Malone's debut EP Land seems to have arrived in timely fashion. Built upon a homespun foundation of spartan guitar picking and Malone's darkly burnished vocals, the release seems to encapsulate the end of summer with its rain storms, dimming evenings and the creaking resurgence of central heating systems country wide. This autumnal cosiness proves to be something of a red herring though, acting as sumptuous camouflage for a release at least partially strewn with dark themes and blood chilling turns of phrase.
On 'Vonnegut' Malone wastes little time grabbing the listener's attention, intoning the arresting opening couplet – "I sit by your window like a whore, ink don't flow from my pen anymore" – over stately acoustic plucking and glowing electric guitar harmonics. The songwriter's expressive vocal style, all shining highs and creaking lows, is such that the lyrics are not always clearly decipherable. The phrases that do gleam through though often prove poignant and 'Vonnegut''s tale of love gone wrong leaves a lasting impression –  "I was there at the brunt of your fists and you were the cause that dared to exist".
'No Blood' mines even bleaker terrain, as Malone recounts the harrowing story of a clandestine and ultimately tragic teenage pregnancy kept hidden from unenlightened eyes for fear of 'Catholic shame' and "cries of slut and whore."
The second half of the EP shines a little light on proceedings and extends Malone's musical palette beyond the moribund acoustic folk of the first two tracks, bringing a full band into the fold and employing rich Jazz and psychedelic textures.
'You', the lead single from the EP and reportedly the oldest song here is a tremulous paean to a nascent love affair. Full of fragmented detail and imbued with the sweet awkwardness of the morning after. The song boasts a blissed out chorus that seems to draw on the smooth coffee house jazz of bands like Air and Zero 7.
Bringing proceedings to a close with the spacey 'Mindless', Malone and her band create a sultry psychedelic soundscape, building on a lone guitar arpeggio with clever basslines, searching lead guitar tones and splashy cymbals. The song easily provides the most kinetic moment on the release not to mention Malone's most thrilling vocal turn as she unleashes  her sputtering falsetto on the track's yelping final section.
Land showcases Malone's undeniable skills as a storyteller as well as her ear for frank lyrical detail. The quality and variety of sounds and ideas that can be found in these four tracks mark her out as an important new Irish voice that demands close attention. James Cox