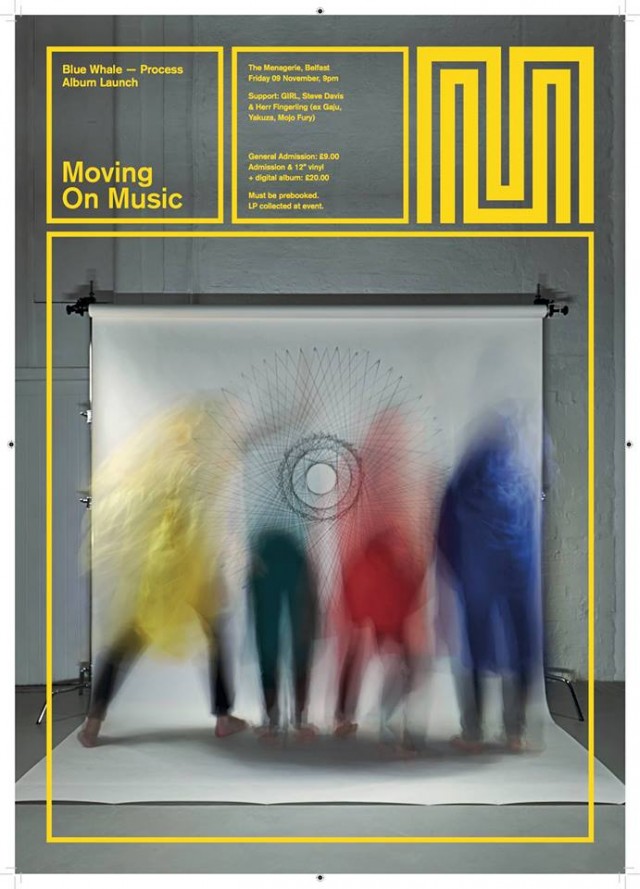 Belfast experimental rock quartet Blue Whale are finally set to launch their highly anticipated debut album Process, which reins the satiating havoc of their live show into a slightly more ordered studio format. The havoc, however, will come to the Menagerie on November 9, where its launch is hosted by Moving On Music.
With an aim to always been to veer away from the trappings of the traditional guitar-centric four-piece, they have experimented heavily with unconventional scales and time signatures. Their cadenced, angular and atonal compositions tread fine lines between dance and discord, chaos and intricacy, with the resultant aural tension unique in its capacity to simultaneously provoke mental confusion and physical movement. Their sound has been compared to the likes of Captain Beefheart and the Magic Band, Television, Swans, Sonic Youth and Slint.
Belfast trio Herr Fingerling – featuring members of Gaju, Yakuza & Mojo Fury – make their live first appearance supporting, as well as professional percussionist & composer Steve Davis in a jazz-drumming set. DJ collective Marion Hawkes & Venus Depree, aka GIRL close out the night with some disco, house, obscure Italo & minimal techno.
Tickets are available from Eventbrite, priced £9 for admission, or £20 including the record – go on, buy the record. Doors open at 9pm.
Stream lead single 'Shortbread Fingers':