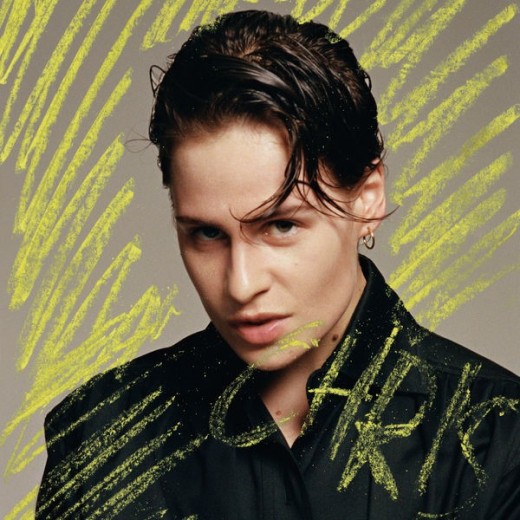 Taking control over identity and self expression is a trait we saw so vividly when Héloïse Letissier initially broke onto the scene in 2016 as Christine and the Queens. Her androgynous fashion, tell-all lyrics and gusto along with her seamless flitting between singing in French and English made her the divergent pop star of the year.
Where she boldly claimed 'I'm a man now' on Chaleur Humaine's 'iT', the French performer continues to tackle gender binaries on her second album by taking on the identity of 'Chris'. It's an obvious forward step away from her debut with more funk and disco influences to be heard as well as an increased confidence coursing through the LP.
The recurring synth hook through 'Girlfriend' is deliciously '80s and winds the listener around with lyrics like "Girlfriend, don't feel like a girlfriend".  '5 Dollars' is a chilled out and enigmatic ballad with floaty percussion, choral vocals and a non-interfering set of pedal notes on synth that are heard throughout. The song is one of the album's more simple arrangements, both lyrically and musically, but in its spareness and minimalism lies its impact.
The track that perhaps encapsulates the new found expression of its creator best is 'Damn (What Must a Woman Do)'. It's also one of the most overtly sexual as the French version is tellingly titled 'Follarse', Spanish for, quite literally, 'to fuck'. With a repetitive synth riff, sensual, whispered backing vocals and a heady rhythm, the lyrics are given the raunchy instrumental treatment they deserve: "Let me taste a butch babe in L.A/ Let me spit on this young man fresh asleep".
In contrast, 'What's-her-face' is a sombre ballad where Letissier allegorises experiences of struggling with self identity and belonging. Overall, this is a collection of powerful songs with beautiful vocals, evocative synth arrangements throughout and a handful of radio-worthy pop hits. On Chris we are presented with the same artist who took control of our airwaves two years ago with 'Tilted', but in a newly defiant, proud and ambitious mode.  Shannon McNamee