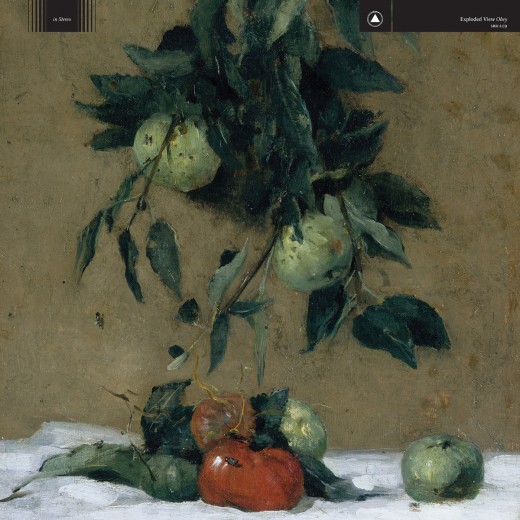 Exploded View are a band on a steady ascent. Formed a few years ago in Mexico City by Welsh-born, Berlin-based Anika in order to perform songs from her 2010 solo covers album on a tour of the country, the new group's natural chemistry lead to 2016's eponymous debut, an album of stellar original material influenced by "Can, dub and political revolution" on the ever reliable Sacred Bones label.  Coming seemingly from  out of nowhere, the album flew a little under the radar at first, but last year's EP Summer Came Early, with its unusually catchy, breezy title track – albeit with a typically heavy lyrics condemning humanity's inaction on climate change – saw a gradual rise in their profile. Not resting on their laurels – even after their subsequent reduction from a quartet to a trio – another full length has arrived to hopefully keep that momentum going, and its pointed title Obey suggests the former political journalist has lost none of her bite.
Obey starts on a much more low key note than previous releases, opening the quiet 'Lullaby', an almost instrumental track with only Anika's wordless otherworldy vocal accompanying an acoustic guitar and quiet bass, likely as a result of their newly trimmed down lineup. Another rare acoustic track follows, before the sinister, bass led 'Dark Stains' returns us to more familiar post-punk territory, though its malevolent Joy Division-esque drum machines and burbling synth are refreshing new additions to their sonic arsenal, and the conspicuous absence of guitar lends it a further menacing quality.
While the debut album was recorded live in the studio, grown out of improvisation and first takes, Obey is more of a studio creation, the band embracing overdubs in the wake of guitarist Amon Melgarejo's departure, with Anika travelling from Berlin to the Mexican studio of remaining bandmates Martin Thulin and Hugo Quezada. The result is an album that can veer between the minimal, like those opening tracks or the tender, wistful 'Letting Go of Childhood Dreams', to the maxed out synth washes of 'Sleepers', a track with one of Anika's strongest vocal melodies to date, typically delivered in her usual Germanic, Nico-esque voice.
While the album explores new ground largely successfully, it's admittedly at its best when echoing the krautrock-inflected repetition of their previous work. First single 'Raven Raven' is one such example with its driving bass groove, while the playful 'Come on Honey' recalls Summer Came Early highlight 'You Got a Problem Son' with added layers of guitar noise. The track may lyrically appear to lack the depth of others on the record as Anika spits out seemingly meaningless repetitive rhymes, though its invitation to "Show me what you've got under those outer layers" does echo the encouragement to overcome self-doubt found elsewhere on the record ("Don't miss your chance, don't be the coward" she reminds us on 'Gone Tomorrow') Either way it's a thrillingly addictive sub-3 minutes of post-punk noise that's more than equal to their best work to date.
Obey isn't quite as thrilling a listen as the band's debut, but it's a successful slow burner, revealing its charms over time rather than hooking you in immediately with jam-like repetitions. The record does manage a balancing act of casting out in new directions while still maintaining enough of what made their previous work a success, and navigate the loss of a founding member with ease, be it through overdubs or using the resulting minimalism to their advantage. Typically brooding and claustrophobic, Obey should serve as a vital soundtrack for the darkening autumn days. Cathal McBride