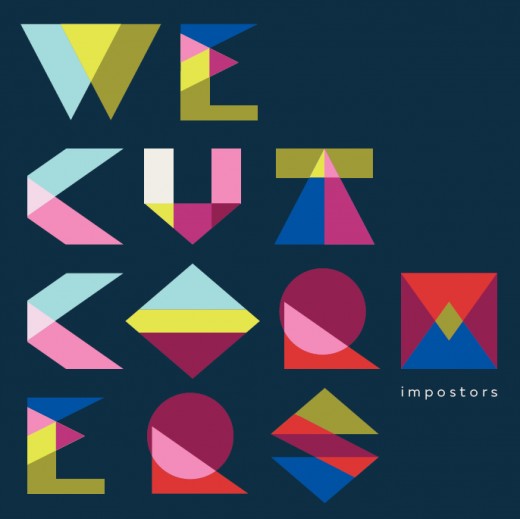 It was hard to recall a guitar and drums duo that actually deserved the hype surrounding them until We Cut Corners came along. Comprised of John Duignan (guitars/vocals) and Conall Ó Breachain (drums/vocals), the band have been crafting their identity the hard way for some years now, opting for an unpretentious and uncluttered set up in an era when people relentlessly question if the guitar has offered all it can. Yet over the course of three albums, We Cut Corners have steadily amassed a loyal following and critical acclaim that makes their fourth effort, Impostors, one of Ireland's most anticipated releases of the year.
To say that We Cut Corners have honed their sound since 2013's debut Today I Realised I Could Go Home Backwards would be somewhat fallacious; the spectrum of musical styles on Impostors is considerable and impressive. It opens slowly, with Duignan's delicate guitar emerging through a wall of reverberating synths on the title track before 'Rainy Night In Slomo' stirs warmer climes through its latin rhythm. The energy continues to build through to the early album highlight, 'The Specialist', a wistful and breezy centrepiece, culminating in cascades of symbols and grandiose claims that the anonymous muse embodies humanity. Despite this spectrum, each of the eleven tracks are all underpinned by theatrical overtones, often delivered by a warm vibrato omnipresent in Ó Breachain's vocals, or the angular textures evoked through the polished riffs.
Multiple vocalists on an LP can often detract from the sincerity of the lyrical sustenance, but there's something tender across Impostors finest moments; a rare case in which you feel both Duignan and Ó Breachain both really believe in their message. Matching the high dynamism in the music, Impostors swings in its lyrical styles, from the stirring bravery of 'Rainy Night In Slomo' ("Fear still stalks the land but no-one seems afraid of it") to the venomous, imagery-laden 'The Specialist' ("Do I look lost, like a cartoon Christ, upon the cross?') 'Stranded', however, is a lyrical centrepiece, culminating in Ó Breachain's plea to not be left alone; "Now don't leave me stranded, flung out to sea, Christ look what you've done to me".
As a whole, for every  jagged shape thrown onto Impostors, there's a soft corner elsewhere to round it out. Similarly, for every punchy and sharp-tongued lyric, there's always a benevolent and vulnerable line around the next corner. Further, even the placement of 'Impostors', 'Iimpostors' and 'Iiimpostors' at the opening, middle and close of the album feel like insular, momentary step-backs, and, beautiful as they may be, affect the overall rhythm and tempo of the piece in their bookmark-like deployment.
Nevertheless, We Cut Corners have taken no shortcuts on their ascendancy. Their integrity and resolve is impressive; it takes a special talent to enter an already overcrowded genre, keep the music honest and simple, and emerge through the other side to become one of the most exciting and dynamic acts around. No impostors here, just another heart-on-the-sleeve effort from one of Ireland's most talented duos. Dom Edge