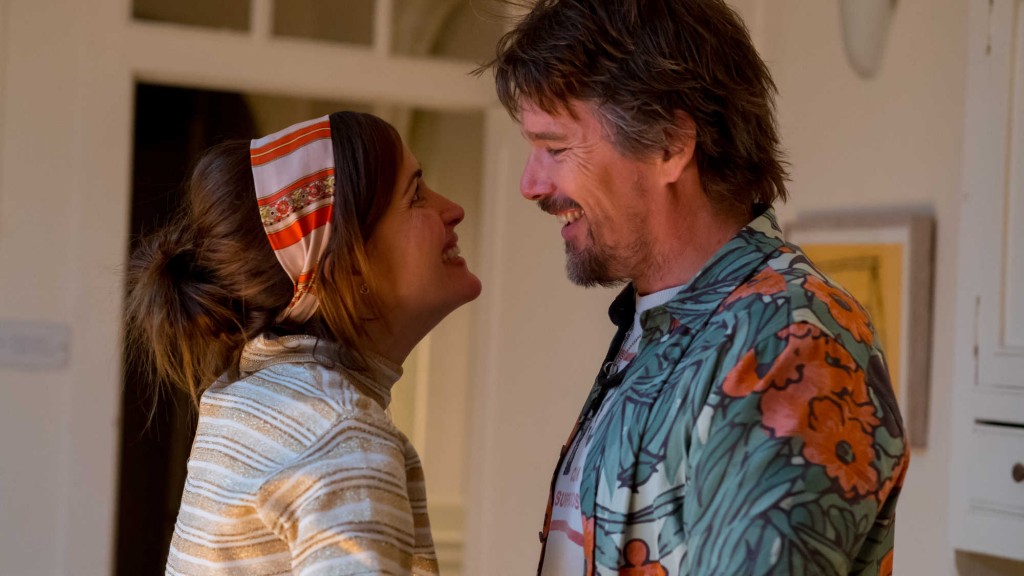 Nick Hornby's most famous surrogate remains Rob Gordon, John Cusack's musical obsessive in High Fidelity, the patron saint of record store assholes and stalled-adolescent gatekeepers of taste.
Hornby has since carved out a strong second career as a screenwriter, but the adaptations of his books continue: easygoing rom-com Juliet, Naked gives us another pop culture snob, played in a less sardonic key, but relegates him to the sideline of the central serendipitous romance.
Chris O'Dowd plays Duncan, a media lecturer in a small seaside town outside London who is devoted to the work and mythos of Tucker Crowe, a Jeff Buckley-esque singer-songwriter who's been off the grid for decades. While Duncan blogs and Skypes with fellow Tucker apostles, his long-term, long-suffering girlfriend Annie (Rose Byrne) hovers in the background, quietly unsatisfied. The repressed, uncertain Annie is in charge of the town's history museum, where she employs her flirty, straying sister (People Just Do Nothing's Lily Brazier), the local relics a metaphor for sunk-cost and romantic obsolescence.
Duncan's world is upended by the arrival of a CD titled "Juliet, Naked", the original demo recordings of Crowe's seminal love-and-heartbreak masterpiece, "Juliet". When Annie leaves a scathing review on Duncan's blog, Tucker himself (Ethan Hawke) emails her his appreciation of her honesty, and confesses to a life that diverges wildly from the blogosphere's glamorous theories: he's currently living in the garage of his ex-wife, he doesn't make music, and all he really cares about is his little boy, Jackson. He's also made something of a mess of his legacy, producing a scattered coterie of half-brothers and sisters. One of them, Lizzie (Ayoola Smart), is pregnant, a reminder to Duncan of what he's missed out on, and a hope for something more substantial in the future.
A heart attack and a chaotic family reunion sees Tucker camping up with Annie, fresh from dumping Duncan and reeling from the swathes of time she's lost. Hawke walks a smooth line as the laid-back, scraggly fuck-up, exuding likeability and low-key charm even in his most uncomfortable moments. He is one of cinema's great walkers and talkers. Set against Duncan's flustering astonishment, Tucker's shrugging indifference to his own work is fun balloon-bursting.
Juliet, Naked is a middle of the road romance, with a sympathetic, affectionate appreciation for middle-aged anxieties around time, regret, children and the loss of self in relationships. Cinematically, the film never really moves beyond the aesthetics of pretty-good television: director and former Lemonheads bassist Jesse Peretz has made some small films but most of his experience is in TV work like HBO's Girls. Much of the film isn't quite engaging enough or witty enough: the screenplay, from Jim Taylor, Tamara Jenkins and Jesse's sister Evgenia, only really gets interesting when Tucker and Annie start clicking.
Hawke's arrival jolts up the energy considerably, and there are flashes of that obscured soul that inspired Duncan's attachment in the first place, like an impromptu keyboard rendition of The Kinks' "Waterloo Sunset". It's the kind of soul the film needed much, much more of. Conor Smyth