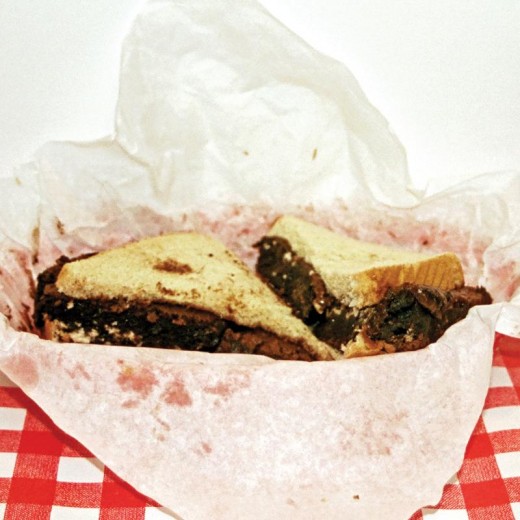 Garage rock institution Ty Segall has always been insanely prolific, but in 2018 he's taken things to extremes. So far he's put out expansive double album Freedom's Goblin, a long awaited second collaboration with White Fence and a second record from side project GØGGS. Now we can add to that an album of covers in Fudge Sandwich, but news has also surfaced of an ultra-limited cassette called Orange Rainbow distributed at a recent art exhibition, and a new side project with wife Denée called The C.I.A. with an album due out in December. Exhausting stuff, but back to Fudge Sandwich for now.
Covers often peppered Segall's earlier work. The popularity of his fuzz-laden take on Hot Chocolate's 'Every1's a Winner' on Freedom's Goblin earlier this year may indeed be what reignited his interest to the point of recording a whole album's worth. Released away from his main Drag City contract on the smaller but no less excellent In the Red records instead – already home to many of his side projects and contemporaries – the release shows all the signs of being just a low key bit of fun, but the results are actually surprisingly worth their salt.
Segall's critics often complain that he's too unoriginal, merely a '70s throwback channelling the spirit of Marc Bolan a bit too closely. A record full of covers pulled largely from that decade would seem to support that assertion, but where you might expect him to play these tunes fairly straight, his reinventions of the source material here serve as a potent reminder that he's never a man to underestimate. His take on War's 'Low Rider' that opens the record is almost unrecognisable as it swaps the funk for a dark, menacing sleaze, dusting off the uneasy synths that were all over his Emotional Mugger album a couple of years ago. Conversely, Grateful Dead's 'St. Stephen' is stripped of its trippier edges and morphed into a breakneck three chord punk blaster that might well be the record's most exciting moment.
It's the one-two switch of The Dils' West Coast punk classic 'Class War' and Neil Young's 'The Loner' though that sum up what this album does best. While the latter is repurposed as a glam-punk stomper, it's on the former that he brings out those Young-esque acoustic guitars that he utilised so heavily on 2013's Sleeper, unveiling the gorgeous melody at play behind all of The Dils' distortion.
Krautrock pioneers Amon Düül II's 'Archangel Thunderbird' is one of the few here that sounds like a straight up run through of the original, but so ideally suited is the song to Segall anyway that it's a joy to hear him rip through it. In fact it's fairly remarkable how many of the tracks here could reasonably pass for Segall originals if you didn't know any better, even that ubiquitous Spencer Davis Group hit 'I'm a Man'. Indeed, the way these eleven tracks, written by such an array of artists from Funkadelic to John Lennon, hang together so well as an album is testament to how much of his own energy and imagination Segall has managed to implant into the recordings.
After the excess of Freedom's Goblin, recorded with his 5-piece Freedom Band, there's a certain pleasing back-to-basics quality here as he drops the sax and keys to rely on his more minimal arrangements of old, centred around his always relentlessly fuzzed out guitar.
Those struggling to keep up with Segall's insane productivity this year might well be tempted to give this covers album a miss, and understandably so. They'd do well to make time for it though, as against all odds, what should be a complete throwaway of a record feels in Segall's hands like absolutely essential listening, driven on by the same thing that drives the guy's prolific output – his obsessive and utterly infectious love of rock music. Cathal McBride