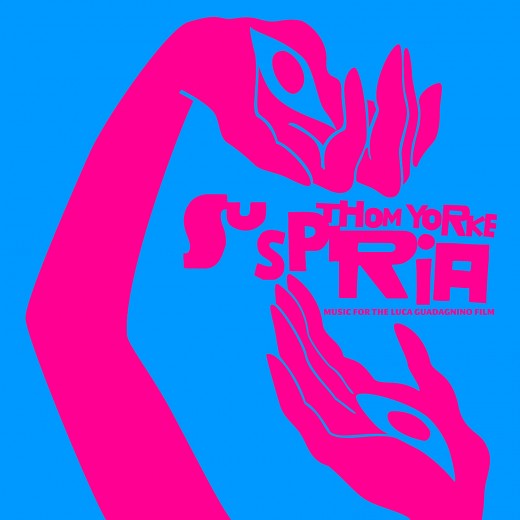 With the increasingly long gaps between Radiohead albums in their latter years, three of the band's members so far have managed to put this downtime to good use exploring their own projects on the side. And for a band so heavily focused on sounds and texture, it's no surprise that all three of them have found themselves drawn to soundtrack work in one way or another – most notably Jonny Greenwood, whose string of collaborations with Paul Thomas Anderson this year earned him an Oscar nomination for Phantom Thread. Drummer Philip Selway too, having reinvented himself as a hushed folk musician on his first two studio albums for Bella Union, took his first steps into this realm last year with his soundtrack for Polly Steele's indie film Let Me Go. Thom Yorke has admitted it was an area he never felt he'd be qualified to work in compared with the classically trained Greenwood, but that didn't stop Luca Guadagnino tapping the frontman to work on his new remake of '70s horror classic Suspiria.
Given the original film's soundtrack by Italian prog-rock band Goblin is held in such high regard, Yorke had no mean feat ahead of him here, but it was unlikely he'd ever really try to ape their work. Instead he ploughs his own furrow here, utilising a mixture of sinister soundscapes, choral pieces and a handful of fully fledged songs. Pieces like 'The Hooks' and 'Belongings Thrown in a River' delight in tapping out slow and unsettling piano motifs on a loop, like ominous raindrops, while foreboding synth swells fade in around them. It's an approach Yorke himself somewhat uncharitably characterises when describing his approach as "Well, it's a horror film, I can just make loads of weird noises", but they work to bone-chilling effect, as does the haunting, wordless choir of 'Sabbath Incantation'.
The majority of the record consists of these instrumental pieces which, while making for satisfyingly eerie background music to accompany the twilight hours, are by and large, like much soundtrack work, not quite as effective when uncoupled from the visuals and narrative of the film itself. The main attraction here for most Yorke fans will be the handful of fully fleshed out songs, which are obviously the immediate standouts.
The piano-led 'Suspirium' and 'Unmade' are Yorke at his most beautifully melodic. His extracurricular activity up to now has seen him box himself ever further into electronic territory, and the results have been a mixed bag. 2006's The Eraser was a Radiohead-worthy triumph, while 2014's Tomorrow's Modern Boxes, a more low key, understated record that required a little more time to click, eventually seeming to add up to more than the sum of its minimalistic parts. Amok though, recorded with his Atoms for Peace supergroup in 2013, was a briefly enjoyable but ultimately forgettable diversion that suggested Yorke's indulgences may have reached a dead end. Another heavily electronic solo record with regular collaborator Nigel Godrich is apparently due next year, but for now – working without Godrich for the first time since the early 90s – it's rewarding to hear him freed of his own self-expectations, able to lay down piano tracks with choral and woodwind accompaniment, without overthinking them to the point of collapse.
Likewise 'Has Ended', sweetly featuring Yorke's teenage son Noah on drums, is a wonderfully hazy psychedelic swirl that sees Yorke look ahead to the eventual demise of the increasingly right wing politics recently sweeping the globe, as he sings "And the fascists felt ashamed at their dancing puppet king/Saying we won't make this mistake again" over a trippy sitar-esque drone. It's a sound that he pulls off masterfully, and a full album in this vein would probably be more than welcome.
The record's length is another sign of Yorke's atypical looseness here. He and the rest of Radiohead have become increasingly perfectionist over the years, insisting on each record being as tight and concise as possible, seemingly still living in regret over their lack of quality control on 2003's Hail to the Thief – a record admittedly overstuffed and uneven but ultimately charmingly so. Here, working for someone else's end goal, he's uncharacteristically able to stretch things out to a double album, taking in 25 tracks in an hour and 20 minutes of experimentation, and it's satisfying to hear his wealth of ideas even if they don't always land.
That said, the record does begin to peter out by the time it reaches disc two, which is notably full of reprises of earlier tracks and the overlong vocal treatment experiment 'A Choir of One', which runs for 14 unnecessary minutes. With far fewer highlights on this side, it's difficult not to think that the first disc alone would have made for a more satisfying release on its own. Still, Yorke's first film score is an impressive debut that, if he chooses to continue in this line of work, could ultimately become a more fruitful endeavour than his solo work, and he could find himself almost as in-demand as his bandmate. Cathal McBride