As Royal Turnbridge Wells punk duo Slaves take to the stage of the Academy, the sheer visceral energy in the air becomes palpable. The venue's pit is overflowing with young adults dressed like their parents (with few pulling the look off), whilst the area surrounding the pit is packed to the brim, with what appears to be the aforementioned parents. An interesting demographic to say the very least.
From the get-go, the pit is transformed into a vicious sea, with waves of people being thrown back and forth. Occasionally someone scrambles to the surface and crowdsurfs for a few seconds, before being dragged back down by disgruntled security guards.
As the band tears through songs like the blisteringly fast 'Girl Fight' and the tongue in cheek cynical 'Cheer Up London', one can only applaud both the band's performance and presence. Front man, Isaac Holman knows how to engage with his crowd, he knows exactly what type of audience he's playing for. He intermittently drops anecdotes regarding the titles of songs ("Well, basically it's about two girls fighting") and loudly "EXCUSE ME" s his way through the crowd during acoustic numbers such as 'Photo Opportunity'.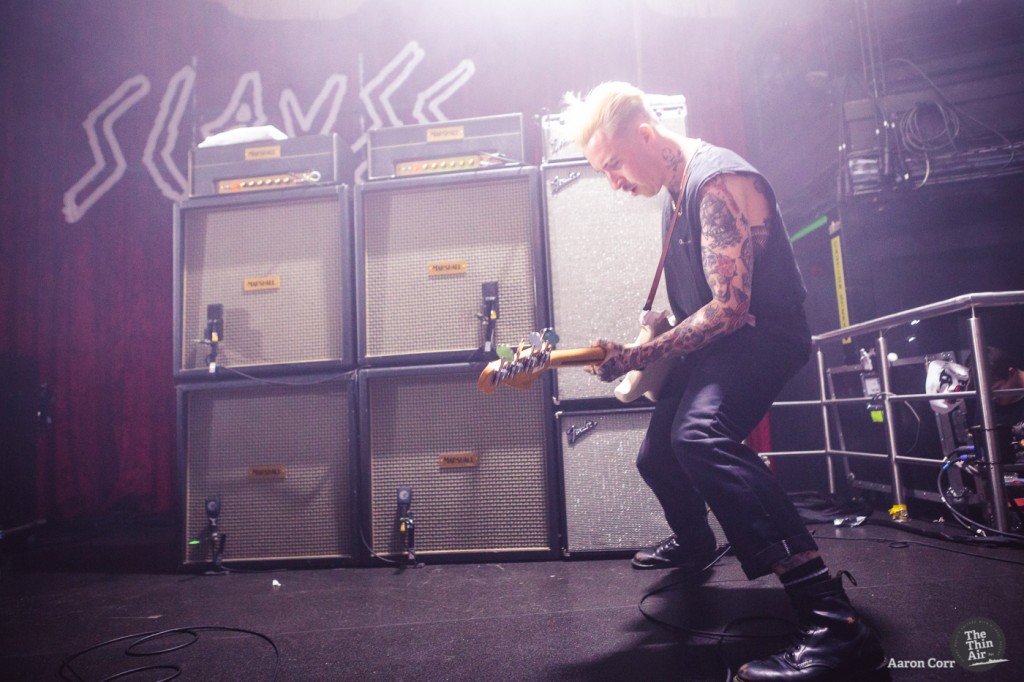 It's fair to say that the band play remarkably well, however, there is a bit of a gap in their sound. Being a two piece band comes with its challenges, one such challenge being creating a 'full' sound, in other words, trying to sound like more than two people. Some may argue that this almost lacklustre sound is simply a part of Slaves' DIY/Punk image and that is a fair point, the band even have a song called 'Fuck the Hi-Hat' in reference to their minimal drum set up. With that being said, some may also argue that the true impact of the band's tracks is somewhat lost when the snare drum sounds similar to a tin of beans being smacked with a spoon.
Whilst this is a slight annoyance, it does not take away from the rest of the gig. There is still a great atmosphere, absolute chaos and some decent punk tunes, exactly what is expected of a Slaves gig. Jack Rudden
Photos by Aaron Corr