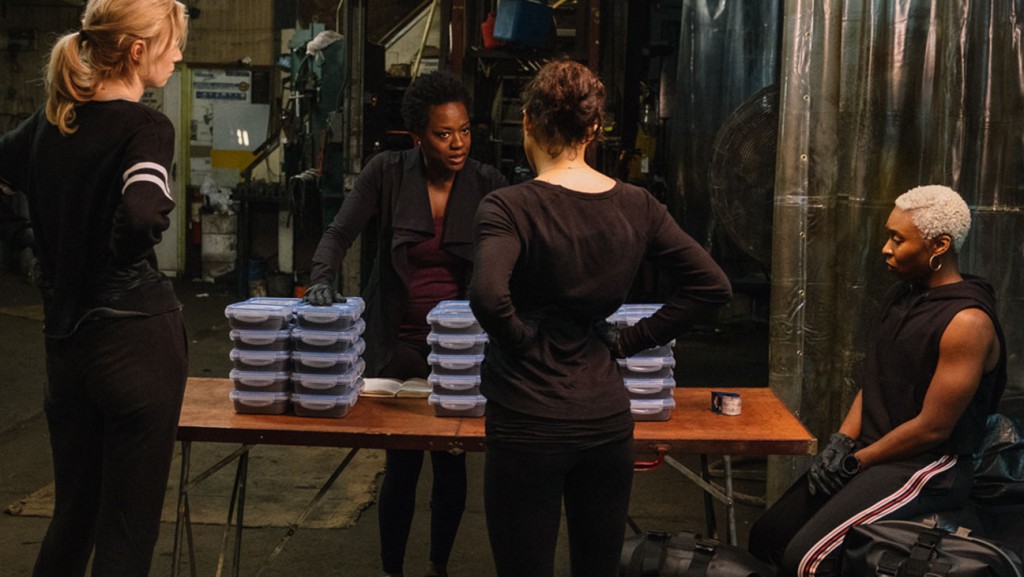 The arc of the heist movie builds towards triumph and liberation.
The thrill of a pulling off the perfect job is the same as performing a magic trick. There's the plan, even if it's discarded when things get hairy, and there's a chance for a losers and rogues to get one back on the system, an impossible now-you-see-it that leaves coppers in an empty vault scratching their heads, stray notes bobbing in the breeze. A well-structured heist movie is one of cinema's high pleasures.
"Pleasure" is not a feeling that Steve McQueen's work brings to mind: think Fassbender's cum face rictus in Shame, the institutionalised humiliation of Hunger or the flayed black flesh of 12 Years a Slave. McQueen's characters suffer, trapped by hostile compulsions, bodies and systems. Life is a grim game of survival.
But Widows is a pleasurable thriller, incorporating McQueen's political consciousness into a tight, character-rich genre piece with a quartet of fierce female performances. Working off Lynda la Plante's 1983 novel and ITV series, McQueen and co-writer Gillian Flynn (Gone Girl) play with material that's pure paperback pulp, an inter-connected story of cops, robbers, lawmakers, sons and fathers and victims, moving through the circulation systems of Chicago's rotten body politic. Matching a hard-boiled cynicism with an eye for surprising beauty, the photography of McQueen's regular DOP Sean Bobbitt is an enriched upgrade of Shame's airless Manhattan aesthetic, the twinkling lights of metro carriages roaming through the city's bottomless brutalism.
Viola Davis (Veronica), Michelle Rodriguez (Linda) and Elizabeth Debicki (Alice) play desperate women united by the loss of their husbands and the security they provided. Viola's partner, Harry Rawlins (Liam Neeson) is a notorious Chicago criminal who heads up a crew that includes Manuel Garcia-Rulfo and Jon Bernthal. When a job goes wrong the bandits go up in flames, and with them a stack of cash $2 million deep, belonging to Jamal Manning (Atlanta's Brian Tyree Henry), a crime boss running for Alderman of the redrawn city district. He needs the money back: his opponent is the slick Jack Mulligan (Colin Farrell), a sixth-generation politician with legacy machinery and brand appeal. Jamal and his brother (a terrifying, predatory Daniel Kaluuya) turn the screws on Veronica: she has two weeks to come up with the missing cash.
Veronica, a teachers union representative whose nice life has been subsidised by her husband's illegitimate success, has nothing. No money, no recourse. But she does have Henry's notebook, outlining the plans for the next job, and she corrals the women into agreeing to pull it off themselves and get the Mannings off their back, eventually picking up Belle (Cynthia Erivo) as a driver.
Widows is a tense movie and the buildup and execution of the job — laced with a murderous Hans Zimmer track — is gripping, but the film's primary tension is emotional. Its characters are suffocated, burdened by networks of money and power that strip away safety nets and turn every relationship into a transaction.
As in 12 Years, nobody escapes the great vampire squid of commerce, even those on top. Hidden behind the tinted curtains of his car, away from PR surveillance, Mulligan rants about the bullshit he has to eat. He longs, like everyone else, for a release, freedom from the hovering paternal pressures of his father (Henry Duvall), a paranoid, spitting Old Money elder who sees the Mulligan empire besieged on all sides.
Widows' violence has a revolutionary frisson. Stories of women one-upping the patriarchy have energised much recent film output, from the domestic insurrection of 2016 British indie Lady Macbeth to the scorched widescreen sirens of Mad Max: Fury Road. The gender doppelganger strategy of something like Ocean's 8 seems comparable to Widows but in McQueen's vision the heist is not, for a moment, a lark.
The women, who deal with real problems around childcare and money, are forced into a corner by men — even, especially, the men they love (kisses can quickly jumpcut to slaps). They must teach themselves the tactics of force and cunning needed to establish a place they can call their own. Freedom cannot be given, it must be taken: an African-American salon owner speaking of being "allowed" to have her business thanks to Mulligan's women-of-colour tenant scheme echoes the happy House Negroes of 12 Years. 
Widows is both a powerful thriller fuelled by grief and grit and a stark vision of what "female empowerment" actually looks like in the world. Conor Smyth
Widows is out on wide release.