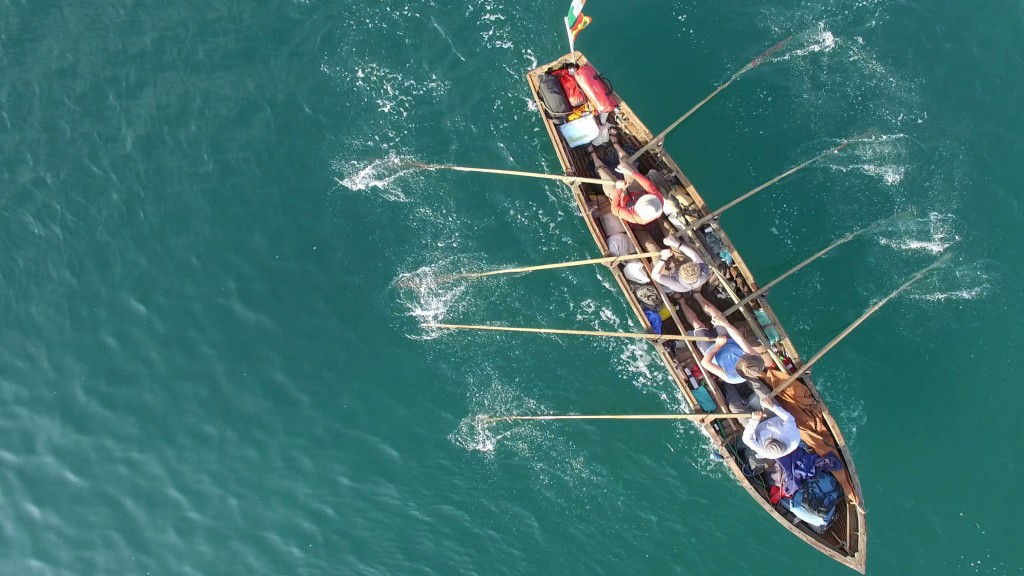 Four Irishmen in a boat. It sounds like the start of a joke.
The Camino Voyage, directed by Irish documentarian Donal O'Ceilleachair, chronicles the attempt of four Kerry men — and later, adding a dash of name-recognition, The Frames frontman Glen Hansard — to travel the traditional route of the Camino de Santiago, also known as the Way of Saint James, an ancient pilgrimage from Ireland to a Galician cathedral in northern Spain.
With an appreciation for symmetry, the group — two writers, an artist and a stonemason — set off from St. James' Gate in Dublin, on a passageway across the Irish Sea, the Atlantic's edge, and a series of European coastlines and canals. Their vessel, in keeping with an ethos of endurance and hardy Celtic traditionalism, is a tiny rowing boat named a currach, or naomhóg, they built themselves. Staggered across three annual six-week sections (Hansard and his ballads stepping in for the stonemason on the final leg), the lads see out their quest with good humour, grit and the long, repetitive rhythms of long-distance rowing.
The men— Liam Holden, Danny Sheehy, Brendan Begley and Brendan Moriarty— make for highly amiable company. In many ways they are the antithesis of the typical participant-presenters of high-concept travelogues. They are unassuming, ordinary Irish men, not especially built for the physical challenge of rowing to Europe's edge. All of this, of course, adds to their charm.
The men are naturally friendly to the baffled people they meet along the way, and face challenges in conditions with hardy optimism, but they avoid the glib, faux-upbeat register of Men Abroad TV shows, never over-explaining to camera, making space for the photography of wide open, glistening oceanic vistas. They are also mercifully untrained in the confessional impulse of contemporary content: the hardships and tragedies of real life occur off screen, in the long gaps between their annual naomhóg shifts, but are only referred to in a matter-of-fact way.
Unlike the stars of reality TV and their obsession with "journeys", the voyagers never claim some big epiphany from their voyage. It's not about narrative-friendly transformation; it's an opportunity, relatively short-lived, to suspend the default structures of their lives in Ireland, and slip into experiences of a different, higher frequency.
The Camino Voyage is structured around repetitions. The men row, they unwind at a local spot with food and impromptu sessions of traditional Irish music, and they wait for a turn in the weather. And then they row some more. This deliberate, authentic structure runs the risk of feeling monotonic, but, after a while, invites the viewer to adjust their expectations, and tune into a different rhythm of life and progress.
Voyage premiered at Belfast's Pull Focus documentary festival last summer, running alongside another film about endurance and distance: Arūnas Matelis' Wonderful Losers, which focused on the self-sacrificing, Zen-like dedication and physically brutal demands of longform cycling, but Camino has no such martyr complex. Immensely pleasant and relatively undramatic, the film is a subconscious endorsement of the good life — teamwork, achievement, escape, patience, music and connection — and, in its own way, an advocate for alternative modes of being and relating, and something good and true about the Irish personality. Conor Smyth
The Camino Voyage closes its run at Queen's Film Theatre, Belfast tonight Monday 14th Jan (screening sold out).