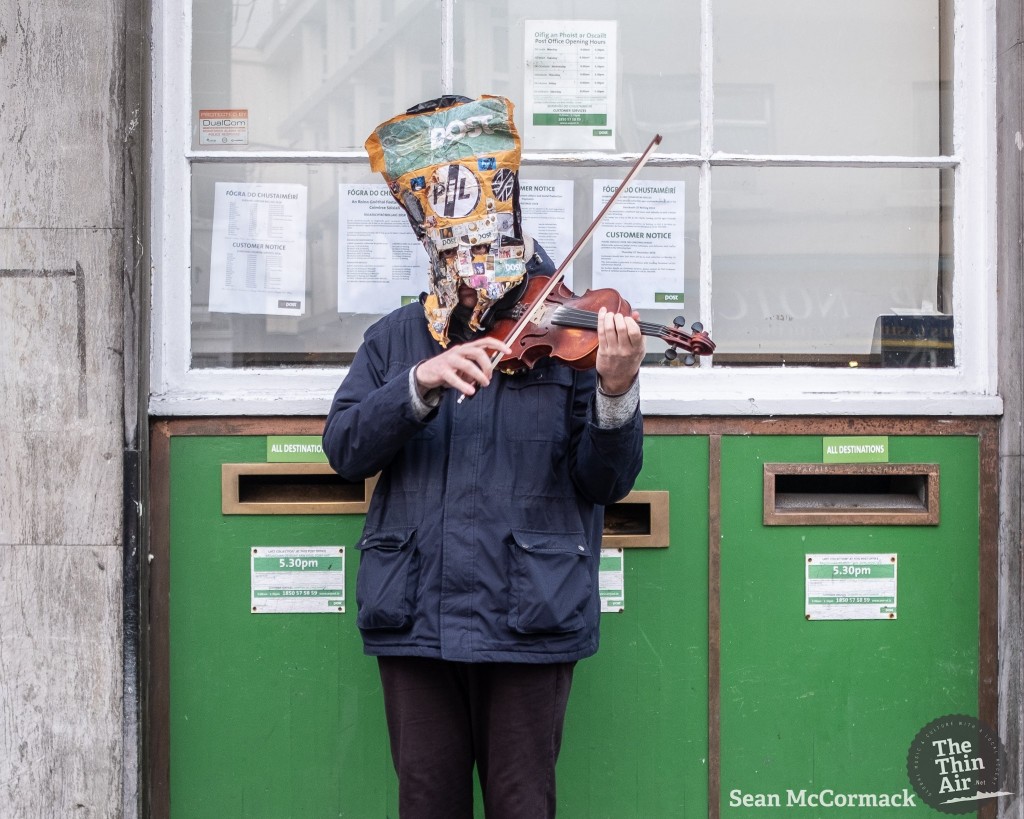 We continue 19 for '19, our feature showcasing nineteen Irish acts we're convinced are going places in 2019. Throughout January we're going to be previewing each of those acts, accompanied by words from our writers and an original photograph from one of our photographers.
Next up, one of Limerick's finest, Post Punk Podge & The Technohippies.
Photo by Sean McCormack
___
Beginning to describe Post Punk Podge is a task within itself. Post Punk Podge is kind of like Jello Biafra from the Dead Kennedys, but he's got a Limerick accent, plays viola and wears a postage envelope over his head. Also he makes techno… and Krautrock… and he raps.
In his own words, he is "a figment of Punk and the Post's past, a truth seeking singer/rapper/musician".
With his group, the Technohippies, providing ample noise as a backing band, Post Punk Podge is as much a mystery as he is a force to be reckoned. It would be unfair to draw comparison between Podge's sound and other artists as he is in a complete league of his own, lying within the murky purgatory between satire and art.
2018 was a big year for Podge, releasing two singles with The Technohippies, collaborating with DJ nervou$ (AKA David Noonan of Just Mustard), raising money for various charities and performing countless live shows. That being said, he has already promised huge things for 2019, including a single in January, an EP on February 15th, a mixtape later in the year and more collaborative work throughout the year. On top of this, Podge's band of Technohippies has welcomed new members to their line up. These new members will be performing alongside podge on his "M.D.M.A Tour" between February and April.
I cannot stress this enough: listen to Podge's music ASAP and get yourself to one of his live shows this year. He could possibly be one of the most unique acts this country has ever known. Jack Rudden