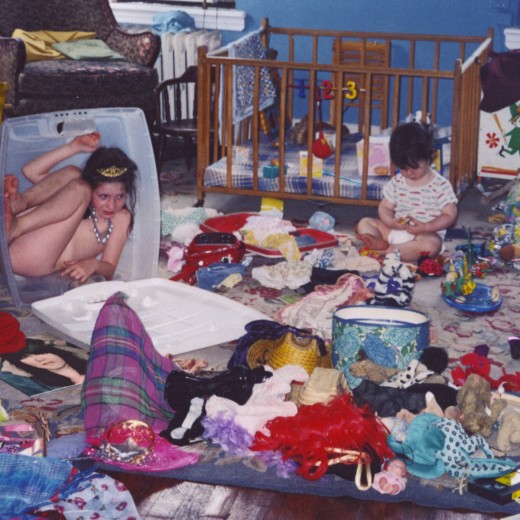 "Kid came back. A real turn around."

Remind Me Tomorrow's extraordinary lead single 'Comeback Kid' was an electrifying jolt to the system. Ducking and weaving like a prizefighter over buzzing synths and a clatter of snare drums, it was a hair raising musical feat that instantly heralded a radical break from Sharon Van Etten's established sound. It is a trend that runs to the core of an album, which eschews her typical palette of dark guitar textures and sombre piano  in favour of a warmer, glossier soundscape that brims and burbles with vintage electronics and off kilter percussion.

Each track builds intricately upon an initial beat and drone played on a Roland Jupiter 4 synthesiser that was borrowed from one Michael Cera. This unfamiliar new toy seems to have caught Van Etten's imagination, affording her the freedom to explore new sonic avenues from darkly swirling electronica to wide open heartland synth passages, often daring to skew more pop than on any of her previous releases.

For all the bells and whistles found on the album though, Remind Me Tomorrow's devastating opener  'I Told You Everything' eases the listener into proceedings with little more than the chime of piano chords and Van Etten's sublime vocal. Masterfully weaving together a frank and deeply moving ode to the cathartic surrender of a loose lipped drunken evening spent with a friend. The song wells up and eventually spills over into a trembling celebration of naked vulnerability. "I told you everything. You said, 'Holy shit… You almost died'".  

As a pressurised drum beat and synthetic bassline kick in during the songs sweeping mid-section Van Etten keeningly reminisces about, "Held hands" and "knocked knees". The mood she creates is one of almost uncomfortable intimacy.

'No One's Easy To Love' continues with this sense of close miked candour and begins to consider the Jupiter 4's capabilities in earnest. The fidgeting beat of a glitchy, possibly malfunctioning drum machine and a crunching, distorted synth line form a sturdy foundation for Van Etten's smouldering lower register which wraps itself around the song's languid verse.  On the chorus that miraculous voice soars skyward into her glassy soprano while an ingenious twinkling piano motif delicately spins itself through the songs rapt second half like so much silvery thread. Subtle musical elements like this routinely peak through the album's gauzy production, the product of an increasingly deft sense of mood and nuance within Van Etten's artistry.
In a swift change of gear 'Memorial Day' and 'Jupiter 4' see skies cloud over and a noirish trip-hop aesthetic take hold. 'Memorial Day' incorporates a chirruping vocal sample and skittering back beat, which, when combined with Van Etten's haunted cries on the multi tracked chorus bring to mind the shadowy, world weary sounds of 90's era Portishead. 'Jupiter 4' meanwhile emerges slowly from the murk, a quivering mass of reverberating electronics and creeping tarantula guitar lines. The track builds slowly but eventually delivers one of the albums biggest hooks as Van Etten, dispensing with arch metaphor in favour of straightforward emotional heft, howls the line' "Baby baby baby, I've been waiting, waiting, waiting my whole life for someone like you" hurling the words like neon paint against a stark backdrop of churning synths and gunshot percussion.
Elsewhere a sense of nostalgia seems to permeate much of the songwriting on Remind Me Tomorrow.  Even as Van Etten makes references to the past though, she has her eyes firmly on the future. This is especially evident on one of the album's standout tracks, 'Seventeen'.
The song overflows with bright, driving melodies recalling the dreamy drones of Suicide and the faded boardwalk imagery of fellow New Jerseyite Bruce Springsteen. Van Etten conjures up grainy memories of New York as it once was over searching acoustic piano, pondering the realisation that she is no longer the bright eyed new kid on the block but rather the veteran scenester, concerned about the changes occurring in her old stomping ground. She slowly makes her peace with the fast changing city and the new generation of artists who will make it their home, "I used to be free… But you're just seventeen, so much like me."

After the jaunty organ shuffle of 'You Shadow' and the overdriven riffs of the emotionally charged 'Hands', Remind Me Tomorrow comes to an end with one of its loveliest moments, the heartfelt 'Stay'. Unfurling piano chords appear from the songs hazy atmosphere of echo laden vocal harmonies and static as Van Etten coos a love song to both her partner and her baby boy, "You won't let me go astray. You will let me find my way."

Remind Me Tomorrow is a staggering release possessed of a wild and wandering musicality and a huge breadth of emotion.  Van Etten's decision to retool instrumentally never once feels like mere costumery and instead this refusal to rest on her laurels helps to elevate her much vaunted songwriting to ever greater heights on this restlessly creative release. James Cox