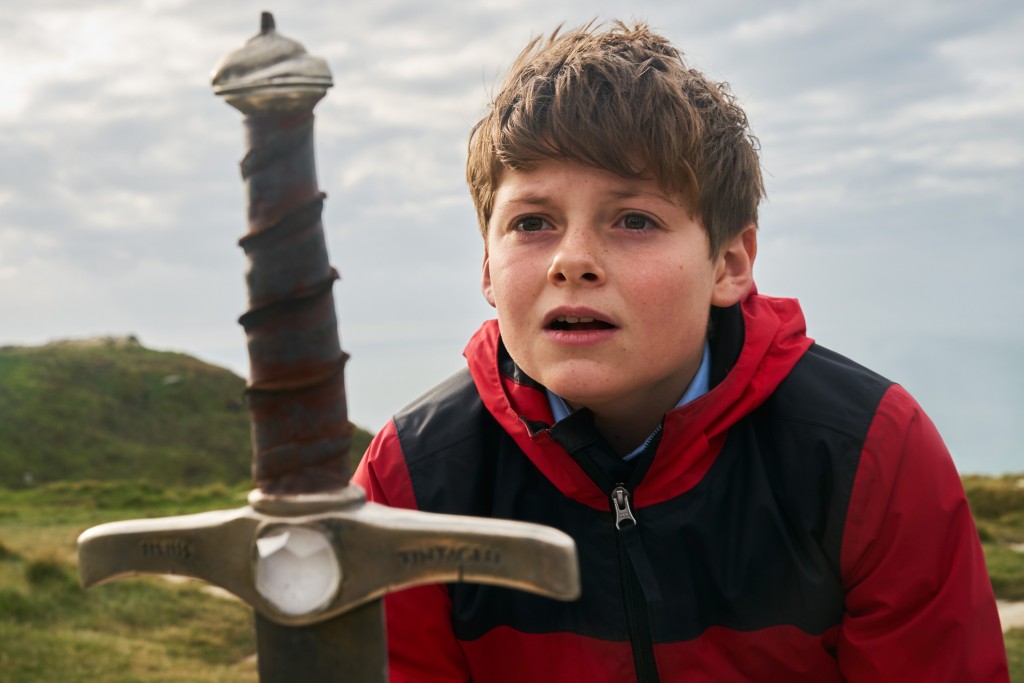 The Kid Who Would Be King is an old-fashioned film, and I don't think Joe Cornish would mind it being called that.
After some years spent contributing to studio scripts, the English writer-director follows up 2011's Attack The Block with another tale of hearty contemporary misfits banding together to take on a deadly genre threat. The film is fuelled by issues of story-telling inheritance, drawing on Arthurian, fairy tale structures for a funny, down to Earth, quite moving tale of a young boy trying to figure out who he is.
Alex (Louis Ashbourne Serkis) is a twelve year-old struggling with a new school and an absent father, his frustration beginning to curdle into huffy teenage cynicism. But one night, on the run from schoolyard bullies Lance (Tom Taylor) and Kay (Rhianna Dorris), who become unlikely allies later on, he stumbles into a construction site and pulls a funny-looking sword from a cider block stone. The blade is Excalibur, the marker of the once and future king described in the Knights of the Roundtable storybook Alex snuggles up with at night, a book given to him, and signed by, his father, and thus the only totem of a man who exists mostly in the mythology of Alex's head.
The sword's release draws the attention of Morgana (Rebecca Ferguson), a serpentine enchantress banished to the underworld centuries ago by the chivalric heroism of England's last true great king. She's been resting down below, but the dourness Brexit Britain provides the perfect time to make her return: as the screenplay flags up again and again, it's a confused, divided country, with hardened hearts and pale-minded leadership. Luckily Alex has help: a stringbean schoolboy Merlin (played with corny theatricality by Angus Imrie) who arrives through the neolithic portal of Stonehenge. The kids have just four days until the solar eclipse, when the skies will darken and Morgana will strike.
The Boy Who Would Be King is a hero's quest, a narrative model the film consciously invokes. Stunned at what's suddenly being asked of him, Alex namechecks Star Wars and Lord of the Rings. His best mate Bedders (Dean Chaumoo), a chubby loser in the Goonies tradition, is all too eager to be his Samwise Gamgee, battling the dark magic of flaming ghouls. The meta-leaning makes sense as a way for kids to relate to adventure and heroism, connecting Cornish with a neglected, Spielbergian cinematic impulse and the larger theme of the need for modern England to embrace itself better, truer stories about itself.
Like its century-hopping wizard, the film sort of feels out of time, its earnest goofiness recalling scrappy VHS adventures. It's a kid's film, unsubtle in its insistence on doing the right thing and telling the truth, a purity of heart that situates it alongside the radical niceness of Paul King's terrific Paddington films.
It's a little sloppy in places — there are pacing issues in the third act, and the editing doesn't have Attack the Block's tightness — but The Boy Who Would Be King bravely risks naffness, and a jaded multiplex audience, to take us on a merry jaunt. Conor Smyth
The Kid Who Would Be King is out on wide release.