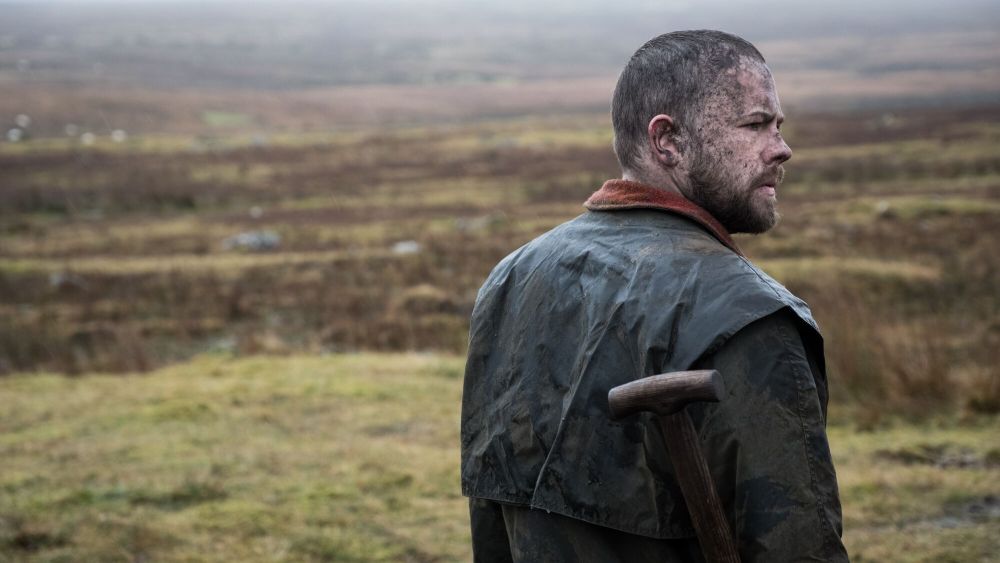 The Irish bog is fertile metaphorical soil. It's dank, ancient, unforgiving. It brings you down and sucks you in and swallows you up. It is our countryside version of Jordan Peele's sunken place. In The Dig, filmed in soggy Northern Irish landscapes, the bog represents obsession, or death, or the past; ideal terrain for a moody murder-mystery drama drenched in male guilt.
Written by Stuart Drennan, whose 2014 film Breaker also turned on questions of memory and buried secrets, and marking the feature directorial debut of Belfast-born brothers Andy and Ryan Tohill, The Dig gets much out of its basic premise and limited, but rich, character interactions.
Moe Dunford (Vikings, Patrick's Day) plays Ronan Callahan, a ne're-do-well who returns to his village farmhouse after serving 15 years for the murder of a local teenage girl. Being blackout drunk on the night of her disappearance and presumed death, Ronan was unable to provide her body's location, forcing desperate, grieving father Sean (Lorcan Cranitch, doing a lot with little) to spend the last decade and a half digging up the Callahan family bog in a sisyphean search for her remains. Ronan wants him off the property, but police chief Murphy (Francis Magee, serving small-town menace) has no sympathy. Moved and shamed by the father's resolve, and eager to do something with all his anger, Ronan grabs a spade and starts to help, becoming embedded in the tortured routines of Sean and his daughter Roberta (Emily Taaffe).
The Dig takes place almost entirely in purgatorial marshland and the hovels where the men rest between shifts. A sparse script — believably rooted in a non-confessional way of life— finds energy in the raw sights and sounds of the shared slog. The slurps and splats of spades splitting surface; wellies stomping in the muck; the black grime aftertaste on hands and faces. There is something faintly Catholic about bodily exhaustion as a means of atonement, and obviously the search for a disappeared family member carries larger historical resonance here.
Production designer Ashleigh Jeffers and cinematographer Angus Mitchell help elevate the frame beyond default natural flatness. Homemade red and blue flags used by Sean to mark progress help give visual pop, suggesting military vibes of battlefields stuffed with the fallen. The film switches from detailed, intimidating wide shots to tighter images of emotionally charged claustrophobic entanglement: a well, a shower spitting brown, the graveyard excavation holes. Keeping the camera close to Ronan when he's alone traps viewers with his coiled internal conflict.
The bog is the things we can't forget, and the things we can't remember. Despite Sean's pleas, Ronan just can't dredge up the details of that night, and trying only makes it harder. At one point he goes to the bar to sip his old drink and try to jog buried details, but the film doesn't dwell on the procedural, and wisely avoids wasting time on flashbacks.
Only at the end, via a coincidence and a flash of insight, does the truth emerge, the sturdy, ruined physicality of the actors helping keep potential melodrama at bay. It proves a satisfying conclusion to an evocative story. More bodies for the bogs. Conor Smyth
The Dig is released on Friday April 26th.