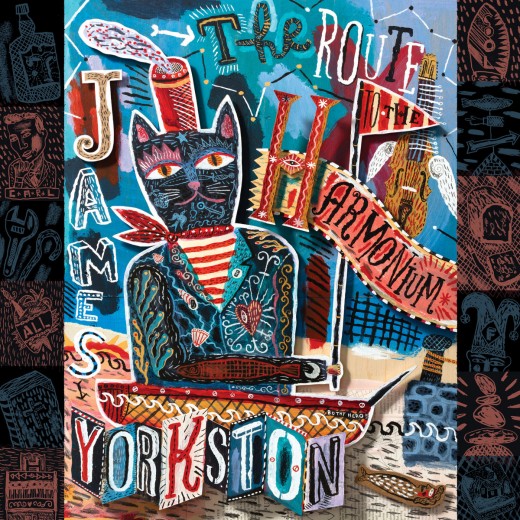 It's been five long years since Scottish folk singer James Yorkston's last solo album – 2014's The Cellardyke Recording and Wassailing Society – though he's certainly not been resting on his laurels in that time. As well as turning novelist and podcaster (spinning esoteric tunes on '46-30'), he's put out two highly acclaimed albums in quick succession with his new trio, Yorkston/Thorne/Khan – a sort of folk-fusion collaboration with his regular double bass player Jon Thorne and Indian sarangi player Suhail Khan (a third album is already recorded and ready for release early next year). All the while, though, he's been quietly piecing together a new record by himself in his home in the East Neuk of Fife, playing practically every instrument himself.
Fans of Yorkston's previous work will, for the most part, know what to expect here, as much of the record sticks within his usual template of serene, literate folk. The instrumentation throughout the record though is rich, as he takes plenty of time in his home studio to build upon tracks with his collection of obscure instruments (Swedish nyckelharpa anyone?), as well as drafting in guests to lay down trumpet solos and even occasional synths.
He hasn't been afraid to throw in the odd curveball this time out, however. Yorkston's 2007 single 'Woozy with Cider', a spoken word piece over an uncharacteristically electronic backing, has gone on to be one of his most enduringly popular works, and he returns to the spoken word approach here on several tracks that again turn out to be highlights. 'My Mouth Ain't No Bible' sees him ramp up the energy levels above his usual serene calm, with some of his most biting lyrics spilling out in a stream of consciousness ("And heck, if I can manage to get to age 65 still alive I will stick my middle finger to the world") accompanying the unusually menacing music, a military snare drum lending a tense atmosphere throughout.
Meanwhile 'The Irish Wars of Independence' draws upon Yorkston's childhood summers spent on the coast of Cork, taking to task the religious divides that have impacted upon both Ireland and his native Scotland through the years, while the track's instrumentation and tale of meeting the devil reflect his early love of Irish traditional music that those childhood trips fostered.
The gentler 'Blue of the Thistle' already saw the light of day on Yorkston/Thorne/Khan's 2017 LP Neuk Wight Delhi Allstars, but reappears here in an earlier form, recorded at home soon after it was written. The audible sound of heavy rain beating off the studio roof throughout gives the track a stunning natural ambience as well as the unmistakable imagery of the wet Scottish coastline outside.
Elsewhere Yorkston looks further back. He and his old backing band The Athletes' 2005 EP Lang Cat, Crooked Cat, Spider Cat provides not only the album's title, but also the track 'Yorkston Athletic'. Originally an instrumental centred around its wandering accordion improvisations, it's here been updated to add another of his spoken word diatribes over the top, and is another of the record's dramatic highlights. Yorkston's passion for krautrock bands like Can is well documented, but folk rarely seems like an easy avenue to channel such influences into. Here, though, with his droning guitar jam he gets to unleash his inner Michael Karoli, and it suits him well.
Much of the album's inspiration comes from traumatic times, however. The passing of The Athletes' double bass player Doogie Paul from cancer in 2012 has informed much of Yorkston's recent work, but a family illness and the loss of more friends to suicide have also influenced his headspace on this outing. And yet the record manages to largely steer away from the morose, the bouncing piano and jazz trumpet of closing track 'A Footnote to an Epitaph' sounding defiantly upbeat and triumphant in the face of adversity. Echoing the theme of the last album's 'Broken Wave', Yorkston again refuses to remember lost friends by their frailer moments, insisting "I wish you were here, every single one of you/But when I think of you, I think of you well".
Much of The Route to the Harmonium is comfortingly familiar for returning Yorkston enthusiasts, but he changes gears often enough to keep things interesting, and it's when he ups the tempo and the drama that the record becomes truly engaging. What's more, this is probably Yorkston's most consistent set of songs in some time, and cements his already healthy reputation as a jewel in the Scottish folk crown alongside contemporaries like King Creosote. While he has plenty of extra-curricular pursuits to be occupying himself with these days, let's hope it's not such a long wait until his next solo outing. Cathal McBride