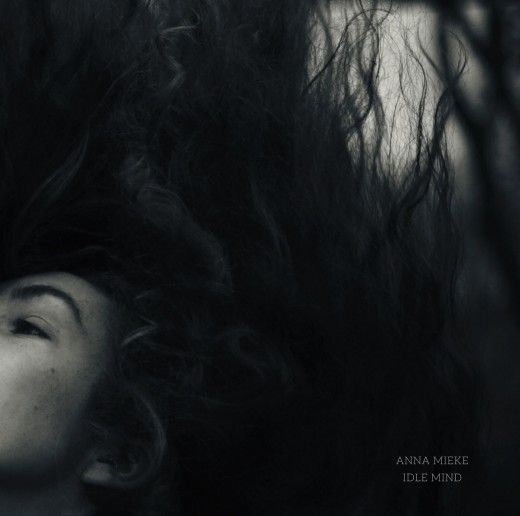 Hailing from the hills of Co. Wicklow, singer/songwriter Anna Mieke independently released her stunning debut full length LP Idle Mind in April; fusing elements of Irish folk music with those of global  traditions and alternative pop, Mieke's debut is a tremendously promising effort.
Folk influences abound Idle Mind's soundscapes: Mieke's cello drones underneath neatly percussive guitars and a layered arrangement of auxiliary instruments such as harmonium (played here by Ye Vagabonds' Brian Mac Gloinn), bouzouki, piano, drums and fiddle. The bulk of the instrumentation on the album is provided by Mieke and Mac Gloinn, with additional players Matthew Jacobson, Sonny Sampson, Conor Cunningham and Wayne Dunlea providing additional the drums, bass, flute and clarinet.
Standout tracks include 'Aurillac', 'Creature' and the title track, the latter of which, along with 'Arbour' breaks up the folk atmosphere to provide a paranoid electric guitar rhythm reminiscent of Radiohead's 'Spooks' . The clean guitar sound pinches the ear with its mumbling, affecting tone while Mieke's voice jolts about wonderfully on top of jubilant percussion.
'Creature' pulsates with a Chopin like piano line, undercut by dreamy, loose drums and echoing backing vocals, all adding up to create a perfectly dreamy atmosphere that's delicate yet emotionally impactful. 'Aurillac' is a classic folk tune with a pop heart and a beautiful vocal chorus line that helps the song soar to one of the truly memorable highlights of the entire record.
Mieke's lyrics are poet and abstract throughout the record, their minimal nature inviting the listener to decipher their undoubtedly personal nature while allowing for a particular vagueness, enabling you to attach your own interpretation to each song. When combined with the pristine production (mixers Adrian Hart, Nick Rayner and Cian Hamilton all deserve high praise in this respect) on the record, the effect adds up to an enticing and inviting experience for one to make their own.
Indeed, Idle Mind is not just a stunning debut record, nor is it just an amazing Irish record: it's a record that proves Mieke to be one of the most promising artists on the Irish independent sphere and mature musician and songwriter whose work deserves to be heard far and wide.  Alex Harrison