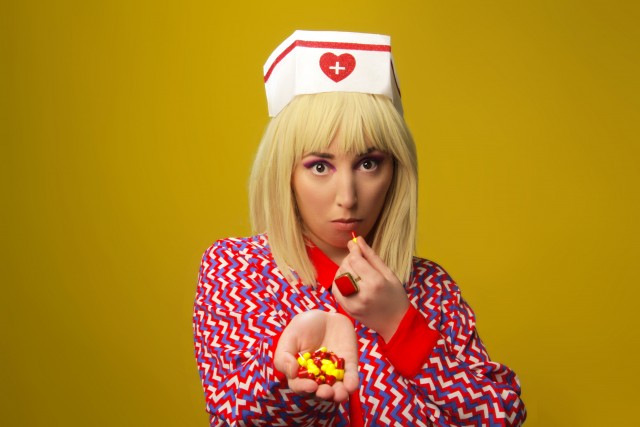 Long one of our favourite songwriters & artists on the island, Naoise Roo has been on an extended hiatus for the last couple of years. Thankfully, she's just announced her return EP, Sick Girlfriend, and is set to hold her first show in a number of years at Dublin's Project Arts Centre on May 4.
The show will serve as a preview of the EP, with Sick Girlfriend's four tracks centred around themes of depression, the negative aspects of the music industry, and the stereotypes that burden women experiencing mental illness. Roo will be joined by producer/bassist Daniel Fox of Girl Band, as well as drummer Rian Trench, guitarist Karl Tobin and Jamie Hyland on synths. The EP follows up on one of our favourite albums of 2015, Naoise's multi-faceted debut LP Lilith, which bore the propensity for dark world-building of PJ Harvey, Nick Cave & Portishead. Needless to say, the prospect of new music from a Naoise Roo that's not just pursued, but taken new ownership over her vision is one that has us incredibly excited.
The night will also see Naoise joined by a diverse range of musicians, artists and performers, showcasing their own work centred around the theme of mental health. Musical performances come from the beguiling art-folk of Maija Sofia, one of Ireland's finest lyricists in Shrug Life's Danny Carroll, singer-songwriter Laura Ann Brady, with more to be announced. Theatre actor Miriam Needham is set to perform a short piece, and artists Andrew Mooney and Roisín Blade promise to create an immersive visual experience within the venue.
Very limited admission is free thanks to the Dublin City Council, who have supported this event with the aim of ensuring accessible art to all regardless of financial position. The venue is wheelchair accessible. Reserve your spot at the event here.