With The Specials' last tour here being November 2014, it should have come as no surprise that they sold out all three nights in an instant. Adding to the anticipation is the fact this highly influential band finally decided to release new music, in the form of this year's Encore.
As a result night two was a feverish hive of positive energy and activity, as a multitude of skinheads, mods, punks, rude girls and bootboys of varying ages and hair lines, beamed and skanked their way throughout a sweaty 90 minute set of two-tone classics, sliced with a few new tunes.
Starting off with the nuclear war fearing 'Man at C&A', the brass section of Tim Smart (trombone) and Pablo Mendelssohn (trumpet) supplied an exquisitely eerie element, which juxtaposed the positive vibes of Horace Panter (bass) and Lynval Golding (rhythm guitar, vocals). The starkness of their doom laden lyrical commentary continued with 'Rat Race' and 'Do Nothing', albeit played with their normal Ska infused gusto.
Vocalist Terry Hall jokingly states "I was six when we made our first album!" before they play 'Vote for Me'. The comparison to '81 single 'Ghost Town' isn't lost on anyone, and not just in its sound but with the same politicized annotation to the fore. Keyboardist Nikolaj Torp Larsen, the man who has been with the group since their reunion, and in place of founder Jerry Dammers, takes centre stage during  'Friday Night, Saturday Morning'.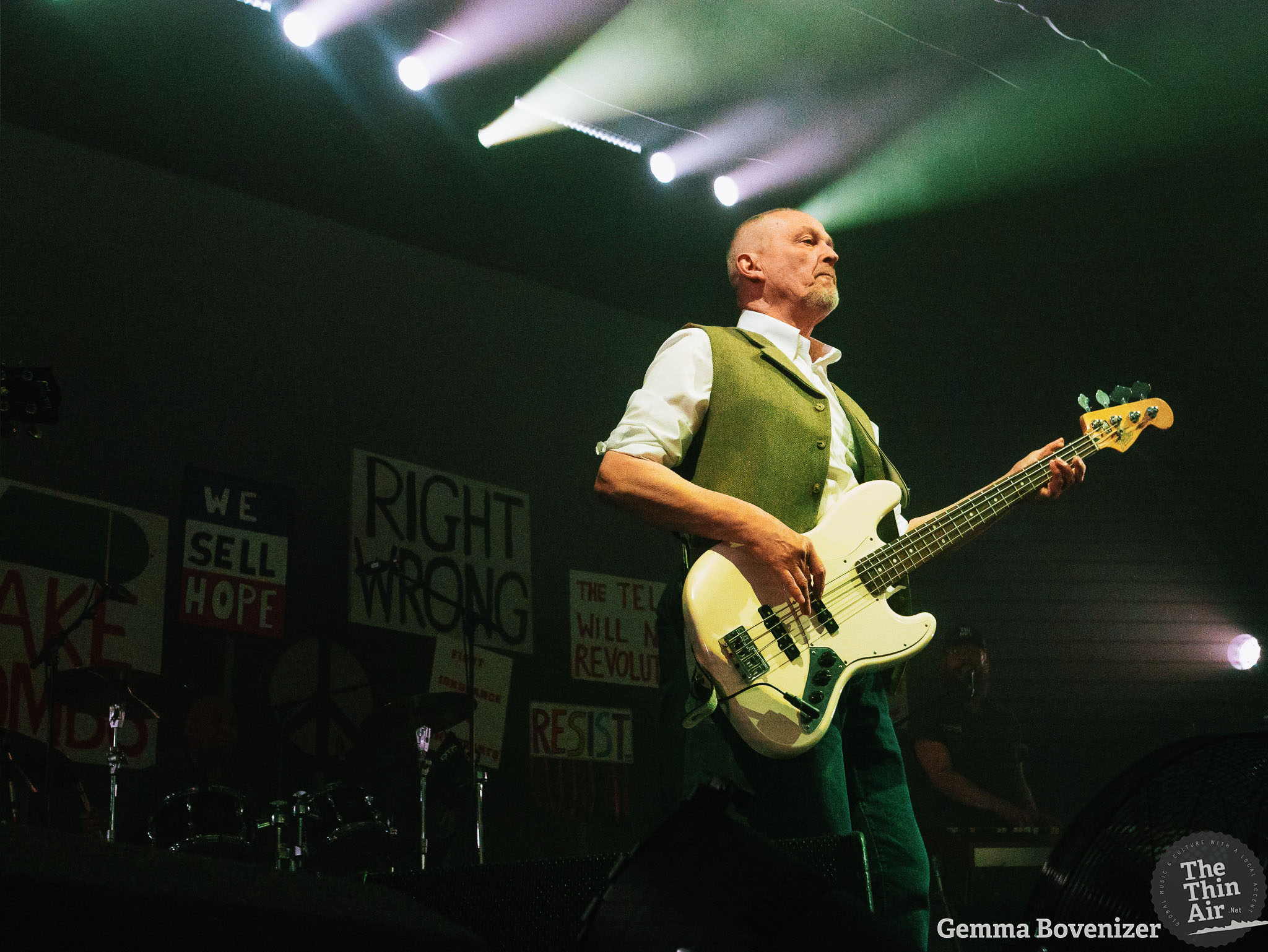 Guitarist Steve Cradock and Kendrick Rowe (drums) bring something a little different to the likes of 'Blank Expression' and 'Doesn't Make It Alright', while Hall's vocals are on top form. Next up is a reworking of Fun Boy Three's 'The Lunatics', which has a revised calypso feel to it, and is an apt companion piece to the current state of UK politics, especially as the original song was written during The Specials' initial implosion.
Joy is restored during Dandy Livingstone's 'A Message to You, Rudy', while 'Stereotype' keeps the tempo at near fever pitch, with Panter and Golding continuously bopping around the stage. Saffiyah Khan, who was photographed staring down a member of the EDF while wearing a Specials t-shirt a couple of years ago, takes the lead on spoken word '10 Commandments'. Khan is at ease from the off and spits out lyrics with such venom, that her disgust at Prince Buster's original, the sexist '10 Commandments of Man', is clear for all to hear.
What follows is an unbelievable run of early era classics; 'Nite Klub', 'Do the Dog', 'Concrete Jungle' and 'Monkey Man', are belted out, with each song seemingly at a higher tempo than its predecessor. Anyone who thought the potential for beer spilling was about to ease off, was in for a surprise, as they finished their set with 'Gangsters' and 'Too Much Too Young'. The sound level was incredible from the whole room, as soon as they downed tools for a short break and carried on until Hall returned to introduce the band.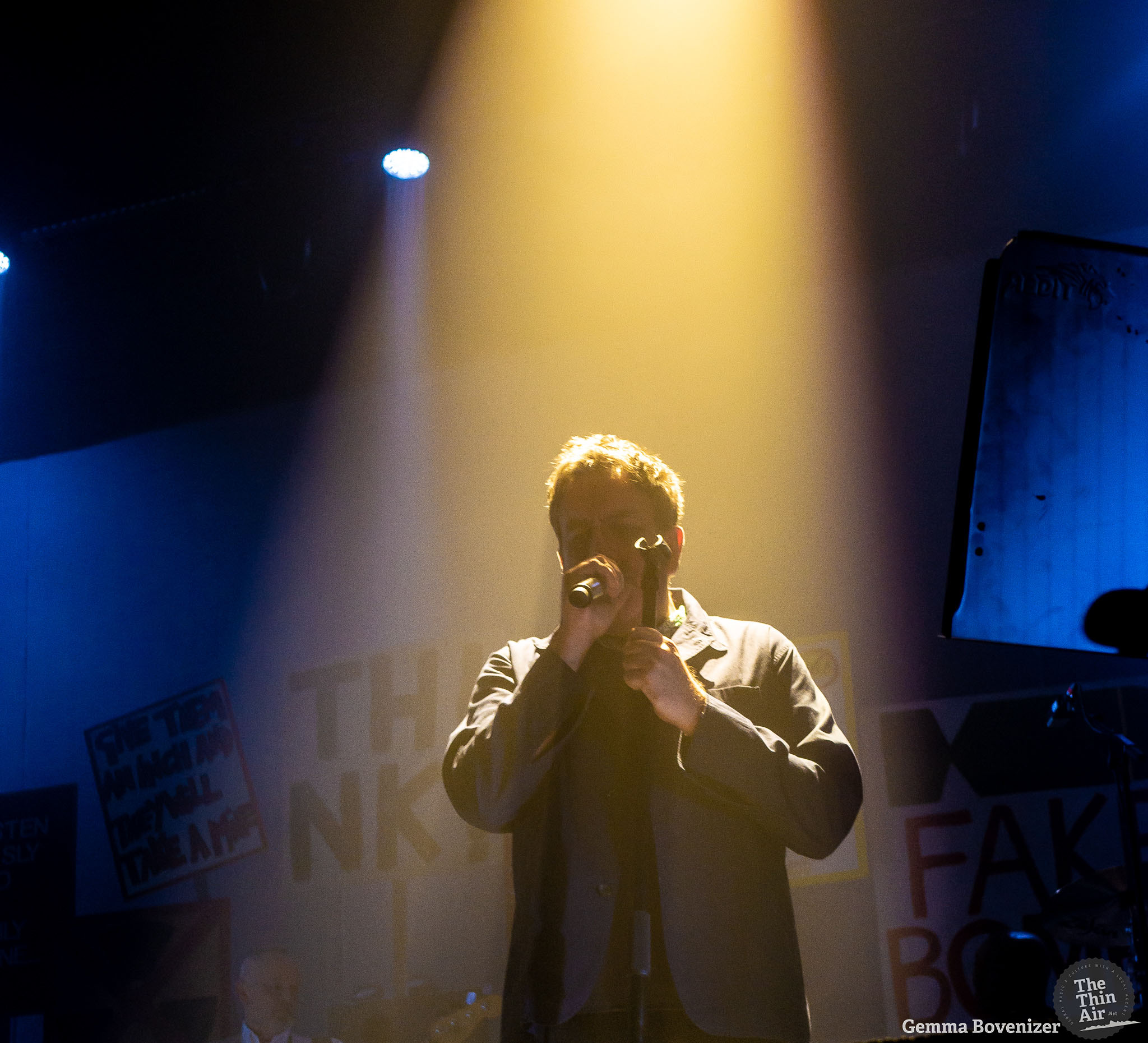 The polka-esque 'Breaking Point' is more than a little different from what has gone before and brings a rather subdued response from those watching the eight musicians line up side by side. However as soon as the opening bars of 'Ghost Town' flow through the PA, the sense of enjoyment and relief was evident, even though the song itself covers a rather dark subject matter, that is still as prevalent today.
After a quick sojourn off stage the band return once more and following Golding's declaration of his undying love for Ireland, they finish up with 'You're Wondering Now', while leaving the house lights up, the crowd are still dancing and singing back every word.
What a return to Dublin, from one of the bands that has truly mattered for the last 42 years. Conor Callanan

Photos by Gemma Bovenizer.