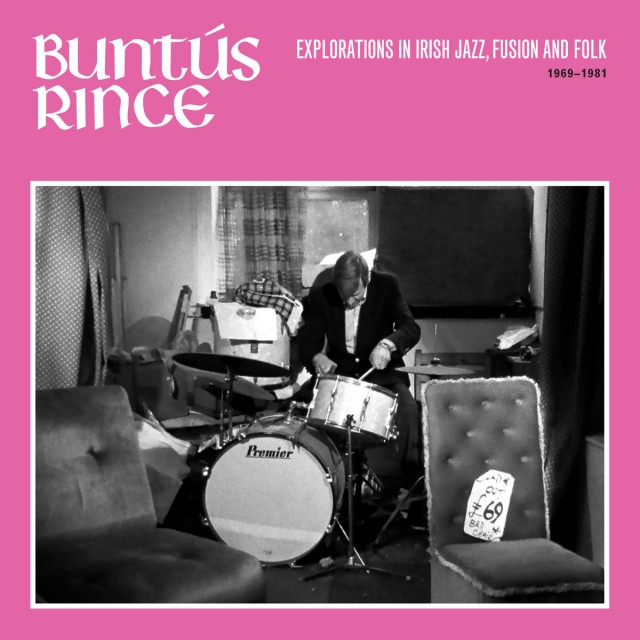 Indie-punk wunderkinder Fontaines DC drew the ire of many an Irish music fan lately with the neophile claim that until Girl Band's emergence, "the only way to sound Irish was to be fuckin' 'diddly-diddly-aye'". Perhaps that statement is more telling of the limitations in Ireland on exposure to genuinely forward-thinking music on a grassroots level as it is of the band's attitude. On an island the size of our own, there does tend to be room only for that lucky few in the bylines of the Great Irish Narrative, but that overlooks the communities of troubadours, session players and ubiquitous heads who aspired to be part of something beyond the local club circuit, playing the period-accurate equivalent to 'Galway Girl'.
The fourth release from All City's AllChival Records, Buntús Rince ('Basic Rhythms') 1969-81 offers a glimpse at an Ireland that was starting to shed the naive escapism of showbands and take trepidatious steps forward as 1977's punk Year Zero approached toward the end of a milestone decade of social crisis, but also of upheaval. The Republic joined the EU. New flavours were being imported by eager tastemakers like Terri Hooley – responsible for releases for a number of bands on here. Hot Press formed. Professional recording studios were finally within reach. The likes of Thin Lizzy, Van Morrison & Horslips could now not just tap into, but progress the notion of national identity using these newfound sounds without commodifying, just as the likes of Lankum, Girl Band, Junior Brother, and those aforementioned punks have been roundly praised for doing today.
Thin Lizzy still needed to work Irish clubs to pay their bills until 'Whiskey In The Jar' landed them in the ears of the general public, but it was a start. Ireland has always been far too interesting a melting pot to not have had fascinating, singular artists under the radar, chipping away for the sake of their craft, paving new road  Several decades on, we're fortunate to have crate-diggers like RTÉ 2XM's Peter Curtin to document Ireland's underwritten past and ensure their efforts aren't lost, à la Soul Jazz Records, whose compilations documented parallel cultural awakenings in 70s Germany and Venezuela.
Sonically, much of Buntús Rince lies somewhere along the connective tissue between jazz, progressive rock and folk. The production & mastering job is impeccable, and it boasts a tracklist that's clearly been pored order, personnel forming a kind of Venn diagram and throughline as we go from scene to scene. The entirely instrumental side 1 concerns itself with Dublin's vibrant 70s jazz scene. History seeps out of these schooled alumni early on, pianist Noel Kelehan's acclaimed quintet channelling the crepuscular, restrained end of Miles Davis, Berklee alumnus John 'The Wad' Wadham and Frank Hess forming the backbone of its opening pair, the latter track credited to Wadham. A frequent collaborator with the aforementioned, and one of jazz music's most respected guitarists Louis Stewart's contribution is a Benny Goodman – for whom for a time he was hired – style swing number, and is a virtuosic, yet soulful performance. Violinist &  Joe O'Donnell's 'Caravan' is a beguiling Eastern-inspired groove, taken from his concept album about the exodus of the Milesians from Egypt to Ireland.
Side 2 soundtracks the move into the glazed eyes of a 70s counterculture that started, as is the case on the majority of this compilation, to contravene 'repressed Ireland'. Taste's 'On The Boards' sees a more malleable Rory Gallagher flex his guitar & rarely-seen sax chops. It's a progressive cut whose foreboding and dissonant jazz interpolations he'd rarely again match once finding his voice in the blues sphere. Granny's Intentions' 'Nutmeg, Bitter-Sweet' is a highlight, a waltzing flute-led piece of jazz-prog that marks the compilation's move into Ireland's pastoral haze that many of us suspected had been forever lost to attic recesses and charity shops boxes. Amongst the far-reaching influence of many of these 16 artists, prog-folk act Mellow Candle are perhaps the most firmly-established cult name. Not just covered by Pavement's Stephen Malkmus, their one album, Swaddling Songs is allegedly the rarest British major label LP in existence – and the power-pop Fairport Convention charm of 'Lonely Man' is an excellent, Old Grey Whistle Test-beckoning entry point.
Polyglot Jolyon Jackson features prominently across a few cuts, including the noteworthy clav on singer Rosemarie Taylor's pop-fusion 'Mister Sleep'.  Jackson's Supply Demand and Curve are the most overtly fusion act, preceded by four decades of Ireland's fusion love-in. The band are recruited to masterful effect on the extended cut, pocket pop symphony of Sonny Condell's 'Red Sail', which recalls Northern cult prog outfit Fruupp. Similarly, the Steely Dan-esque player's band, Stacc show a sound completely removed from their geography.
Conversely, however, the seeds of Irish rock really are prevalent throughout upon closer inspection. A young, hippie Gary Moore plays lead guitar on the 1970 track 'Mary Malone of Moscow' by Dr Strangely Strange, who led Dublin's 'Orphanage' communes, which would springboard the careers of Moore and other doyens like Phil Lynott. A fascinating example of early Grateful Dead style harmony & vibe-driven writing, it condenses into one song what most bands would stretch into four, the band run for a period by British folk-rock svengali Joe Boyd.
It's almost too good for fiction that an Omagh showband would procure some hash and, armed with Santana & Fela Kuti records, take an about turn toward proto-garage-psych, but that was seemingly what went down with the Rob Strong-fronted The Plattermen. Their 'African Wah Wah', taken from the rare, madcap Old Devil Wine LP is unlike anything to precede it in Ireland, jump-starting the one-off final portion of the album. One of a few socially-conscious numbers, Jonathan Kelly's Outside's contribution raises its fist for workers rights, and alongside '…Wah Wah', could as easily groove its way onto African spiritual cousin, the Welcome To Zamrock! retrospective. Again, these parallels grew from greater diaspora than the world had ever seen, with the great record boom of the Sixties had seen Hendrix and James Brown soundtrack the breaking of barriers between races, genres, and the "Free West" and insular theocracies to some degree. So, it's fitting that Buntús Rince closes with another beginning – Ireland's first reggae outfit, Zebra, emblematic not just of the positive influence of this newfound hope of a sense of identity – that would permeate Irish music more as the years grew – the social change that led to the Ireland we know today.
What's striking is the care taken in curation with personnel links from track to track. It implicitly forms an organic progression from traditional, into some now-familiar zonked-out early 70s Glastonbury billworthy progressive folk, onward into music that could, and should rightly earn its own posthumous reappraisal, if not on A Band Called Death level, certainly something worthy of being more than just resigned to the mothballed cupboard of your one-time hip uncle.
In the fully-outstretched version of globalisation we have today, the room is a bit more crowded, but it's at least somewhat easier to find a niche or some semblance of a navigable path. That said, the universal rule holds true that without any of these free spirits and flag-bearers for innovation on a grassroots level – be they the creators, economically irresponsible label-runners or otherwise – we'd remain forever in stasis. AllChival is shaping up to be as strong a resource as it is a label, and its work should be held aloft as an example of our cultural worth, preserved alongside the likes of Reeling In The Years or Hands – the music of which was, incidentally, composed by Jolyon Jackson, as if a microcosm of the depth to which these figures' influence ran. In casting light on these subjects, Buntús Rince, and the AllChival project, has exposed fresh perspectives, enabling a long-overdue re-evaluation of a kind of musical residuum in an Ireland still very much in the vice grip of the church, but also one in the midst of experimental, exciting, socially uncertain times. Cliché though it is to say, this compilation features something for everyone, with little-to-nothing worth missing, and plenty to explore further, if even no more than for curiosity's sake. Essential listening. Stevie Lennox