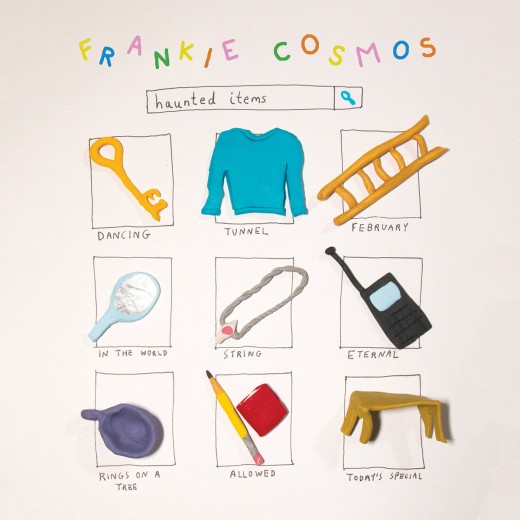 The word "haunted" brings ghost and ghouls to mind but, in Frankie Cosmos' latest releases, Greta Kline shows that everyday items can be tainted by memories that, when pushed to the back of the mind, can be just as frightening.
Haunted items was released in four mini digital-only EPs, rationed out over the course of March. The collection contains all of the classic Frankie Cosmos properties we heard in 2018's Vessel – catchy major chord progressions with witty melancholic lyrics – but this time it's just Kline and her piano.
Piano was the first instrument that Kline learnt as a child and in this package of melodies it perfectly suits the intimacy of the lyrics. In keeping with past Frankie Cosmos releases, every song is wholesome and sweet with a melancholic underbelly of sugar-coated sadness.
The simple sound of basic piano chords brings Kline's syrupy voice and poetic lyrics to the forefront. At points in the higher octaves where other voices would crack to show emotion, her dry, innocent vocals merely evaporate. The lyrics are like thoughts which float around the subconscious and haunt the mind when you are trying to get to sleep.
The theme of Haunted Items flows through the collection and is explained in the very first song 'Tunnel': "You acquire a new item every time you feel like crying/ I used to keep it quiet, now I don't mind it/ I don't feel like lying." The point which Kline is trying to get across in these tracks is that mundane household items can feel almost literally haunted by spectres of memory and emotion.
The album cover show mix-matched things made of playdough such as a hand-mirror, a key and a ladder and lyrics across the nine tracks hint that it may be an old heartbreak performing the haunting. In the song 'Dancing', an ex-lover is addressed: "I cry more times a day/ Than you did in five years/ You've bought more pairs of jeans/ Than you've shed tears."
In classic Greta Kline style, the songs are always fleeting, with 'String', 'Allowed' and 'Today's Special' not even lasting a minute. 'Today's Special' is particularly wholesome with lyrics about freckles and dimples accompanied by uplifting broken chords.
'February' is one of the stand-out songs and is different in structure to the rest. It begins with Kline's acapella voice, harmonising herself before the piano joins in. Her voice acts as the right-hand melody of the piano while the instrument plays solid chords as if they are one with each other.
There is a feeling throughout the songs that they have been deep down inside Kline for quite a while, and that maybe they will allow her to banish those ghosts-of-the-past. As a whole the new EPs encapsulate what Frankie Cosmos was always about – great, simple music and sweet lyrics that make you jealous you didn't write them yourself. Sarah Grealish