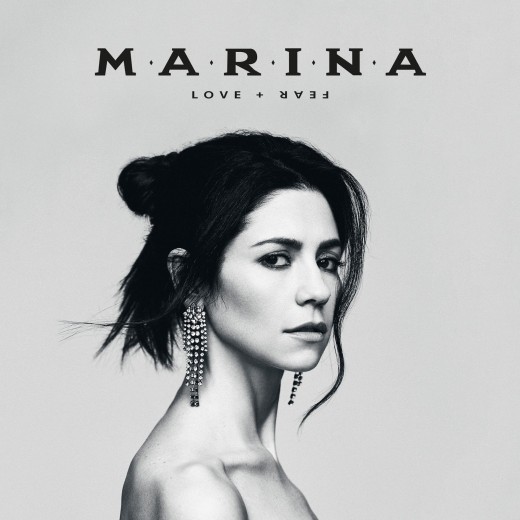 Psychiatrist Elisabeth Kübler-Ross theorized that there are two primary emotions: fear and love. All positive emotions come from love, all negative emotions from fear. From love flows happiness, contentment, peace, and joy. From fear comes anger, hate, anxiety and guilt. She also believed fear and love are opposites writing that if you are in a place of fear, you cannot be in a place of love, if you are in a place of love, you cannot be in a place of fear. This theory forms the backbone of Marina's (formerly Marina and the Diamonds) fourth record which is broken into two parts; Love + Fear.
It's the 33-year-old singer-songwriters first record in four years, coming after a period in which she decided to "quit" music. At the conclusion of her Froot tour, the singer experienced a crisis of identity, tied up in grief and depression. "I'd literally wake up and say to my manager or my boyfriend, 'I just don't get life", she confessed to Gay Times magazine, "I know it sounds almost comedic but I was like, 'I don't understand it. Why is it good?"
In an attempt to answer that question she tried acting, painting and floristry, eventually finding solace in the study of psychology. Throughout the record, but particularly in its first half, Marina's signature diaristic tone has morphed into a more universal one, seeming to mirror the broader concepts and ideas she would've been exposed to at University of London.
On opening track 'Handmade Heaven,' she steps outside her own head and looks at the world around her. She sings of nature's beings, envying how effortlessly they fall into their god given-roles; "I envy the birds high up in the trees / They live out their lives so purposefully / I envy the spiders, the squirrels and seeds / They all find their way automatically." The track eludes to her period of uncertainty (
"I carry along a feel of unease"), one of the only moments on the record's first half that seem to hint at tangible unpleasantness.
Springy single 'Orange Trees
' is buoyant and ebullient, invoking summers spent in her father's homeplace of Lefkada, a Greek Island in the Ionian Sea. "It's my favourite place in the world," Marina commented beneath the music video on Youtube, "I always feel at peace there." The lyrics disclose that the Welsh-Greek singer-songwriter has spent "so long" chasing happiness, when all she needed was 'a little peace.'
Unfortunately the collaboration with Clean Bandit and Luis Fonsi on 'Baby' marks the point when the first half of the album starts to collapse in on itself. From here on out, it's preachy platitudes, pointless pop and banal balladry. 'Enjoy Your Life
' and 'True' feel trite and overly simplistic. "Sit back and enjoy your problems" she instructs on the former, while on 'True
' she attempts to write a 'love yourself!' tune but honestly, Pitch Perfect's Hailee Steinfeld did it better. "Don't need to add nothing on your skin, skin, skin / Be happy with the body that you're in, in, in / Being who you are don't cost a thing, thing, thing" – unfortunately the melody doesn't make up for these lyrics. On the plus side, Disney might be interested? It's clear that there's been a tonal shift from the days of the Electra Heart era, when black and white gifs of the singers' lyrics were being used as fodder for angsty teens on tumblr. While it is heartening to see Marina is feeling happier in herself and more positive about the world around her, it's a shame that this shift has resulted in clumsy, clichéd lyrics.
It's obvious 'To Be Human' was meant to be a socially conscious, unifying anthem. The lyrics have Marina name checking off everywhere from Chicago to São Paulo, Russia and Hiroshima while the accompanying music video features a montage of protest, war and pinnacle moments from human history. Contrary to its mission, the song ends up feeling false and manufactured. There are traces of Marina's lyrical talents ("People driving fancy cars look like beetles to the stars / the missiles and the bombs sound like symphonies gone wrong"), but in comparison to her previous work it falls flat. Take for example, 'Savages' off Froot. Similarly, this track analysed human nature and tried to make sense of the world. She notably referenced the Boston Marathon Bombing in the lyrics. Instead of merely dropping the event into her track, however, she refers to it by making a hard-hitting observation: "One man can build a bomb / Another run a race / To save somebody's life / And have it blow up in his face." On 'To Be Human' she fails to be as creatively clever. The name checking of random cities and countries just feels painfully vague. "There were riots in America / Just when things were getting better" she croons at one point – what riots? What was getting better? It's so ambiguous you'd wonder how aware of these things she even is.
Thankfully, the second half of the record has more to offer. Marina has spent most of her career singing about fears, doubts and insecurities, perhaps that's why Fear lands more than it misses. 'Believe in Love
' is a wonderful opener, examining the overlap between love and fear: "Ooh, I need to believe in love / Why is what you give never enough? / Losing you is what I'm afraid of." 'Life is Strange' has an upbeat, leisurely air to it despite its lyrical heaviness. "Don't know what I'm doing with my life," cries the chorus, but in an almost uplifting, nonchalant way. The bridge has the her seemingly reflecting on where she was a few years ago, admitting "I thought that I had lost my mind." The song also gives a nod to millenial curating ("Seems like everybody's having / The best time of their lives), concluding that we can't know what's really going on in others lives (But we don't know what's going on / At any given time").
Marinaisms are more abundant on this second half of the record. The childlike chorus of 'yay!!' on 'Life Is Strange' feels very old school Marina and the Diamonds, and many of the remaining songs on the release will satisfy any nostalgia for those who enjoyed her earlier work. 'Karma
' and Broods collab 'Emotional Machine
' are back-to-back highlights that could fit in on earlier releases. The "oh my god" in 'Karma' takes us right back to The Family Jewels, a subdued 'Oh No' for a more mature Marina. Meanwhile, the chorus of 'Emotional Machine' would play flawlessly after 'Valley of the Dolls' from Electra Heart. "I'm a machine, an emotional bein' / Since I was a teen / Cut my feelings off clean" she chirps, with an almost onomatopoeic melody that is robotic in its delivery. The album ends on 'Soft To Be A Strong,' a piano ballad that bemoans cruelty and bitterness. It's a clear highlight, showcasing her resolve to conquer her fears and insecurities, without casting blame. 'I took my bitterness and made it sweet / I took a broken heart and made it beat' she sings soothingly. Living in a world of Trump, Brexit and impending climate doom, it's a tender release.
Marina has always had a distinct voice, both in melody and musing, quipping on more than one occasion that she'd never give you what you expect. That used to be true of Marina, she was unique and not afraid to stand out. Unfortunately, Love + Fear is antithetical to her previous work. In her attempts to be more genuine, dropping the diamonds moniker and shedding the characters, her work lacks the personality and sincerity it once had. There's just enough there to let us know Marina still has that star quality, hopefully her next record will deliver a more coherent package. Nicole Glennon