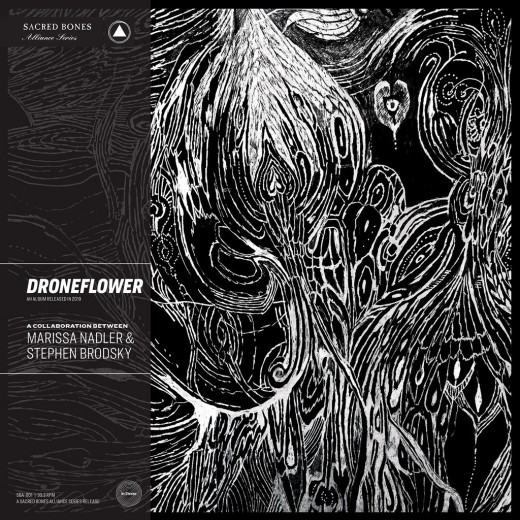 Ethereal gothic folk and experimental post-hardcore are convenient, if broad, brushstrokes to describe the individual styles of Marissa Nadler & Stephen Brodsky, but those labels would be to do both a disservice. Theirs at first seems a disparate pairing that might never otherwise have come about save for the fact that they both drank in the same Brooklyn bar. Nadler though has previously dabbled with Scott "Malefic" Conner of black metal outfit Xasthur, among others, not to mention a single released with John Cale earlier this year. Brodsky, best known from the heavier realms of Cave In and Mutoid Man, also has many strings to his collaborative bow as well as a less abrasive solo side.
It somehow all makes even more sense when you discover that initial discussions for this collaborative work centred around a horror soundtrack whose songs gradually became those on Droneflower (The John Carpenters was just one aborted name for the band). The rich drone and heavy piano keys of 'Space Ghost I' that open the record do seem to pave the way for a cine-centric collection, but Nadler and Brodsky take that genesis of a theme and run it through something altogether more subtle.
The helplessness of distance and separation are explored on 'Shades Apart', and Nadler's vocals become subsumed in a controlled storm of hiss and reverb through 'Space Ghost II' as Brodsky's noise tendencies break out most overtly. 'Morbid Mist' is a folky interlude at odds with its title, one of the airier moments on the record, while 'Dead West' takes a more baroque, eastern-tinged slant not unlike something Grails would come out with.
It's no slight against Axl Rose that Nadler's voice packs a bit more emotional heft on a languid reinterpretation of Guns N' Roses' 'Estranged'. The album's most conventional outing meanwhile is another cover, Morphine's 'In Spite Of Me' from 1993's Cure for Pain. Nadler and Brodsky play it pretty much straight – maybe it's that bit more difficult to add weight to Mark Sandman's vocal performance, but on Droneflower's closer Nadler simply opts to emulate the whispered intimacy of the original.
Lyrically, there is an economy at play. The two cover versions are marked apart not only by their 'otherness' but by their sheer weight of words in comparison to the rest of the tracks. In Nadler and Brodsky's universe, a repeated phrase or clipped verse is all it takes to intimate the emotional narrative. Nadler's voice takes care of the rest.
The duo's inaugural collaboration flows with restrained transformations in tone through these ten tracks. Icy detachment gives way to an invitation to draw closer – exploration alongside insularity, distinctive strands of musical character seeking a common ground. Over the repetitive chug of power chords on 'For The Sun', Nadler breathes "…I am waiting for the sun to fall." It's a line straight from the heart and to the point of the record – apocalyptic and arresting, executed with a delicate touch, and threat inherent. Justin McDaid