Galleries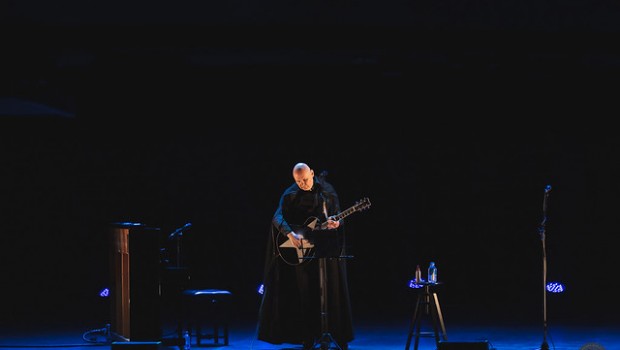 Published on June 23rd, 2019 | by Loreana Rushe
0
Billy Corgan @ Olympia Theatre, Dublin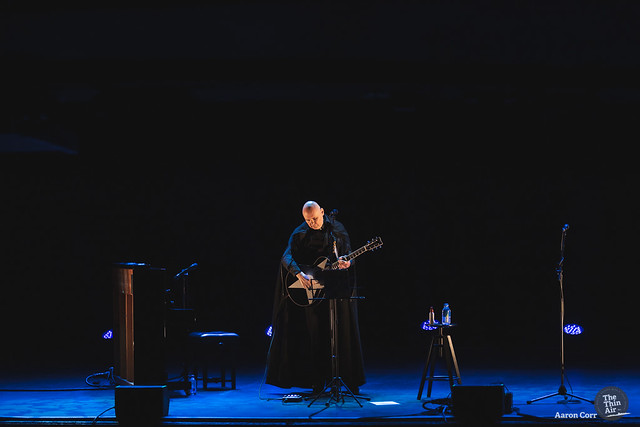 Billy Corgan (or William Patrick Corgan as he formally likes to be known as these days) has taken an unprecedented opportunity to perform a short tour of Europe alone, airing out new work and well trodden, decades old tunes. It's a brief sojourn from the Smashing Pumpkins who are in the middle of a somewhat renaissance tour with three of the four original members which he'll return to in a couple of weeks. Tonight we're dispensed with a rare intimate show from the magmatic frontman and anticipation as to what facet of his personality we'll be presented with is palpable.
The stage setup is sparse with little pomp and circumstance, save for an upright lacquered black piano and the blue spotlights dotting the dark floor of the stage that surreptitiously creates a similar shade of blue to the 'Mellon Collie & the Infinite Sadness' album cover. Armed to the teeth with material arranged acoustically, he arrives on stage in full Aleister Crowley regalia; a black full length cloak with a hypnotic embroidered swirling symbol on the back. Billy has always been Halloween personified, and I mean that in the most complementary of ways. He's an ostensibly foreboding man whose music conjures sumptuous images of twilight tiptoeing through bowed autumn trees and the faint smell of evening chimneys cast on cool air. He lowers his black acoustic guitar over his tall frame, featuring a silver star motif made famous by his 'Zero' shirt from the 'Bullet with Butterfly Wings' video. His voice is resplendent with quivering vibratos and the dulcet tones of his tapered notes contrasting with peppered constrained snarls. He sips occasionally on bottled water from a nearby barstool and some secret formula throat spray throughout the night.
There's a slightly tense atmosphere at the beginning, while the performance is divided into two sets with an intermission between them. The first half of the first set includes a batch of new songs from his upcoming third solo album. These are rattled off between pronounced mid song silences. A few heckles of 'GWAN BILLY' seize him, resulting in two thumbs up and a wry laugh that cuts through the stoicism. He calls for touring keyboardist and backing vocalist Katie Cole to collaborate on two songs 'Buffalo Boy' and 'Dancehall', giving weight in their combined harmony to the previously bare offerings. Corgan seems to relax and loosen up by deciding on further discussion of his body of work, after spending most of his career being evasive on account of constantly being taken out of context by the wider media. He feels the internet has restored these artificial boundaries. He then takes to the piano with 'Aeronaut', the first of a selection from his recent second record 'Ogilala' while songs from 2005's 'TheFutureEmbrace' are notably omitted tonight. Disernable songs like 'Processional', 'The Long Goodbye' and tour debut 'Mandarynne', conjure long-running themes of fascination with everything from morbidity, spirituality, mourning lovers, existentialism, celestial bodies, Gaslight ages and relics of Victoriana. He announces the last song of this set will be a cover; 'Along the Santa Fe Trail', a jaunty old cowboy tune. He gestures towards each empty side of himself and humorously says "Give it up for James and Jimmy!" to an eruption of laughter as he exits stage right for the twenty-minute interval.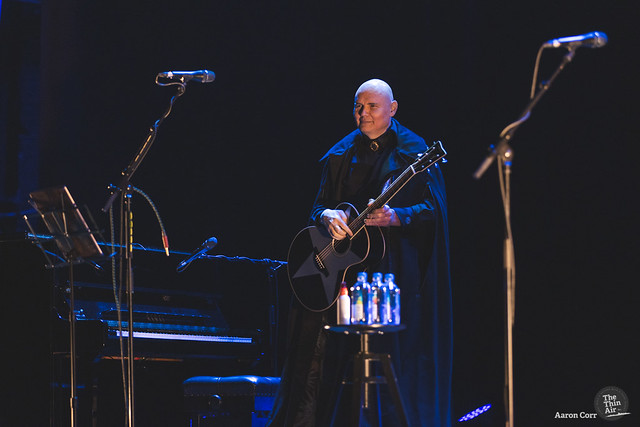 The occultist cloak is unceremoniously shed and Corgan returns with the second set of songs consisting of selections from some of the more tender Smashing Pumpkins offerings, beginning with a mollified version of 'Wound' from 2000's intemperate yet spellbinding 'MACHINA/The Machines of God'. From here were led to the gracefully dusky love song 'Thirty Three' stating in an almost sarcastic tone that it was written while he was married, followed by a wistful piano rendition of 'Endless Summer' from his short-lived-long-plagued supergroup of sorts, Zwan. Despite lacking the wallop of the original Georges Méliès inspired string iteration, 'Tonight Tonight' calls for crowd participation by allowing us to sing out the immense reprise. He then traipses back one last time for the encore with the unmistakably nostalgic intro to the mischievous paean of misspent youth, '1979' for the entirely seated audience.  
Tonight felt more like "An Evening With Billy Corgan" than a gig, with his steadfast vulnerability on display without the substantial safety of the Smashing Pumpkins spectacle. His self deprecating humour was a rare reprieve for those familiar with whisperings of his periphrastic eccentricities, outlandish antics and out of control ego, conducive to his public persona and his entrance into the cultural lexicon of being a self-described 'living meme'. Despite this preconception (that he's fully aware of) Corgan was animated in his beguiling of the audience with personal tales of his immediate family, Irish genealogy and his own immolating demons. He offered gut-wrenching accounts about his younger brother's illness who went on to inspired the song 'Spaceboy' and an intensely personal account of contemplating his own suicide in the early 90s moments before choosing to write the anthemic 'Today' instead. He spoke so eloquently about how people have thanked him for these songs over the years, but in retrospect, they've helped him immensely too.
The Smashing Pumpkins have always represented night and day through the periscope of their music with raw sounds and raw hearts. A remarkable melee of visceral growling heaviness sounding like low flying planes overhead, to the clemently quiet tickle of contemplation on life's mysteries. Strip away the deeply divisive theatrical hijinx that surrounded Corgan for the last thirty odd years to simply admire the stark beauty of these brutally dark and longing lullabies that he crafts, bewitching in their complexity through one of the most instantly recognisable voices in music history. Loreana Rushe
Photos by Aaron Corr